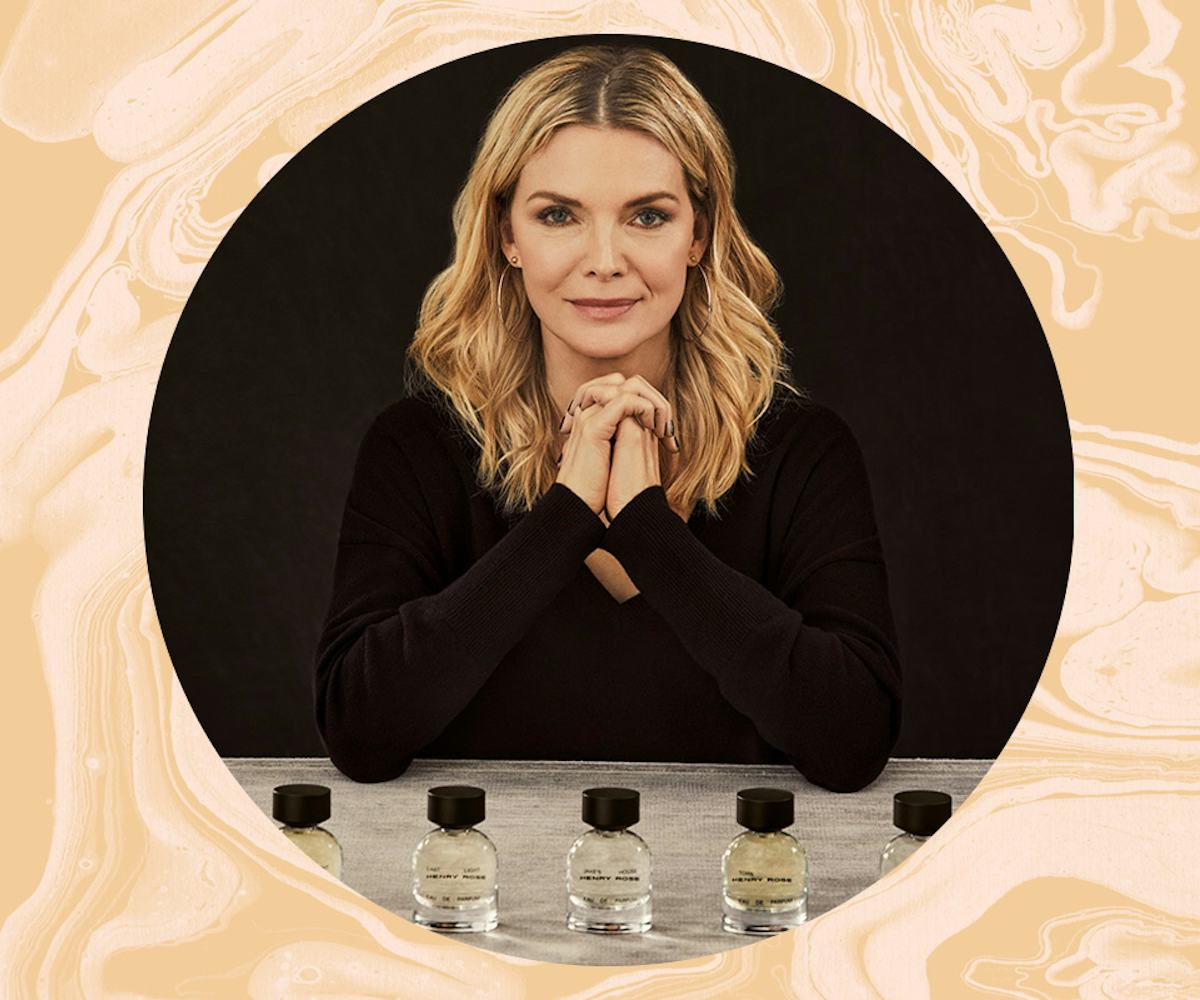 Photo courtesy of Henry Rose
Now You Can Smell Like Michelle Pfeiffer
The actress's fragrance line, Henry Rose, is a collection of five clean, genderless scents
Let's be clear: Michelle Pfeiffer is a freaking icon. From her roles in Grease 2 to Batman Returns to Scarface and, most recently, Mother!, Pfeiffer has long defined a kind of ineffable Hollywood beauty and glamour that goes beyond her good looks, and extends in her willingness to subvert them to play a role with real substance and grit. And now, she's bringing that singular quality to the field of fragrance.
But just like Pfeiffer is no typical celebrity, her new line is not the typical celebrity fragrance. This is Pfeiffer's baby. And it's taken years to get it just right.
Launching today, Henry Rose, Pfeiffer's collection of five fine, non-toxic fragrances, is the result of five years spent developing proven-safe scent notes. But Pfeiffer's interest in clean fragrance dates back to when her children were born, over 20 years ago. "I started looking at the world through their eyes and I started taking a close look at the products that I was exposing myself and my children too," she says. At the same time, her father was diagnosed with cancer, which compelled Pfeiffer to look for safe, healthy products.
But unfortunately, two decades or so back, ingredient transparency wasn't really a thing in the perfume industry. As Pfeiffer sought out clean products, and found little to no information, her frustration grew, and she simply gave up fragrance. That lasted about 10 years, until she started seeking out ways to develop a safe fine fragrance of her very own. She says, "I thought, Is it possible to actually develop a product where you didn't have to sacrifice quality for safety? Is it possible to develop a fine fragrance that was a healthier version of what's out there?"
Even now, in 2019, when clean beauty is getting more and more attention, there still isn't a lot of transparency in the fragrance industry. "The thing is, fragrance can be listed on a label as a single ingredient, and it's not a single ingredient," explains Pfeiffer. "It can be comprised of any number of other ingredients. It's like a cocktail of any number of unregulated ingredients, some which can potentially be very hazardous to your health. If you don't know what's in something, you can't be assured that it's safe."
However, Pfeiffer's intention isn't to bash the cosmetics or fragrance industries, because while there are obvious flaws, the movement towards clean ingredients and brand transparency is already happening. "I want to stress that, without the movement already happening in both spaces, Henry Rose could not have come to light," she says. "It was impossible 10 years ago because the industry wasn't ready—but they are now. And it's because of founders and entrepreneurs in the personal care space who have come before me that I am able to finally bring this product to market. Timing is everything."
What is important to know about Henry Rose is that, while it is clean and safe it isn't all natural; this is not a line of essential oil fragrances.This is because natural doesn't always necessarily mean safe when it comes to fragrance, since many people are allergic to natural scents. For Pfeiffer, it was important to use a combination of safe synthetics and naturals—"but safe naturals, because not all naturals are safe," she says. "I set out thinking I was going to make an 'organic, all natural, plant-based perfume,' and Henry Rose is very different because of my learning curve and what I came to understand as really truly being the safest option for people."
What makes Henry Rose notable is that it discloses 100 percent of its ingredients, all of which have been created by International Flavors & Fragrances (IFF) with standards established by two of the industry's leading non-profit organizations: The Environmental Working Group (EWG) and Cradle to Cradle Products Innovation. Pfeiffer worked closely with each to create products that are safe for humans, safe for the environment, avoid a long list of chemicals of concern, and use safe and fair manufacturing processes.
It's also the first fine fragrance line to be EWG Verified and Cradle to Cradle Certified at the GOLD Level, with a Material Health score of PLATINUM. Yes, we know, that's a mouthful; basically, these are some of the safest fine fragrances in existence.
But, let's get down to it. What are the fragrances actually like? Pfeiffer's favorite of the bunch is Torn, a warm scent evoking a summer sunset, with notes of vetiver, patchouli, and vanilla bean. Our favorite? Jake's House, a clean blend with notes of white neroli, calone, vanillin, musk, edione, and ambroxan; it was named after Pfeiffer's grandfather, and the scent is meant to evoke her childhood memory's of his house.
Other scents include Last Light, a smooth blend with notes of patchouli, florals, and musk; Dark Is Night, a sensual blend with notes of patchouli, vanilla bean, vetiver, ambroxan, florals, and operanide; and Fog, a fresh blend of vetiver and musk.
The one thing you shouldn't expect from Henry Rose is a new fragrance drop every season. Pfeiffer explains that she'd much rather focus on the products she spent years getting right, and continue to build her brand identity on them. "I think if you look at the startups that have had the most success, they started with one product and they've done it really well, and they've branded themselves and created a credibility with that one product, and then they expand," she says.
Pfieffer continues, "There's a lot of pressure: 'oh, you need to drop here. You need to drop again for this.' I mean, there's some truth to that in terms of 'making it' for a business, but at the same time, we're not interested in dropping products just to drop products."
But don't get too dismayed: She did hint that there might be something new in time for the holidays. Until then, though, you'll have plenty of time to explore what she's already offering. And feel good about yourself while doing so.
Each of the new fragrances is available for $120 per 1.7oz bottle—or a sample kit of all five for $20—starting today at HenryRose.com.