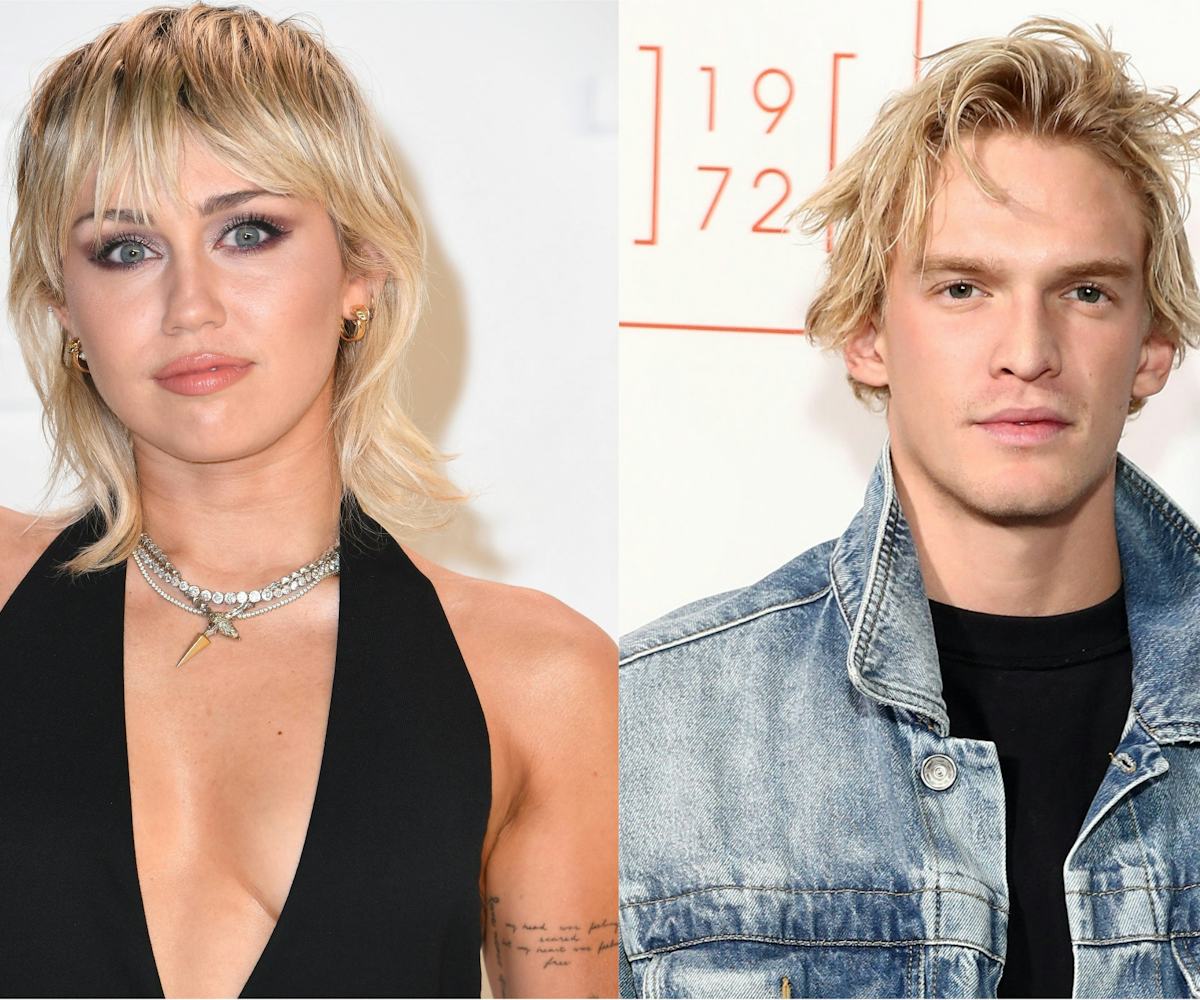 Photos by Steve Granitz/WireImage; Cindy Ord/Getty Images
Miley Cyrus And Cody Simpson Now Have Matching Tattoos
The pair have been dating for a very long five months
The last five months have been a tour-de-romance for Miley Cyrus and Cody Simpson. From rumors of reportedly starting a band together to the occasional social media post, the pair have continued to revel in their reported romance. And now for their latest, and perhaps most grand, romantic gesture, the couple revealed matching tattoos.
Tattoo artist Nico Bassill solidified their love in ink, giving the pair corresponding trident tattoos. The ink appears on their left arms, and both Cyrus and Simpson posed for a photo.
While the exact meaning behind their tattoos remains unconfirmed, Cosmopolitan notes that Simpson is preparing to release a poetry book titled Prince Neptune, and Bassill's Instagram post does contain a caption nod to the release, writing, "Some mornings it's like the sun rises only for her" Prince Neptune. Thanks again @codysimpson and @mileycyrus go pick up your copy of Cody's new book, Out April 7th." Simpson also shared the trident tattoo on his Instagram, writing, "Who is Prince Neptune?"
Although this is the pair's first set of matching tattoos, Cyrus and Simpson had previously visited Bassill during one of their earlier dates, Cosmopolitan reports. After a mere two weeks of dating, the two were spotted getting tattoos on a date. Simpson chose a skull and crossbones for the trip, while Cyrus got a heart.
This certainly isn't the first major piece of ink for Cyrus. Following her divorce from former husband Liam Hemsworth, Cyrus had arrived at the VMAs with a brand new tattoo — two lines of lyrics from "The Thing" by The Pixies. Other tattoos include the word "Freedom" on her hands, "Love" on her right ear, and an avocado on her left arm.
There's no way of knowing whether the two will make a repeat trip to the tattoo parlor anytime soon, but based on their recent interactions together — including public confessions of love and coordinating all-black outfits — it's clear the two are enjoying their time together, even during trips to get inked.
Get a look at the matching trident tattoos, below.