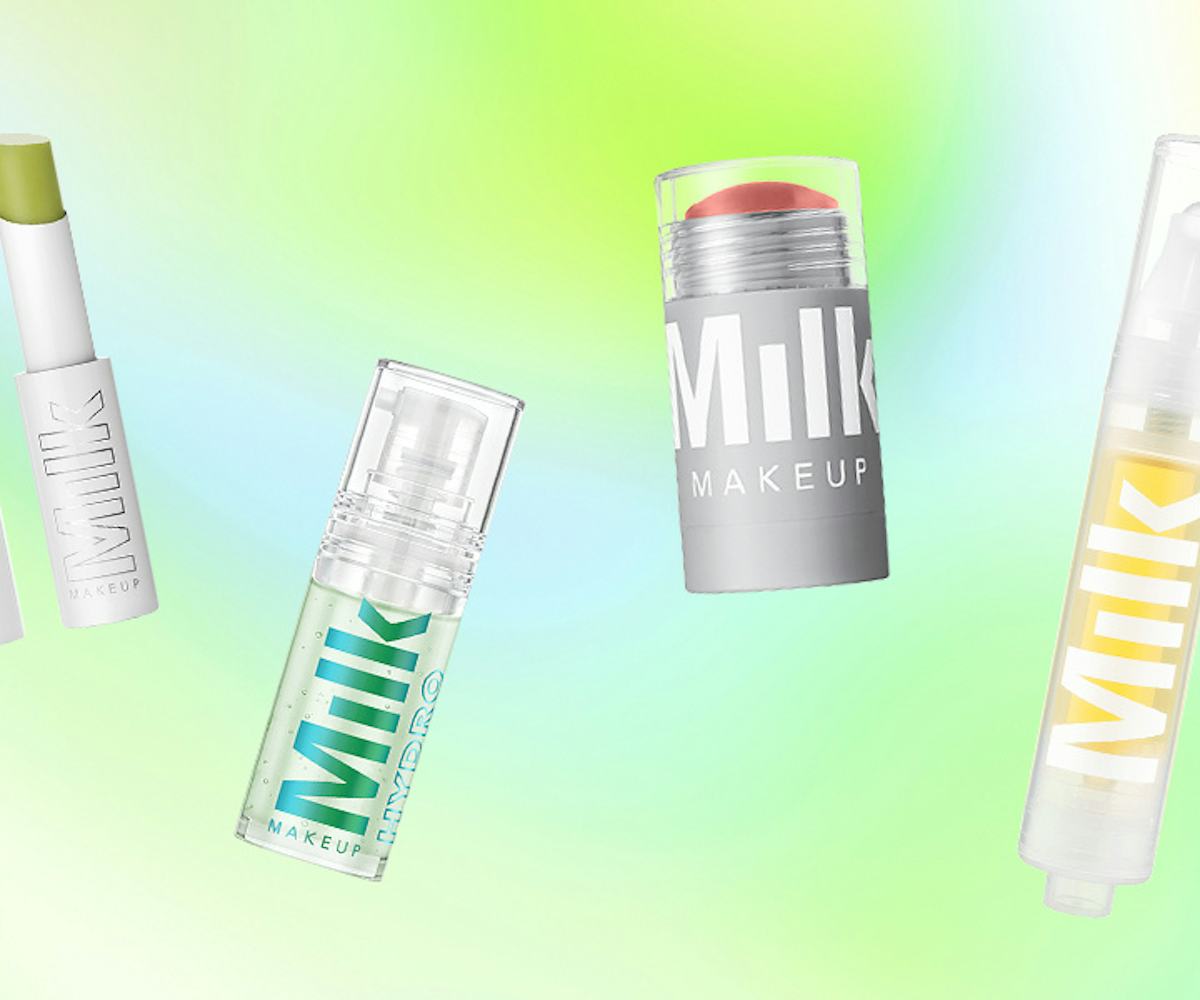 6​ Things We'll Be Buying At The MILK Back To School Sale
As if we needed an excuse
Ring the alarm, because MILK Makeup is offering 20 percent off any purchase over $35 to celebrate the fact that school will soon be back in session. It's a pretty good consolation prize, considering many will be giving up long, sunny days and hours of mindless summer television, and the perfect excuse to cop that thing you've been waiting to try.
Some things are excluded from the promotion—like the new Flex Foundation, Flex Highlighter, and KUSH Growhouse Lash + Brow Serum, but everything else is fair game. Plus, you get a free Flex Foundation sample with every order, so you can try before you buy. See which products we'll be adding to cart, ahead.
If you've been on the hunt for a lip balm that'll leave your lips feeling hydrated, and is also packed with good-for-lip ingredients (it has shea, cocoa, and mango butters), then the search should end here. It also adds the tiniest hint of shine—and a slight wash of color if you opt for a tinted shade.
Milk Makeup, KUSH Lip Balm, $16, available at MilkMakeup.com.
Many swear by this primer, especially on days when your makeup is likely to move. It also just feels nice on the skin, so feel free to rock this one sans makeup too.
Milk Makeup, Hydro Grip Primer, $30, available at MilkMakeup.com.
It's perfect for nailing the monochrome makeup trend and comes in five versatile hues.
Milk Makeup, Lip + Cheek, $24, available at MilkMakeup.com.
This one requires zero explanation.
Milk Makeup, KUSH Clear Brow Gel, $20, available at MilkMakeup.com.
Everyone needs a good do-everything oil in their stash—even better if it comes in Instagrammable packaging and has lots of glowing reviews. Slather this onto anywhere that needs it, and allow yourself to be nourished by a blend of moisturizing oils like grape seed and avocado to name a few.
Milk Makeup, Sunshine Oil, $38, available at MilkMakeup.com.
Two words: Euphoria withdrawals.
Milk Makeup, Holographic Stick, $28, available at MilkMakeup.com.
NYLON uses affiliate links and may earn a commission if you purchase something through those links, but every product chosen is selected independently.