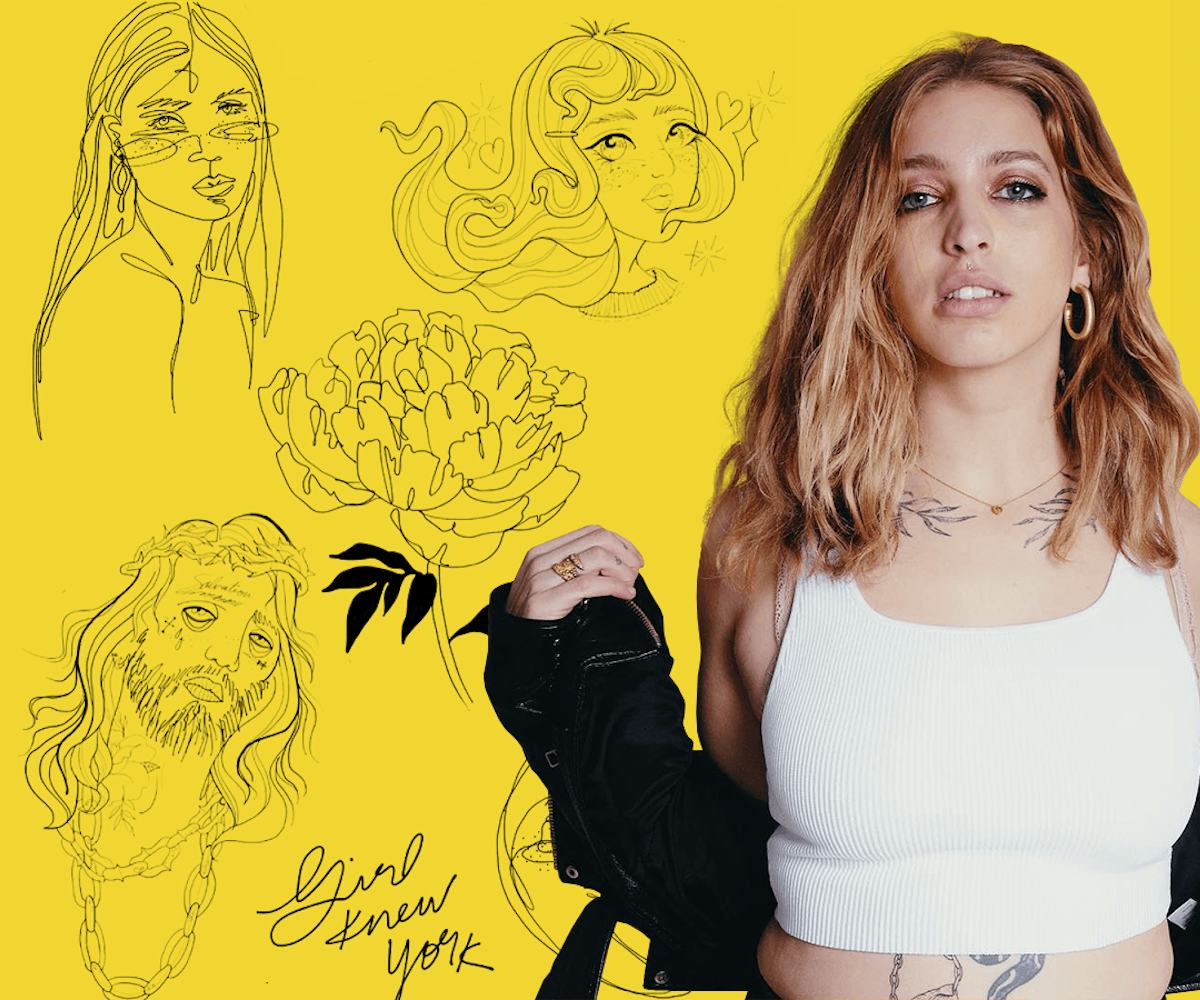 Photos via instagram.com/GirlKnewYork
Get To Know Mira Mariah, Ariana Grande's Tattoo Artist
"I'm a visual artist, a mother, a person with a disability, and a friend"
You may already know Mira Mariah as Girl Knew York: The 26-year-old former fashion designer currently works out of Fleur Noire tattoo parlor in Brooklyn and boasts over 100,000 Instagram followers. Or, you may just know her as Ariana Grande's go-to-tattoo artist.
Mira Mariah first hit the headlines last summer, after inking the worker bee tattoo Grande got in remembrance of the Manchester Arena bombing victims. And Mira also did that pig tattoo on Grande's former fiancé Pete Davidson. Celebrity clientele aside, though, Mira is a success in her own right, considered one of New York City's most promising illustrators. One of the reasons for that is that Mira goes beyond the stereotypical pin-up girl tattoo work, often featuring plus-size women in her designs. She also makes a point of honoring mothers and disabled women in her work—both labels with which she identifies. Mira is a young mother and was born with a birth defect. After contracting a staph infection from corrective surgery, at just 17, she made the life-changing decision of amputating her leg.
We recently caught up with Mira to discover more about her art, her inspirations, and why she thinks her daughter is her greatest achievement.
Firstly, could you tell us a little bit about yourself?
I'm a visual artist, a mother, a person with a disability, and a friend. The best way to describe me comes from a recent quote from my four-year-old. She said to me, "I know you're a princess, I know you're a witch, and I know you're a queen."
You used to work in fashion; when and how did tattooing become your medium?
I wanted a job where I could hang out with girls and draw all day. I love drawing; I love girl talk and I also love fashion! Tattoos are fashion, so really I still feel like I work in art and fashion. I work with a lot of fashionable people, and I learn so much about fashion and tattoos and self-expression through the lens of my clients. I don't feel like the two worlds are too far apart.
Why did you decide on the name Girl Knew York?
I love New York and I so deeply identify with this city. The name just made sense. I also love a good pun, and I am such a girl's girl!
Where do you find inspiration for your work?
My friendships, daughter, and sisters are the main inspiration for my tattoos. I love femmes and their relationships to their own moods and bodies, and I work to convey that in my art and drawings. I love referencing Greek and Roman mythology as well as traditional tarot art. Recently I've become obsessed with traditional Japanese tattoos and illuminated 15th-century prayer books.
What's your own favorite tattoo and why?
I have a large black snake on my belly to protect my heart; I got it during deep heartbreak, so it means a lot to me.
How would you describe your clientele? Are they predominately women?
I mostly tattoo femme images, so femme people feel most connected to them, but we don't base our bookings on gender—we never want to be discriminatory. I prefer tattooing girls because, as I said, I'm a girl's girl, but we're welcoming to everyone.
What have you found to be the biggest challenge in your career?
Time management! I love my job, so much so that I often accidentally overbook myself, run my body down and exhaust myself. It's important to me to make time for my daughter, myself, my clients, my friends, my assistant, and everyone that I love. I spend countless hours putting together a schedule that's often rearranged on a whim because I'm disabled and a mother and life is so unpredictable.
You're open with your disability online and with your clients, what career advice would you give to other women that are differently abled?
Trust your body, analyze your needs, speak up and be vocal about them. Do not allow others to tell you how your body feels.
What's your proudest accomplishment to date?
The other day my daughter was overwhelmed and about to have a tantrum. She looked at me and said, "I'm sorry I'm freaking out, I'm really hungry." I left what I was doing and got her food, and she calmed down and felt better. I am really proud that I taught her to vocalize her needs.
What are your hopes and dreams for 2019?
Peace! A sleep schedule! A talk show! To get more tattoos! More kissing! Go to London! Cook with my grandma! (I'm aware this is contradictory.)
To book a tattoo with Mira, click here, or to keep up to date with her work, follow her on Instagram via @GirlKnewYork.