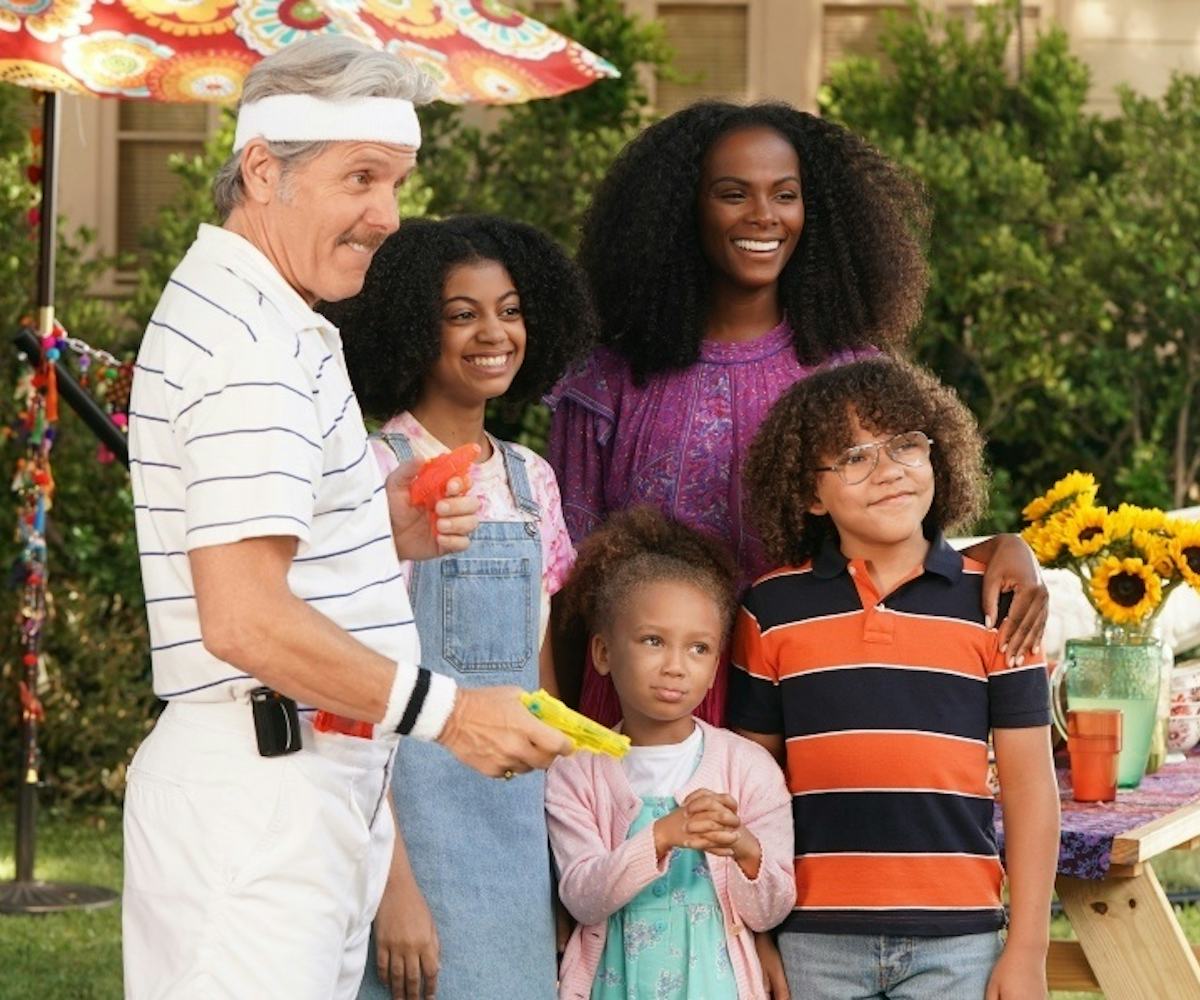 Photo courtesy of ABC.
'Mixed-ish' Is The Whitest Show In The 'Black-ish' Universe
When the mixed-ish series was first announced, before we knew exactly what it was about or what stories it would be trying to tell, it received some side-eye from Black folks. There was serious skepticism about expanding the black-ish universe to give space to biracial identity. On the spectrum of Blackness, mixed-race people benefit from privileges stemming from their proximity to whiteness; they're often considered the Black people who are less threatening and more deserving of opportunities. Shows like black-ish are celebrated for offering a nuanced portrayal of Black people's lives — one that doesn't rely on lighter skin or looser curls for legitimacy — so suspicion surrounding a show prioritizing that specific identity is understandable.
Now that mixed-ish has premiered, it is in fact the whitest show in the black-ish world — even whiter than grown-ish, the Freeform spin-off that follows the oldest Johnson daughter, Zoey (Yara Shahidi), and her racially diverse array of classmates.
This makes sense because mixed-ish is one big flashback from narrator Rainbow (Tracee Ellis Ross), who, with the exception of the Johnson's co-workers and neighbors, has always been the whitest part of black-ish. The new show is about her experience assimilating from a remote commune to the suburbs with her Black mom, white dad, and biracial siblings. Rainbow (played by Arica Himmel) and her siblings have transitioned from a colorblind utopia where no one saw race (or toilets), to a mostly white suburb where they're being forced to choose between their Black and white identities. Rainbow is conflicted because she doesn't want to let either of her parents down. Tensions run high between her parents Alicia (Tika Sumpter) and Paul (Mark-Paul Gosselaar) because now that they've returned to the "real world" Alicia knows her daughter won't be afforded the same privileges to get by as Paul did.
There is quite a bit of racial dialogue in mixed-ish. Alicia and Paul met in law school, but he dropped out while she stayed enrolled, ensuring that she'd always have "a backup plan." She reads her husband to filth when he disagrees with her putting on a suit (and a bra) to work at his father's law firm, stating that as a Black woman, assimilation is her only hope for success. There is also a montage where an adult Rainbow reminds the audience that back in the '80s, there weren't as many mixed children as there are today, name checking the first Black president, Black ballerina Misty Copeland, and Meghan Markle, a multiracial princess.
Much of the dialogue and setting of mixed-ish does feel notably white, from the unfriendly stares of the neighbors to Paul's general cluelessness, and his father Harrison's (Gary Cole) unapologetic capitalism. Mixed-ish feels like Modern Family meets Fresh Off The Boat, but make it literally "Black-ish." Much like being bi-racial creates a different racial experience, mixed-ish is a different kind of show — and that's ok. It's a lane to explore those differences in all of its nuances, which is what Rainbow has been doing on black-ish all along.