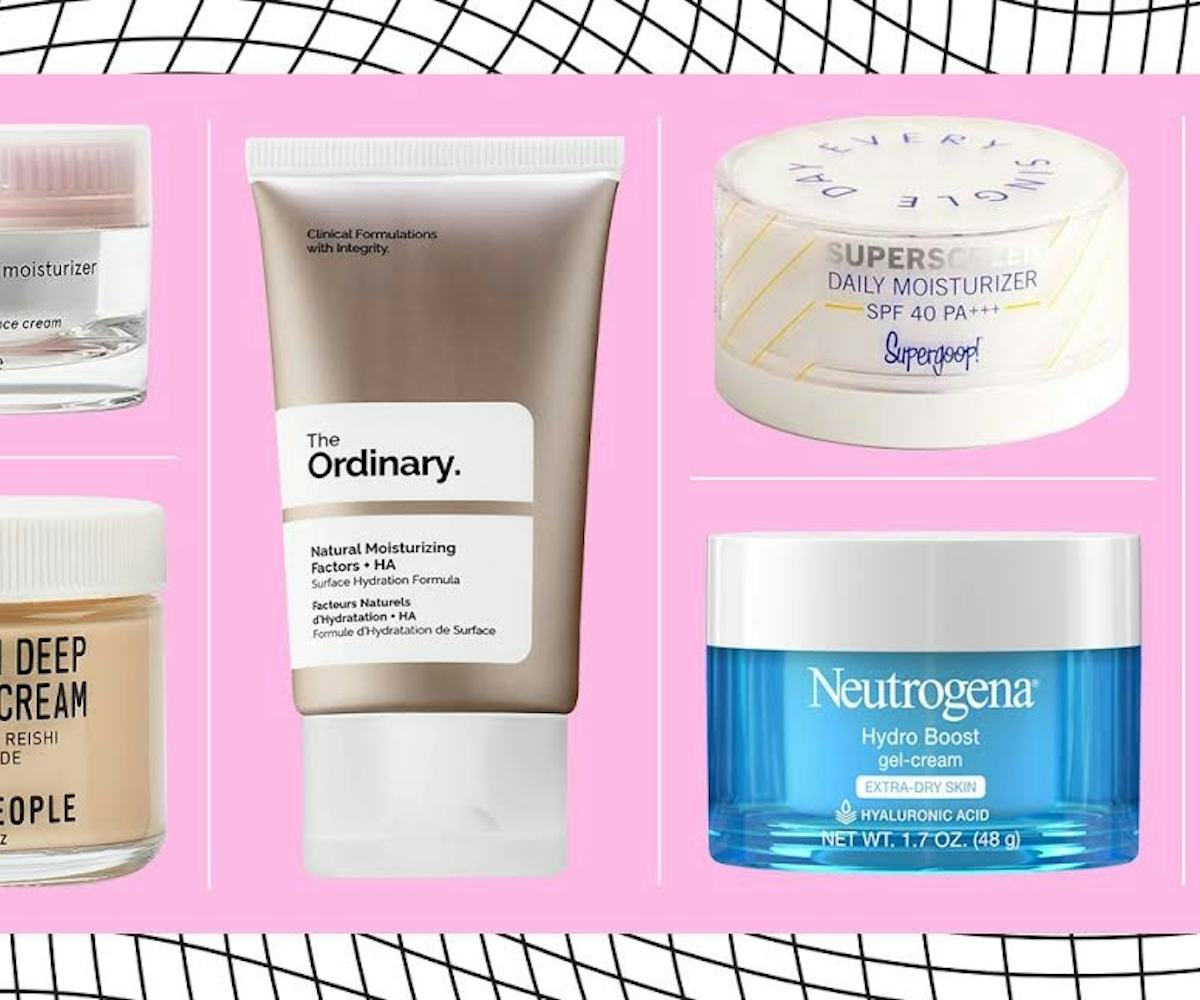 Photos courtesy of brands
11 Winter Moisturizers That'll Save Your Dry, Dull Skin
And even give you a little glow
Sure, there are a lot of upsides to wintertime, be it the influx of cozy sweaters or the seemingly nonstop Harry Potter movie marathons. But where the season falls notoriously short — outside of being, well, really cold — is its harsh effects on the skin. Regardless of what skin type you identify with throughout the rest of the year, dry, flakey, and rough patches on the skin (and especially on the face) become a real issue from December to March, making the case for switching over to an ultra-nourishing winter moisturizer for dry skin.
"The combination of extreme cold temperatures, lack of humidity, and high winds does a number on dehydrating the skin much more so than in other seasons," board-certified dermatologist Dr. Nikhil Dhingra, of New York City's Spring Street Dermatology, tells NYLON. "That, combined with excessive dry heating indoors, demands a thicker, richer moisturizer and gentler skin care."
And while thicker moisturizers are certainly the go-to for the season, it doesn't mean they have to feel thick or heavy on the skin. The best options on the market today will provide a serious surge of hydration in a soothing, long-lasting, and fast-absorbing formula that allows the skin to not only breathe also but glow — so much so that you'll still want to wear them when temperatures start to creep up again.
Check out and shop through 11 of our favorite winter moisturizers, from Neutrogena to The Ordinary, below.
Dr. Jart+ Ceramidin Cream
Dr. Jart+, Ceramidin Cream, $48, available at Sephora.
Ceramides are lipids (aka fat molecules) that not only deeply moisturize, but help to repair and rebuild the skin over time — and this tube from Dr. Jart is packed with them, blended in its own proprietary formula. On top of helping with dryness, this moisturizer helps counteract the loss of firmness and elasticity.
CeraVe Moisturizing Cream 
CeraVe, Moisturizing Cream, $19, available at Ulta.
This beloved drugstore cream from CeraVe is Dr. Nikhil Dhingra's absolute favorite recommendation for most patients. "It's not so heavy as to feel greasy, the skin absorbs it nicely, it doesn't have any unpleasant (or excessive) fragrances, and it contains water-attracting and sealing elements that make it a nice all-purpose moisturizer," she says.
Youth To The People Adaptogen Deep Moisture Cream
Youth to The People, Adaptogen Deep Moisture Cream, $58, available at Sephora.
Vegan, fragrance-free, and packed with natural adaptogen herbs and mushrooms — like Ashwagandha and Reishi — and a pro-grade peptide complex that strengthens the skin, this clean cream will add moisture to and calm any skin type.
Weleda Skin Food 
Weleda, Skin Food Original Ultra Rich Cream, 12, available at Ulta.
This no-frills formula is a universal well of moisture for the skin, whether it's for the face, elbows, feet, or hands. Plus, it leaves such a good glow — thanks to extracts of gentle viola tricolor, calendula, and chamomile set in a base of oils and beeswax — that makeup artist Jo Baker used it to give Lucy Boynton's cheekbones a healthy highlight for the 2020 Golden Globes.
Supergoop! Superscreen Daily Moisturizer 
Supergoop!, Superscreen Daily Moisturizer, $38, available at Supergoop!.
SPF is a year-round thing. This formula from Supergoop! provides serious hydration with powerful ingredients like glycerin and nourishing algae, together with SPF 40 daily protection from not only UVA and UVB rays, but blue and infrared light, pollution, and more.
The Ordinary Natural Moisturizing Factors
The Ordinary, Natural Moisturizing Factors + HA, $6, available at Sephora.
The Ordinary is known for making powerful and effective products for truly affordable prices, and this non-greasy moisturizing topical formula is no exception. It's filled with 11 amino acids, dermal lipids, hyaluronic acid, and more for instant (and lasting) hydration. And with it coming in under $10, you can pick up one for home and one to take on the go.
Glossier Priming Moisturizer Rich 
Glossier, Priming Moisturizer Rich, $35, available at Glossier.
This best-selling moisturizer from Glossier is packed with ceramides and fatty acids that strengthen the skin's moisture barrier, along with a blend of lush shea and murumuru butters for a whipped, creamy formula that melts into the skin.
Avène XeraCalm Cream 
Avène, XeraCalm A.D Lipid-Replenishing Cream, $34, available at Dermstore.
Another favorite of Dr. Nikhil Dhingra, this rich, calming formula is especially great for those who deal with frequent eczema. "It's an excellent and calming moisturizer for the body with microbiome-restoring elements to decrease the risk of inflammation from extreme dryness," she says.
First Aid Beauty Ultra Repair Cream 
First Aid Beauty, Ultra Repair Cream, $34, available at Sephora.
With over 6,000 nearly perfect reviews and over 150 thousand "loves" on Sephora, this thick, fast-absorbing cream from First Aid Beauty is a popular winter pick. It's formulated with moisturizing shea butter, calming allantoin, and colloidal oatmeal, an FDA-designated skin protectant that relieves itching and irritation onset by eczema, rashes, or other sensitive skin conditions.
Neutrogena Hydro Boost Water Gel
Neutrogena, Hydro Boost Water Gel, $17, available at Target.
Hyaluronic acid, an ingredient popular for being able to absorb up to 1,000 times its weight in water, is the star of this hydrating gel. The unique, watery formula absorbs quickly like a gel but settles into the skin with the long-lasting, moisturizing power of a cream — perfect for those who prefer a lightweight product that can still get the job done.
Drunk Elephant Protini Polypeptide Cream
Drunk Elephant, Protini Polypeptide Cream, $68, available at Sephora.
Pricey, yes, but this protein-packed formula is full of actives meant to improve skin's tone, texture, and firmness, on top of being incredibly hydrating for all skin types.
NYLON uses affiliate links and may earn a commission if you purchase something through those links, but every product chosen is selected independently.