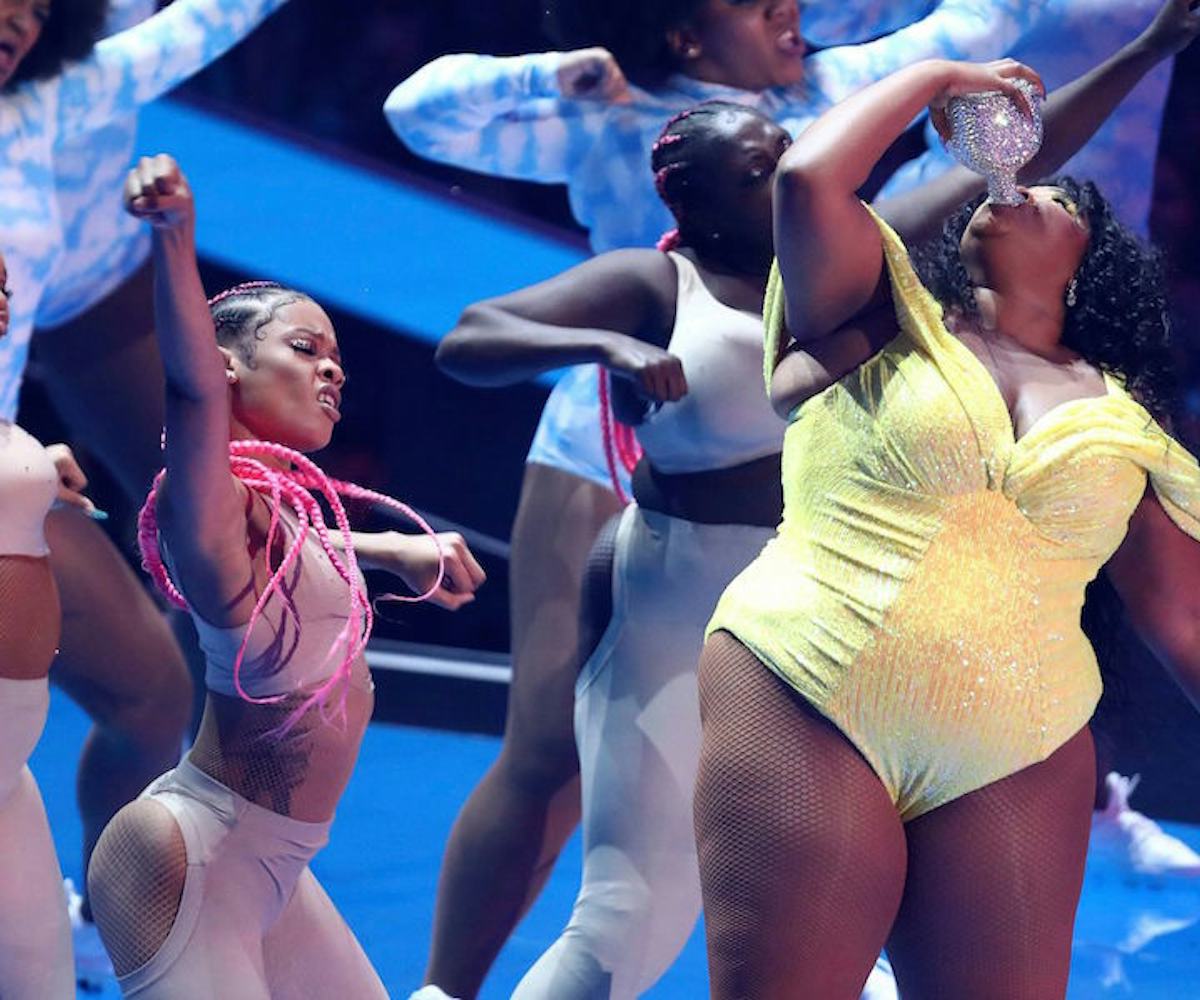 Photo by Matt Sayles/Invision/AP/Shutterstock
Lizzo's Bedazzled VMA Bottle Is The 2019 Version Of Rihanna's Grammys Flask
More diamond-encrusted booze in 2020 please
Of course, Lizzo would bring the juice to the 2019 MTV Video Music Awards... literally. Whether dancing at her seat or busting a move with a full crew of backup dancers onstage, Lizzo had the most incredible bedazzled bottle in her hand to keep her feeling it all night.
"Um hi, can we acknowledge a bad bitch when we see one," Twitter user @JillianKweller asked, and TBH I don't know whether she was referring to Lizzo, the bottle, or both. I'm going to go with both. Lizzo's bottle of Patrón is the only bottle of tequila I want to drink for the rest of my life.
Apparently, she was only allowed to keep one shot in there at a time (lame? Responsible? Both?). Lizzo told Entertainment Tonight that she accidentally took the entire thing right before giving a speech mid-performance, though, so the limit definitely didn't help with any sort of pacing. "Whatever I said, I don't remember," she joked in the backstage interview. In between the sparkliest shots I've ever laid eyes on, Lizzo could be seen with a water-filled champagne flute, so have no fear. Your girl is hydrating.
But, let's not forget where we came from. Rihanna has been the queen of bedazzled booze since day one, aka the 2017 Grammys. She's also the queen of leaving restaurants with a new wine glass accessory and the queen of sneaking booze into Coachella in the trendiest way.
See Lizzo's performance at the 2019 MTV Video Music Awards, below.