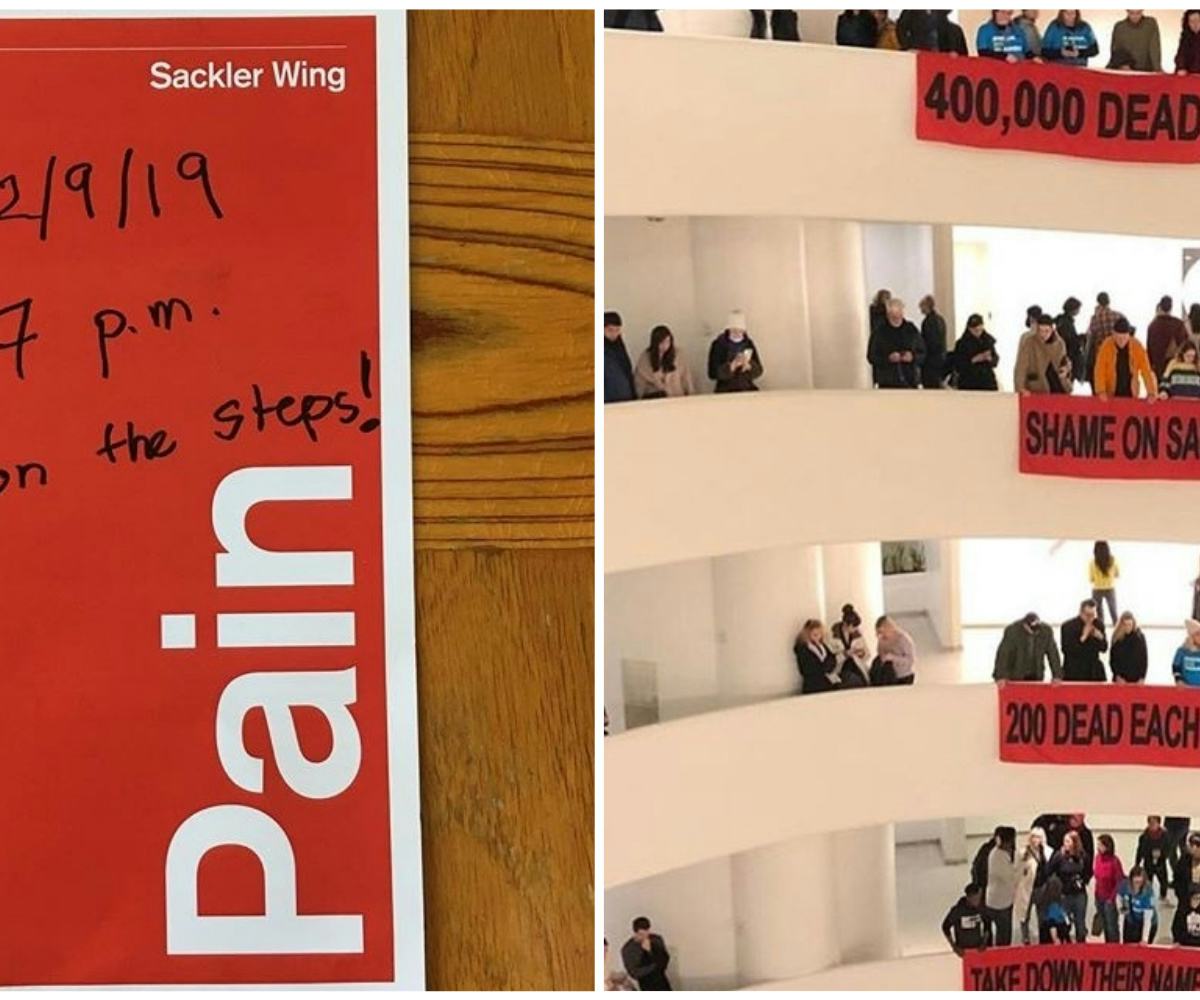 Photos via @nangoldinstudio
Opioid Crisis Activists Lead Protests At The Met And Guggenheim Museum
Nan Goldin called out the institution's continued acceptance of money from The Sackler family
This past Saturday, artist-activist Nan Goldin led a pair of protests at famed art institutions The Metropolitan Museum of Art and the Guggenheim Museum in NYC. Both museums carry the name of the Sackler Family on portions of their buildings, and continue to accept donations despite the family owning Purdue Pharma, one of the largest producers of OxyContin.
As reported by Dazed, Goldin sent out an open-call on Instagram for activists to join her on the steps of The Met to urge these museums to denounce the Sacklers. Goldin—who published photographs of her own struggle with opioid addiction last year on Artforum—founded P.A.I.N. (Prescription Addiction Intervention Now) which is committed to "making the Sacklers and Purdue Pharma responsible for helping to find the solution to ending America's opioid epidemic." The group demands that both parties move their money into treatment and education.
At the Guggenheim, as protestors staged a die in on the ground floor, Goldin distributed prescription mock-ups printed with Richard Sackler's words from recently released court documents. New evidence in a recent Massachusetts court case alleges Sackler family members misled doctors and patients about the dangers of Oxycontin. One quote from former CEO Richard Sackler reads, "The launch of oxycontin tablets will be followed by a blizzard of prescriptions that will bury the competition. The prescription blizzard will be so deep, dense, and white." Goldin turned those words into a literal blizzard, as the scripts were dumped from the balconies of the Guggenheim and floated to to the floor below.
Dazed points out that The Met responded to Goldin and P.A.I.N.'s criticism in a statement last month, explaining that the museum's relationship with the Sacklers predates the opioid crisis by decades, but that "The Met is currently engaging in a further review of our detailed gift acceptance policies, and we will have more to report in due course."
For more information on Goldin and P.A.I.N.'s demands, visit their site and check out the petition on Change.org.