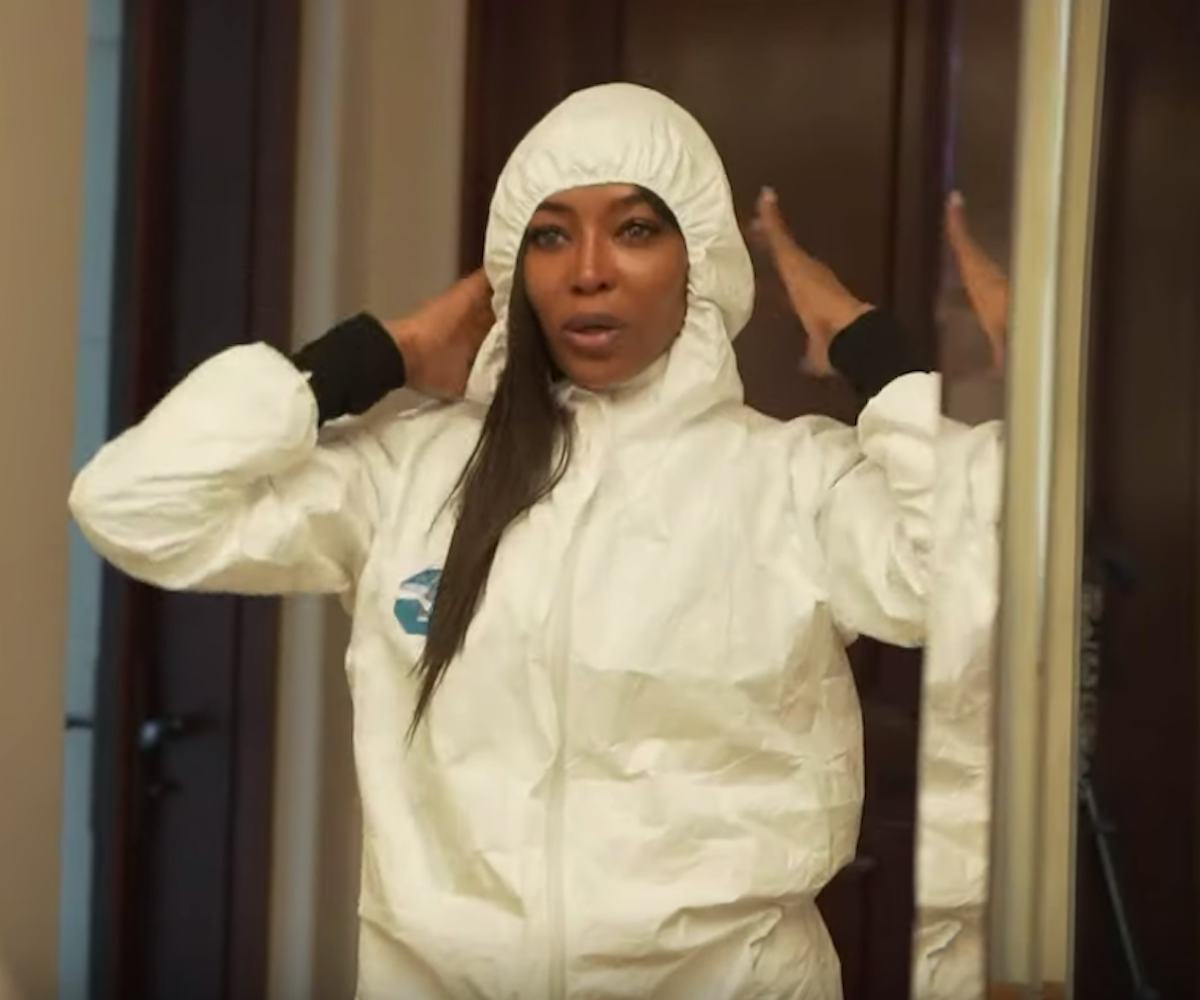 Photo via screengrab
Naomi Campbell Shares Full Coronavirus Video As Promised
"If I do have to go, I'm going like this."
COVID-19, the novel strain of coronavirus that has grown into a full pandemic, is no match for supermodel Naomi Campbell. The known germaphobe took no risks when she traveled from Los Angeles back to her home in New York City on March 10, pulling up to LAX in head-to-toe protective gear, including a hazmat suit, gloves, goggles, and face mask. Now, in a new video, Campbell breaks down how she heightened her protective traveling routine in what ultimately is a master class on coronavirus travel safety.
Campbell, who says she started wearing protective face masks in the '90s and incorporated her seat cleaning routine approximately 17 years ago, was not about to just go with her regular traveling precautions of a protective face mask and latex gloves. Desperate times call for desperate measures, and for Campbell that means a hazmat suit. She also added protective goggles into the mix on the advice of a fellow supermodel. "My good friend Linda Evangelista told me about the goggles," she says nonchalantly. Who knew supermodels sharing safety tips among themselves could be so...glamorous? Once the entire outfit is topped with a camel Burberry cape, Campbell is set for the airport.
Although Campbell understands that others may find her extremity funny, she assures the camera that she takes the outbreak and her health very seriously. "In all honesty this is not a funny time, it's not a humorous time," says Campbell. "I'm not doing this for laughs. This is how I feel comfortable traveling if I have to travel. I'm trying to keep it a minimum. If I do have to go, I'm going like this."
Campbell truly could not care less about what people think of her protective measures. She's been doing this for decades, people! She's not about to stop in the middle of a pandemic. "Back in the day people used to really laugh at me and speak under their breath. Like, 'What is that girl doing? She's ridiculous!' Now I'm not ridiculous," she says with a smirk.
The supermodel comes out as a Mask Truther, doubting claims that protective masks don't really do much to protect wearers from the virus. "What if someone sneezes right in front of you when you're walking and you're walking behind them?" she asks. "Those [germs] come to you. You walk right into it." Somebody please get CDC on the horn because Campbell is making points.
Campbell isn't only concerned with her own health. "I hope that the lady or gentleman who looks at our passports will also be wearing gloves because for them to touch thousands of passports a day is also a risk," she says. And with a final swig of some Vitamin C and immune-boosting papaya powder seeds, she's ready to fly.
"It was a very surreal journey for me," she says, after arriving safely in NYC. "I have to say when I got on the plane people moved away from me. There was a guy sitting in front of me, he moved to the right. There was a guy sitting behind me, he moved to the right. Everybody didn't want to be around me but that's cool! I didn't want to be around them either!" As the saying goes, they were not on her level, and they will never be on her level.