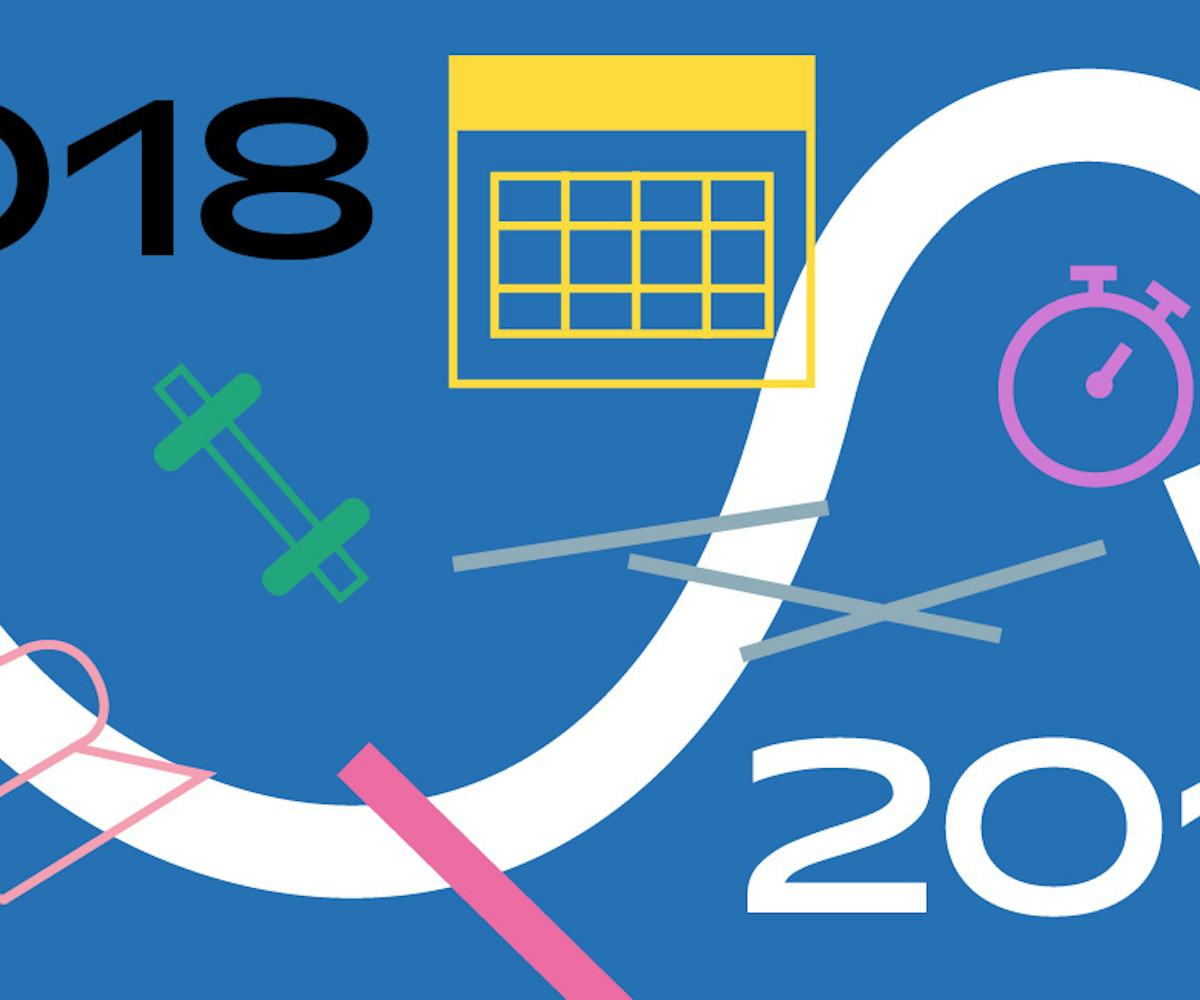 What Workout To Do In 2019 Based On Your 2018 Routine
Bored by your go-to class from last year? Here are 11 to try next.
This year I did something I've never done before and committed to one workout on January 4... for the rest of 2019. While I am a Gemini, a sign that prefers their workouts ever-changing and unorthodox, I caved after a studio I'd frequently visited and liked offered me a too-good-to-pass-up deal with unlimited classes as long as I could pay for a year up front.
And while I am excited to embark on a relationship with my body in which I tend to it with consistency, I know that, come next year, I will never want to look at another barre class for a long time. (I confirmed this after talking to several people who stuck to one type of workout for all of last year.)
So, even though my 2019 workout schedule is set, ahead, check out 11 workouts you should try this year if you're looking to shake things up from what you did in 2018.
Boxing has been one of the most popular workouts of the last few years amongst both men and women. And while that will only continue into 2019, other fight-inspired workouts, like Muay Thai, will gain steam and be adapted to more inclusive environments where beginners will feel welcome to indulge in the practice for fitness purposes. One such place is Hit House, a boutique studio in Manhattan that offers Muay Thai-inspired classes that you take barefoot and use a softer punching bag for less impact-heavy hits and leg kicks.
If you've taken to this popular low-impact, toning workout last year, prepare for barre 2.0 with more studios adding accessories, like resistance bands, platforms, and cuff and ankle weights, to their classes. Pure Barre began the movement with its Empower classes in 2017 and has added Reform last year, both classes that combine add-ons like bands, sliders, and body weights with strength-training moves.
Leave it to the Australians to come up with a bootcamp-style class that I, as someone with a love-hate relationship with intense methods of working out, actually love. Featuring a new workout every single day (but the same class across the world on that day), an F45 class can range from a strength to a HIIT workout (or a hybrid of the two). After the class gets broken down by numbers or pods, participants complete the exercises circuit-style in the span of 45 to 60 minutes. And while every class is hard, no matter what it entails on that given day, it's truly addictive. For those who love a meal plan, they also provide some of the most approachable (and free!) recipes out there as part of the challenges they host every few months.
There is no workout that has seen more innovative variations than pilates in the last 12 months. For fans of this strengthening, leaning, and toning workout, you should try hot pilates or Meghan Markle's beloved Megaformer class. The one we're most excited to dive into on the regular though is Equinox's Pilates Remix, a class that combines classic Pilates moves with contemporary exercises that are performed for 8 to 12 reps and repeated for two sets and use an io-Ball to challenge stability, all set to an upbeat soundtrack.
If you're trying to get off the spin train without losing the muscle and form you've built over the years, may we suggest taking a lower seat on a rowing machine. Studios like CityRow and Row House have been popping up all over cities for the last few years, attracting previously addicted-to-bike riders. And while rowing may seem more like an upper body workout, you will be surprised by how much of the sessions are about your legs, not unlike spinning.
Last year, I discovered the effectiveness of at-home workouts—and, it's no surprise really given how almost every major gym or studio has launched some at-home component that it encouraged its customers to try. This will be the year of the at-home equipment. Peloton has been dominating last year with both bikes and treadmills equipped with live and on-demand workouts and, in the fall, MIRROR—a, yes, mirror-like device that services as an "interactive gym" by streaming live and on-demand categories in a variety of fitness genres—has debuted. That said, we are still partial to the booty- and muscle-enhancing DB Method.
If you haven't tried hip-hop yoga, give that a spin. For a more spiritual experience, there are now yoga studios, like Humming Puppy, that emit different frequencies and hums in lieu of sound that help ground participants to Mother Earth and enhance the practice even further. Speaking of puppies, maybe consider also trying one of the rapidly expanding animal yoga classes that range from practicing with goats to pigs and even cows.
Whether you've dabbled in hot yoga or pilates or any other workout in a heated temperature, it's time to switch the thermostat the other way and try cold workouts, like NYC's Brrrn. Proven to encourage more movement, longer workouts, and faster metabolism, cold temperatures will stick around well past the winter this year.
If you've found yourself cheating on your last few runs last year, it's time to get motivated again. And what better way than by joining a group that will hold you accountable? Mile High Run Club, Barry's Bootcamp, and Equinox's Precision Running, all indoor classes that use treadmills and push the pace for runners, and the like continue going strong into 2019, as are social outdoor running groups, like Electric Flight Crew that hosts just as many social meet-ups as runs.
For the fitness enthusiasts who like to build core strength and stability through high-intensity, low-impact TRX straps, bungee workouts have started to appear more on gym schedules. Crunch boasts two classes, Bungee: Adrenaline Rush and Bungee: Flow and Fly, that use a sling attached by a cord to the ceiling to get the heart rate up and muscle-building going through jumps and resistance movements without putting pressure on the knees and joints, while Spiderbands is a whole studio dedicated to workouts around suspension and aerial concepts.
If High-Intensity Interval Training is your regimen of choice for the sheer quickness of its sessions, let 2019 be the year that you learn to slow down and actually enjoy your workout with HIIIT-yoga hybrids that are starting to multiply (think: Box + Flow but for HIIT) and studios partnering with meditation spaces and apps. CorePower Yoga's CoreCardio Circuit classes combine HIIIT and strength training with yoga, while Life Time's new FIRE Yoga offering alternates between high-intensity bursts and periods dedicated to yoga and breath work.