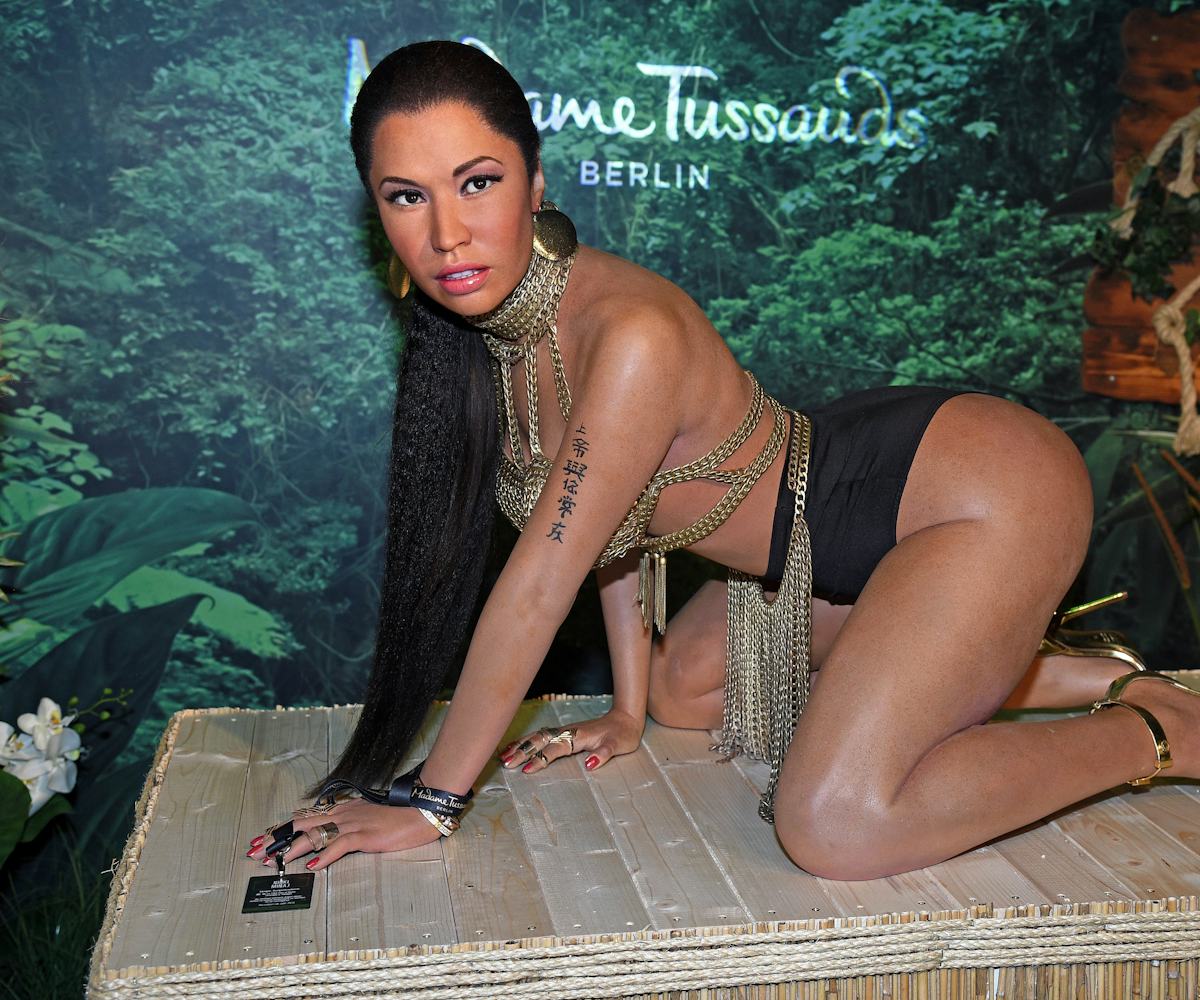 Photo via Getty
5 Celebrities That Look More Like Nicki Minaj's Wax Figure Than Nicki Minaj
From Kourtney Kardashian to Kimora Lee Simmons
Is there anyone more problematic than Madame Tussauds? Though the original creator of the famous wax sculptures, Marie Tussaud, died in the mid-1800s (way before the advent of cancel culture), her legacy lives on through the many wax museums across the world that now carry her famous name. But with a seemingly endless supply of figures that bear absolutely no resemblance to the celebrities they are meant to be impersonating, it's unclear how happy Miss Tussaud would be with how her legacy is being upheld. The museum's latest victim is the one and only Nicki Minaj, whose new wax figure was just unveiled at the Madame Tussauds Wax Museum in Berlin, Germany.
Minaj is far from the first to be done dirty by Tussauds. At this point, it just feels like trolling. In the past decade alone, there's been a whitewashed Beyoncé (plus several other failed attempts at capturing the internationally renowned pop star), the anime Ariana Grande, a creepy murder doll version of Zac Efron, and, of course, whatever you would call this figure that is definitely not Naomi Campbell.
This isn't even the first time a Nicki Minaj wax figure has stirred up controversy. In 2015, a similar figure at Madame Tussauds Las Vegas, featuring the Grammy-nominated rapper in the exact same position, quickly became the unexpected star of lewd photos from people (mostly men) doing some rather...suggestive...poses by the singer. Eventually, the museum had to instate additional security around the figure to ensure that visitors wouldn't continue to defame Minaj's likeness. Though one would think that was enough to inspire the museum to steer clear of this particular pose altogether, for some reason, they've done it again — and this time, they didn't even get Nicki's face right.
There are several people that this wax figure does look like, but Guinness World Record title-holder Nicki Minaj is certainly not one of them. Here's who the statue more closely resembles:
Kourtney Kardashian: If I were to casually walk by this statue, I'd immediately assume it was Kourtney Kardashian. Not because she even looks like a particularly good Kourtney Kardashian, but just because certain features — the hair and nose, in particular — remind me of the eldest Kardashian sibling more so than anyone else I can think of that would actually have a wax figure.
Amerie: In her highest charting single to date, "Touch," singer Amerie once said, "It's this one thing that got me trippin'." Coincidentally, whenever I think about the person that ultimately had to sign off on this wax figure looking anything like Nicki Minaj, I assume they must have been trippin' too. Maybe they thought it was supposed to be Amerie?
Kimora Lee Simmons: Though former model Kimora Lee Simmons has been off the grid for some time, the Life in the Fab Lane star will always hold a special place in my heart for her contributions to streetwear through seminal label Baby Phat. Minaj once referenced Baby Phat in an a capella freestyle — and now her wax figure looks more like Simmons than herself. Funny how that works.
Cassie: "It's me and you," Cassie said in her debut single. Though the accompanying video made it look like she was saying this to herself while pointing at her reflection in a glassless dance studio mirror, could it be possible that it was actually Nicki Minaj staring back at her? Because apparently Madame Tussauds seems to think that the two musicians look alike.
Christina Milian: The pose is just about the only element of this figure that actually screams Nicki (the "Anaconda" choreo is permanently etched inside my brain), but remember when Christina Milian was a singer and not a go-to Netflixactress? Back then, she made a very popular song called "Dip It Low," which featured similarly suggestive choreography. Now that it's been over a decade and a half since that song's release, I could easily imagine someone confusing which artist originated this pose. It's the only thing that makes sense.