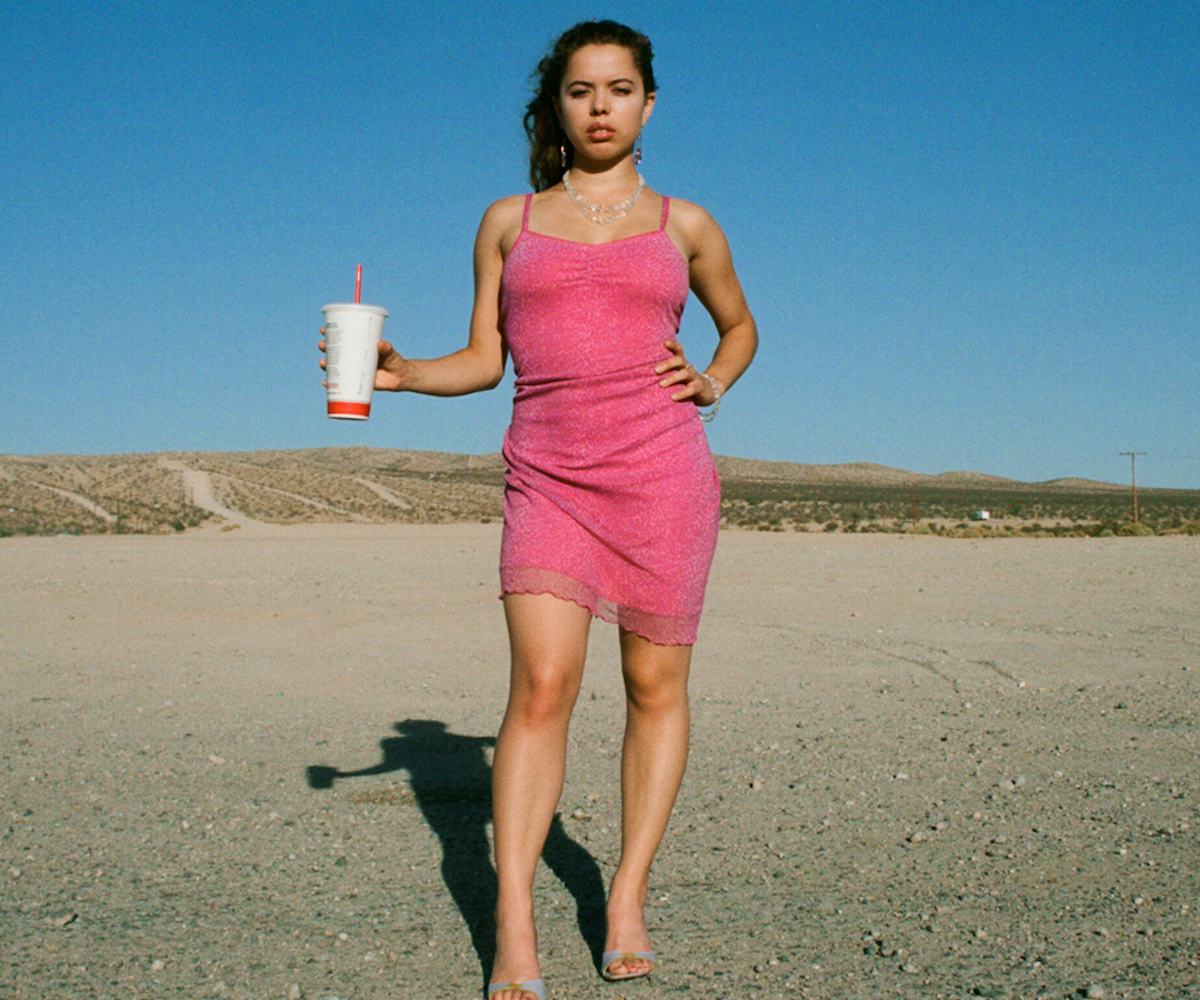 Photo by Molly Daniel
Nilüfer Yanya Builds A Sci-Fi Musical Dystopia On 'Miss Universe'
Her debut album says goodbye to the pageant queen
Miss Universe is a double-edged sword; it's an album title that demands attention, but that also offers a cheeky dig at performed femininity. It's bold and subversive all at once, and it's a strong debut from Nilüfer Yanya, who is well aware that her album's title might have people guessing as to its contents.
"I wanted people to be like, Miss Universe, oh it must be about this, but it's not," Yanya tells me. "I feel like Miss Universe isn't real. She's not a real person, she's not a real thing, but at the same time [the title] could be suggesting everyone, the whole of everyone."
Miss Universe might not be real, but Yanya certainly is. Her presence, especially when performing, is a force to be reckoned with; she has genuine rockstar swagger, without any transparent ego; there is only her essence, which glows bright and connects every song on the album.
The songs on Miss Universe can feel disparate, and they span genres, but their source is all the same place: Yanya. She tells me that she tried to give the album "a context, like I'm placing an idea behind them," through a series of interludes which bring in a sci-fi dystopian element in the form of WWAY Health, a fictional, futuristic health management company that guides you through Miss Universe, and which Yanya describes as being "the voice on the phone, she's kind of like the voice of society suggesting things to you all of the time." Imagine if Britney Spears' giggly voicemails from Oops… I Did It Again! were actually delivered by a robot and centered around inquiries about your well-being—that's WWAY Health, the virtual tour guide into Yanya's musical dystopia.
Begin the album, and Yanya's filtered voice crackles over guitar in 6/8 time. She's a telephone operator, thanking you for joining WWAY Health, offering up your options in the preliminary health program. "We are here for you. We care for you. We worry about you, so you don't have to," her robotic persona insists; sit back, stop thinking, and let this faceless entity handle all your woes.
Yanya has lots of thoughts about robots, none of them very positive; she says, "Slowly, slowly they control everything, and the last they take is your mind. Eventually, they'll be able to control that by constantly suggesting things throughout your day. It could easily happen."
Yanya drew inspiration for WWAY Health from the realistic dystopian nightmares of Black Mirror, which she says, "is already in the public consciousness and culture," so she "felt more free to do this kind of thing, [and] no one's going to be like, Are you crazy?"
But the album isn't just about some technological nightmare realm; it more aptly could be described as a process of self-reflection, even if Yanya insists the songs aren't confessional. Instead, writing about herself became a meta experience. Yanya says, "It's so much easier to write about yourself when you're looking at it from another angle. It's like, stepping out of my body, in a way, and seeing things from a new perspective, and automatically I become another person."
And I presume, it's easier to free yourself of the boundaries of genre when stepping out of your body as well. Yanya finds strength in mixing grungy rock sounds with the palatability of pop, at times. She seamlessly traverses from the synth-laden "Safety Net" to the haunting, stripped-back echo of "Monsters Under The Bed," all to end up back where she started: indie rock with a punk sensibility. She explores an entire universe of sound, and conquers it all.
The album picks up with Yanya's inner thoughts, wondering how much is her own genuine thinking and what's been "tainted by reality," easily moving into "Paralyzed" and later "Paradise," opposing fears and wonderment about potential extremes that could play out. "You're imagining yourself in a future where everything is perfect, as you want it to be, but the fear of that—the fact that it could be real, but also might not happen—is a deterrent, because what if it doesn't happen?" she asks. "Then you're stuck in the same place you are now."
But Yanya doesn't seem like she'll be stuck anywhere; she moves with a fluidity from song to song, linking the album together by using herself, her hopes and fears, as the common thread. She's done the heavy lifting in creating this work, and she's offering it all up for you to see; a galaxy of possibilities, a plastic illusion, a universe in which she's at the center.