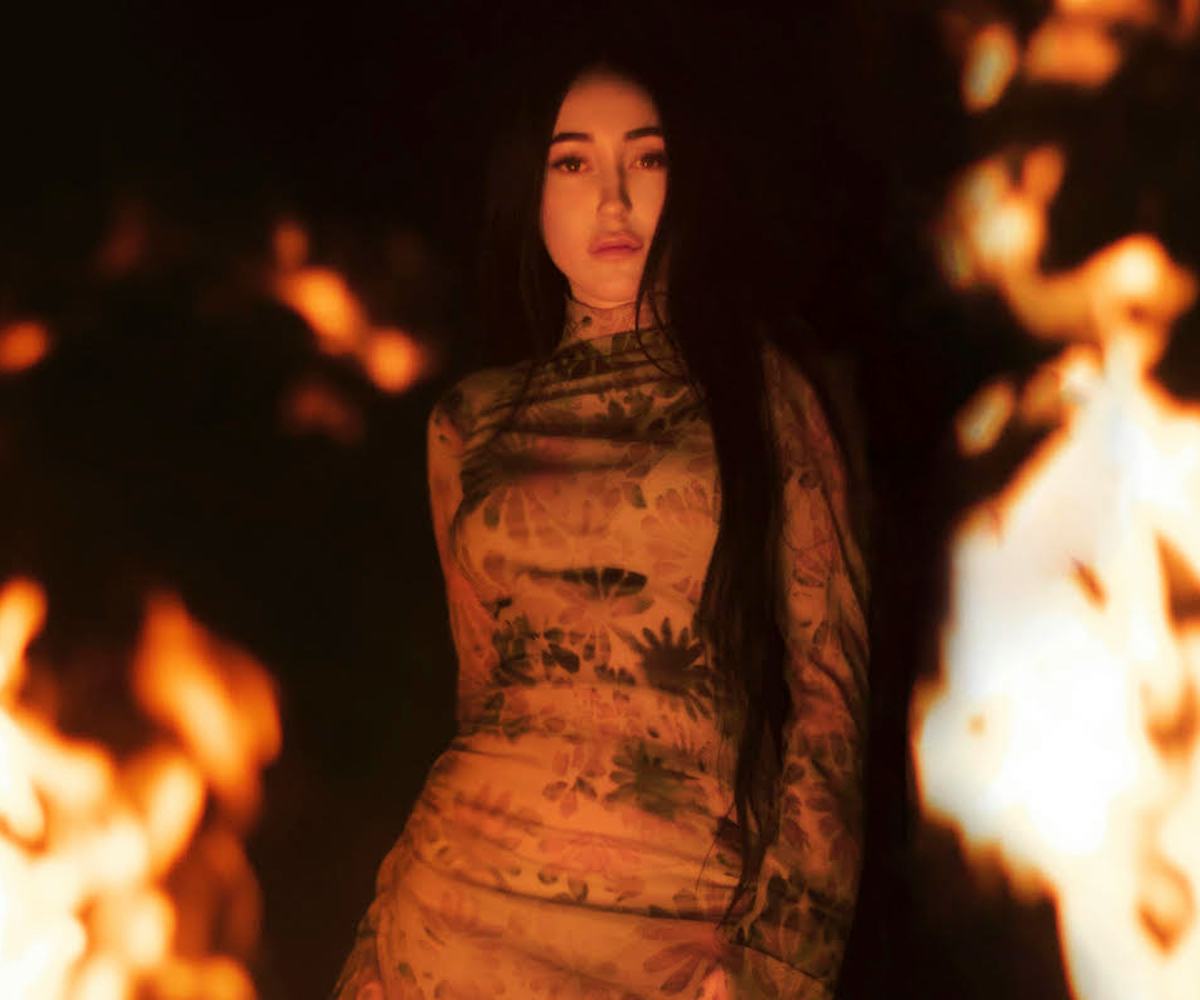 Photo by Amaury Nessaibia
Noah Cyrus On New Single 'I Got So High That I Saw Jesus'
The singer shares her thoughts on the pandemic, connecting with God through weed and her love of horses
There's nothing quite like a pandemic to make it feel like the end times. As the world shuts down to prevent the spread of an invisible virus, it's hard to imagine ever not feeling grateful for the chance to freely walk outside to do whatever the hell your heart desires. Pandemics bring perspective, and for some countries, makes the inherent cruelty worked into its infrastructure impossible to ignore. A little soothing can go a long way, and today Noah Cyrus' new track "I Got So High That I Saw Jesus" is a small reminder that this too, shall pass.
Written with her frequent writing partner Peter "PJ" Harding, "I Got So High That I Saw Jesus" is peaceful and contemplative, its simple guitar work spotlighting Cyrus' rich vocals. Its video follows suit; directed by her close friend James Pereira, Cyrus opts for a frill-free production as a chance to reflect her truest self. Nature's splendors come into the forefront as she bathes in a river and rides a stunning, white horse through a meadow, the latter a special homage to her horse Constantine, whom she calls her guardian angel. It's a nice reminder of what the outside world looks like, and that we should appreciate what we have when we have it.
"The line that speaks out to me the most right now is 'They talk about the rivers running dry / How pretty soon there won't be any water left to turn to wine,'" explains Cyrus over the phone to NYLON while self-isolating in her Los Angeles home. "I think people take advantage of what we have and that line says if we don't take care of our planet, all the things you love are going away. You're not going to be able to drink your wine at night. Our planet is dying and we need to take care of it."
For Cyrus, the song may be rooted in a Come To Jesus moment, but she hopes it resonates beyond her own religious views. "There's so many meanings for this song about taking and enjoying the time on the planet that God created," she says. "I think religion and spirituality can mean many different things to different people, so the song is not for one religion or belief at all. If you're not a religious person and you want to listen to this song, take it as you will. There's more than one meaning behind this song."
What inspired "I Got So High That I Saw Jesus"?
It definitely came from getting high and coming to a self-realization moment. It also took three months to write the song, because it's so complex. PJ and I really just had it on our hands for a while. I was born and raised Christian, but weed really helped me overcome anxiety and it helped me have the epiphany that I write about in this song, hence the title. I got so high one time that I just started thinking about my entire life. I was crying, but it wasn't a sad cry. I was thinking about my entire life, everyone I love, everything that I've done wrong or felt that I need to apologize for, it all came to the surface. I felt like I had a Come To Jesus realization of the things in my life.
How do the lyrics resonate with you? How does religion and spirituality play out in your life?
Every night before I start a show, we get in a prayer circle. My great-grandfather was a Pentecostal preacher and all my life we just thanked God for our blessings. I know that I've gotten through some really tough times, and what got me through those really tough times was praying, praying again, and praying some more. I think it's really cool and a beautiful thing how everybody has their own personal relationship to God or whatever they believe in.
How do you feel about the song coming out in the midst of a pandemic?
The song definitely is about where the world is going wrong. This pandemic we're in right now is so heartbreaking. It's definitely scary to see that it spread so quickly. Everybody needs to take the precautions of staying inside and isolated until everything's clear. It's really sad, my grandma is in the hospital for something other than the virus. They won't let us go see her, because the hospitals are quarantined. It's really hard. She's okay, we just can't go see her. The pandemic makes it hard, people are getting separated.
My grandpa taught me this: The outside of a horse is good for the inside of a man.
You wrote this song with PJ, who you also wrote "July" with. What's your collaborative experience like?
PJ and I are the two best friends anybody could have. We wrote "July" together, "I Got So High I Saw Jesus" and many, many more to come. It's literally us hanging out with a guitar, talking about things I don't feel comfortable talking about with anybody. We're just so tight, we talk on another level. I just feel like I'm talking to someone like my brother, honestly. We just sit there and there's no pressure. PJ and I are really on the same page about the way we look at life. Neither of us want to take it for granted and both of us want to love the people we love while we're here. We've also been heartbroken, we've both been through the same shit. He's a little older and wiser than me, too, which brings in a great mix. We just bring in a really good mix and he makes me feel comfortable and supported. Not only that, he is one talented motherfucker. Just his voice, the way the poetry that comes out of his mouth is so effortless. Writing is so important to me, it's so important to me that I'm writing my songs and speaking my truth. When I write with PJ, I feel like we're speaking my truth, his truth, and it brings so much power to these songs.
How did you two meet?
We met at a writing camp in Bali. I was just stuck to the side of his hip from the moment we met. We met the first year and we didn't get to know each other that much. I don't know if they even put us in the same room together during that trip. The next year, we were put in the room together and it was the only song that I loved from the writing camp. And I knew that was the song. What I didn't know at the time was that PJ was going to be my home base. He's one of my best friends and brings so much positivity to my life. I'm very open about having a hard time with positivity and struggling with all my insecurities and anxieties. He's helped make me confident in a room making music again. He showed me what I can do again. I lost track of myself a year and a half ago when I got off the Cry Tour, I was so depressed. Everyday felt like it was a million years. It was one of the hardest times of my life. I met PJ right when I was coming out of it, and I'm so lucky I did. I call that type of shit a God Thing.
What was the concept behind the track's video?
My mom got a coffee table book called Zodiac Kaleidoscope. It's this beautiful, trippy book of drawings. There was this one drawing in the book of this woman, and she's wearing this really long dress and it flows into the mountains around her, the water, and the fire. All the elements and her body are one. She is the Earth. I wanted the video to be based off of the elements of Earth. I'm talking about Earth in the song and I want it to be in tact with the Earth. I made sure to touch on all of the elements because the song is so in touch with the Earth and what's going on with it.
I've also loved horses my entire life and I know that horses shaped me into who I am. Growing up riding horses, I was so close to my horse Constantine. My favorite part of the whole video — it makes me want to cry — is the horse that I chose, he looks just like Constantine who passed away. I had to put him down when he was diagnosed with cancer. Every time I see this horse running on the screen, my eyes tear up. I feel like it's my horse looking down from heaven. People who don't ride horses don't understand. My grandpa taught me this: The outside of a horse is good for the inside of a man. It's the most true statement anyone has ever told me. Looking into my horse's eyes was my favorite part of my day. Riding horses was my favorite part of my day. Being able to have that symbolism in the video means so much to me.