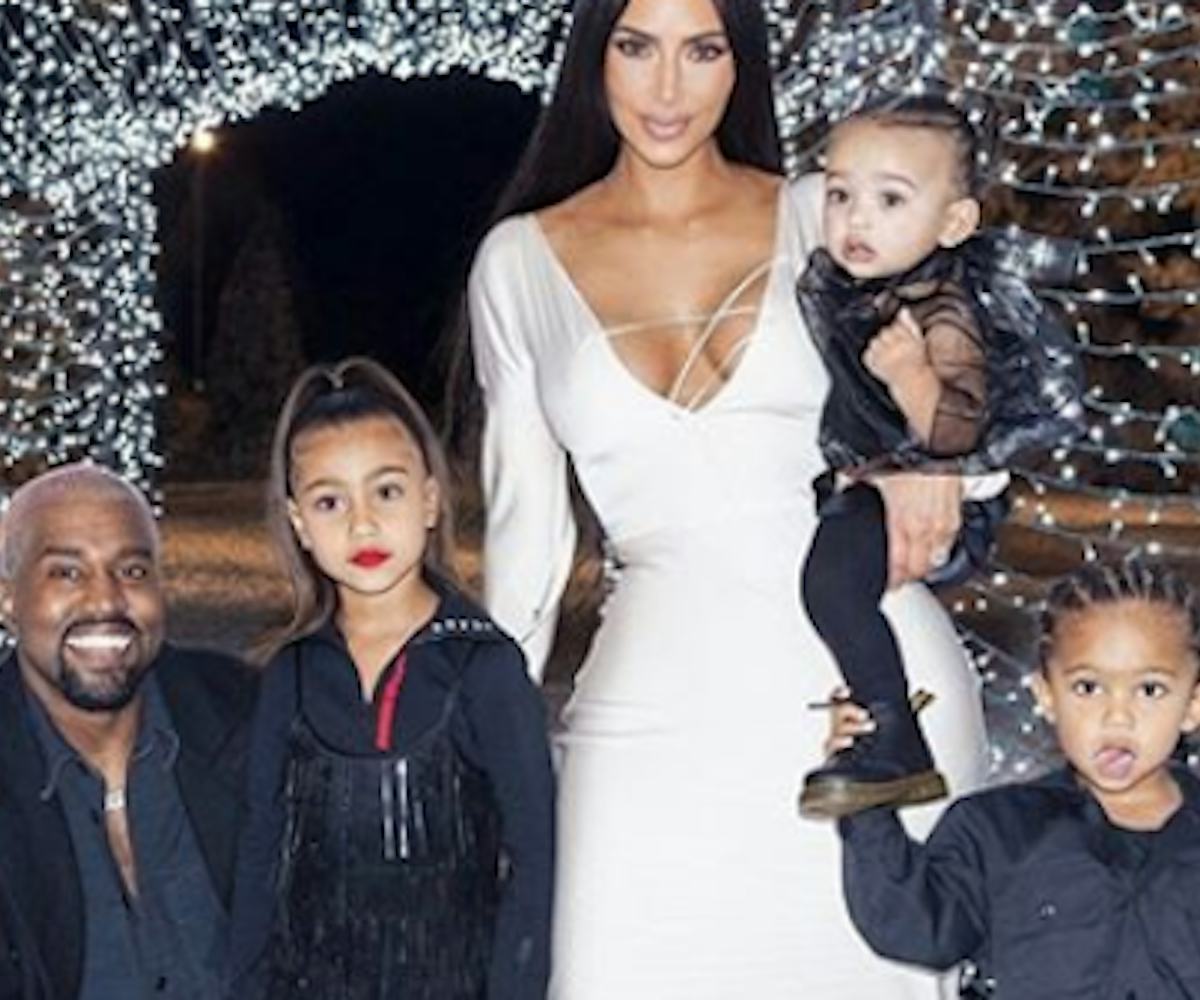 Photo via @kimkardashian Instagram
North West Can Wear Lipstick If She Wants To
Let's cut out the mom-shaming
No strangers to throwing a good party, Kim Kardashian and Co. threw quite the Christmas Eve bash that boasted everything from a man-made sledding mountain to a star-studded group of attendees. The evening also resulted in some very sweet family photos of the Kardashian-West clan in their holiday best.
But, of course, Kardashian's followers had something to say about five and a half-year-old North West's red lipstick choice. While many sang her praise on social media, some felt that West was "too young" to be wearing crimson lipstick and that Kardashian was not letting her daughter "be a child."
Rightfully so, the rest of the internet thought it was weird that people were sexualizing West for wearing lipstick and that Kardashian was mom-shamed.
If a five-year-old wants to explore beauty, why should we stop them? As Kardashian pointed out in a tweet, it was her daughter's own choice to wear lipstick, picking out the exact shade herself, and explaining that it was for a special occasion. But Kardashian shouldn't have to defend herself, because West's beauty choices are her own, and not our business to criticize. And let's be real, how many of us played with makeup when we were young—isn't that all part of "being a child?"
This isn't the first time a Kardashian-Jenner has been shamed over a child's appearances. Kylie Jenner was under fire for putting black lipstick on West back in 2016, and this past spring, the internet thought it was okay to make unwarranted negative comments about Kourtney's son Mason's eyebrows. And frankly, it's ridiculous.
Being that beauty has grown to become such an inclusive space and such an important means of self-expression, the last thing we should be doing is shaming someone for exploring it, regardless of age. West might be a budding beauty mogul (I mean, it is in her blood), or maybe she's just having fun. Either way, it's no one's business but her own.
On another note, Kardashian has announced that the shade is part of an upcoming Classic Red Lip launch, so we can look forward to recreating this iconic red lip in the coming weeks.