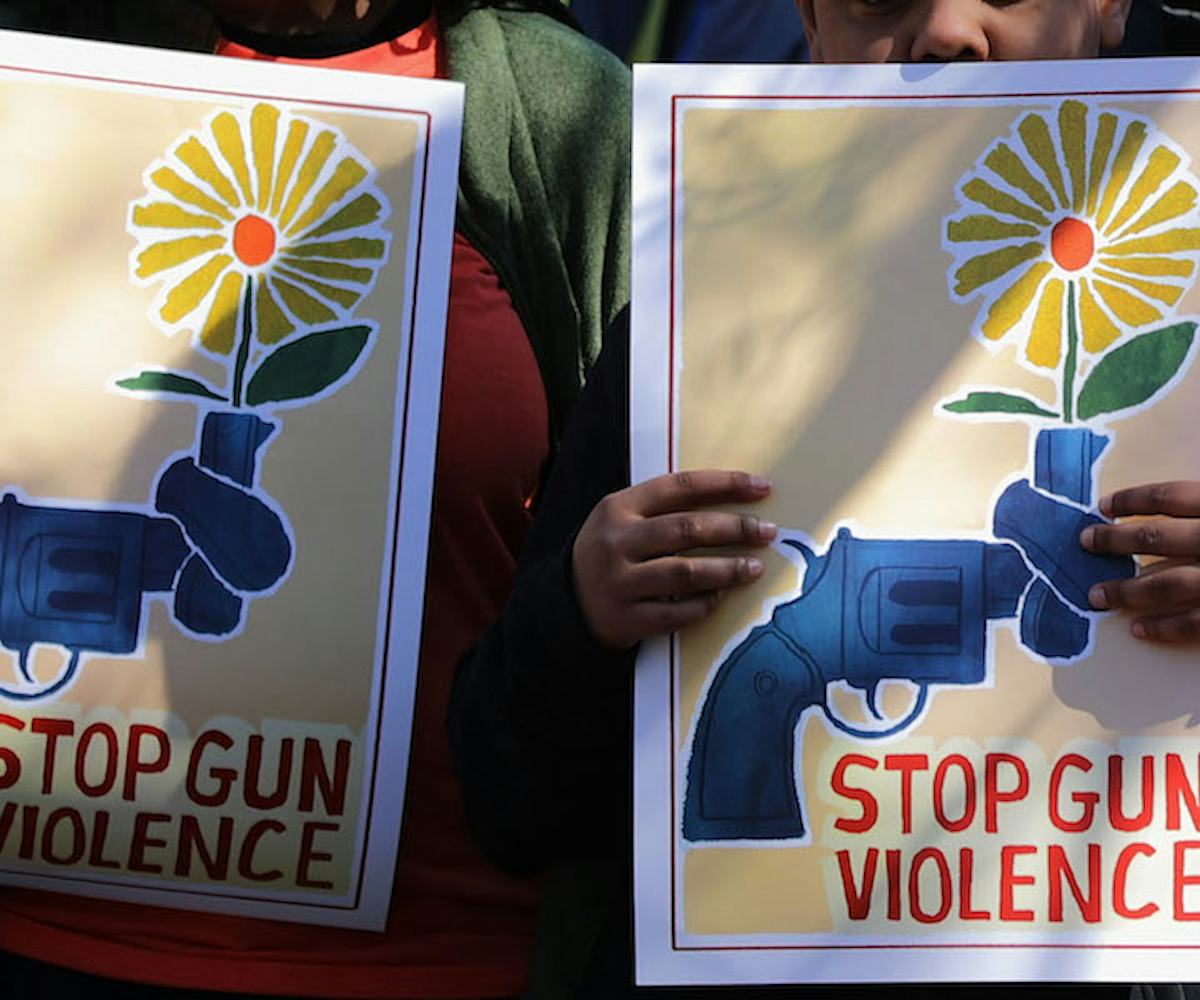 Photo by Chip Somodevilla
NRA Magazine Used Photo Of Nancy Pelosi & Gabby Giffords For Story Titled "Target Practice"
In the NRA's monthly publication The American Rifleman, a feature titled "Target Practice" was published with the text juxtaposed over an image of Nancy Pelosi, as well as former Representative Gabby Giffords who survived a shooting back in 2011. The headline was immediately followed by a bold sub-headline that reads, "Congressional Democrats target gun owners for persecution with extreme firearm transfer bans." HuffPost reporter Jennifer Bendery first shared the images from the print publication via Twitter, tagging the NRA and commenting, "Maybe don't do this."
Senator Chris Murphy also suggested the gross use of the photo was intentional, writing, "Newsflash: they know what they're doing here."
The photo used was taken as Pelosi, alongside Giffords and House Democrats, introduced a new background check bill in early January per the NYT. The article was penned by executive director of the NRA's lobbying arm Chris W. Cox, who describes Pelosi as an "arch anti-gunner" in the piece, noting that the proposal is "deceptively marketed to the public" and was "a broadside against gun ownership."
Giffords began prioritizing the fight against gun violence after surviving a shooting during a constituent meeting that killed six back in 2011. Previously a Republican—and a gun owner, per her site—she then created the anti-gun violence organization Americans For Responsible Solutions, which joined forces with Law Center to Prevent Gun Violence in 2016 and was renamed Giffords.
Giffords' executive director Peter Ambler responded to the outrageous headline and photo to the NYT, saying, "Evoking threats of violence should never be tolerated," adding, "Words matter. This headline should tell us all we need to know about how wildly out of touch the N.R.A. is with its own members and how low they will stoop to advance their damaging agenda at the expense of our safety." Pelosi's daughter Christine also spoke out via Twitter, writing, "We must condemn the NRA's intentional, outrageous criminal incitement." The NRA did not respond to NYT, and has yet to comment on the matter via social media.