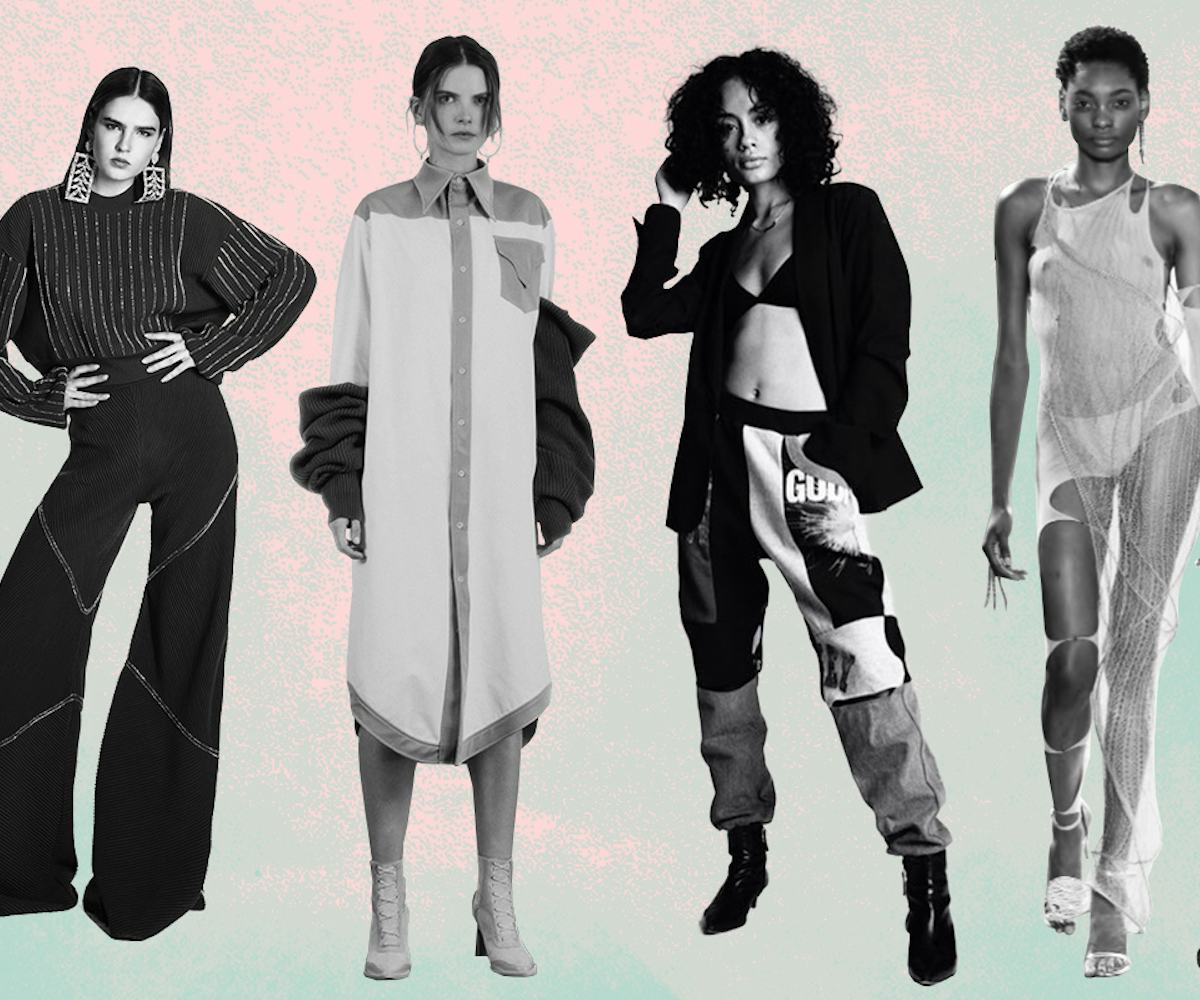 Get To Know These 7 Newcomers Coming To NYFW This Season
The soon-to-be buzzy labels debuting collections this week and next
New York Fashion Week is upon us!
With the shows kicking off this afternoon, we're excited to introduce seven of this season's NYFW first-timers. From emerging designers fresh out of their studies to established global brands making their U.S. debut, the Spring 2020 season has plenty of buzz-worthy additions to the fashion show roster, from couture to streetwear, and all that's in between.
Below, your guide to the newcomer brands-to-know this season.
Paris 99
You may already be familiar with buzzy NYC-based label Paris 99, known for its squiggly rickrack details and playful use of gingham, cherries, and vinyl. Designer Paris Starn has drawn inspiration for past collections from her grandmother, from the dotted Swiss of the bedding in her grandma's home to the vinyl used to cover her couches, with designs loosely based off silhouettes and hemlines of the 1950s and 1960s.
For Spring 2020, Starn will be presenting her collection during NYFW for the first time, and it's set to be a must-see. "For my first NYFW presentation, I'm excited to bring the attendees into the Paris 99 world; a liminal space that seeks liberation and joy referencing the recent American past and our present fight for women's equality and respect," says Starn. The presentation is set to take place in a garden, picnic-style, and will even include a bake sale with proceeds benefitting The Lower East Side Girls Club of NY. We love when a NYFW event does something for the greater good.
Rui Zhou
The Spring 2020 season marks the first time Chinese designer Rui Zhou will be presenting her collection during NYFW solo, excitingly doing so as a CFDA Elaine Gold Finalist. Zhou has presented her collection during the Parson's MFA show before graduating in 2018, and it's safe to say we've been awaiting her return.
Zhou's work is meant to be seen as a second layer of skin, exploring the relationship between skin, fabric, body, garment, entities, and boundaries. Powerful yet fragile, Zhou designs some of the most stunningly delicate and intimate knit garments, often shredded and stretched over the body, not covering it up but rather becoming part of it.
The concept for her upcoming collection is long-distance relationships, and we're looking forward to seeing what she has up her sleeve.
I Love Pretty
It's no surprise that Hong Kong-based label I Love Pretty is gaining attention amongst the fashion set. The brand, which perfectly melds ultra-feminine silhouettes with edgy tailoring and fabrics, designer Juan Yang intends for her collection to be empowering, encouraging women to be independent and fearless and dress however they please.
For Spring 2020, Yang will be debuting a collection she's calling Children of the Night, that aims to bring to light to teenage depression that is, often, heavily ignored. Unfortunately, Yang won't actually be able to make her own NYFW debut, as her visa to enter the country was denied. But when it comes to fashion, the show must go on, and Yang still plans to have her show take place even without her presence.
CIE Denim
We already have CIE Denim, the brainchild of designer Kelcie Schofield, on our radar for its unique approach to repurposed denim. Most known for its quirky upside-down jean, Schofield fuses her love for vintage with design by creating one-of-a-kind pieces from deconstructed, then reconstructed, denim.
Considering how wasteful NYFW can be, we'll be following anyone presenting this season with a more sustainable approach, so we're certainly excited to see what Schofield has in store for Spring 2020.
RaisaVanessa
Istanbul-based RaisaVanessa is a couture and ready-to-wear label founded by sisters Raisa and Vanessa Sason. Both have a background in costume design for performance, and you can see theatrical elements in all of their maximalist, spectacular, yet still wearable pieces.
While the sisters first debuted their collection at Mercedes Benz Fashion Week Istanbul, Spring 2020 will be the first time they bring their designs to NYFW (however, they can already be shopped at luxury retailers such as Moda Operandi, Luisa Via Roma, and FWRD by Elyse Walker). The upcoming collection is inspired by the lambada, the Brazilian "forbidden dance," drawing influences from the movement of the hips and arched legs found within its movements. While perfect for dancing, the designs are also quite extravagant, featuring tons of handmade beaded fabrics, and pleats, florals, and sequins galore.
Social-Work
One collection we can't wait to check out this season is from the NYC-based Social-Work. The unisex label from Qi Wang and Chenghui Zhang—two Parsons grads who met while studying fashion design together—mixes and matches both contemporary and vintage elements of the Eastern and Western cultures, aiming to bring to life the contrast between both worlds.
For its Spring 2020 collection, the duo has drawn inspiration from the film Blade Runner and its sci-fi elements (you know, like bioengineered humans), aiming to illustrate an emotional disconnection between society's assumptions and reality. According to the brand, we can expect that to be brought to life with hints of vintage war uniforms and military details, mixed with modern (and if we're talking Blade Runner, definitely futuristic) elements.
Refuse Club
NYC-based newcomer Refuse Club was launched as a response to the #MeToo movement, which never took off in China (in fact, the hashtag itself was banned). While founders Yuner Shao and "Stef" Puzhen Zhou live in the U.S., the designers were determined to bring that conversation to life in China through Refuse Club, self-described as not only a brand but a place to share "uncompromising aesthetics" with "diverse cultural and political conversations." The brand's name is derived from Salon des Refusés, a mid-19th-century exhibition in Paris that showcased paintings deemed too scandalous by the official Paris Salon.
For Spring 2020, the design duo is inspired by the young people of small-town China, whose subculture exists via the Chinese social networking app, Kwai. The two explain that Chinese media portrays Kwai as the reflection of the real life of the major Chinese population, yet the population of big Chinese cities mock it, finding it meaningless and contributing nothing to society. In this collection, the two hope to reimagine, even celebrate, the quirky fashion aesthetic found on Kwai, and point out the fact that it is the capitalist society that "encourages people to alienate themselves into living spectacles," and young people expressing themselves on social media should be celebrated, not mocked.