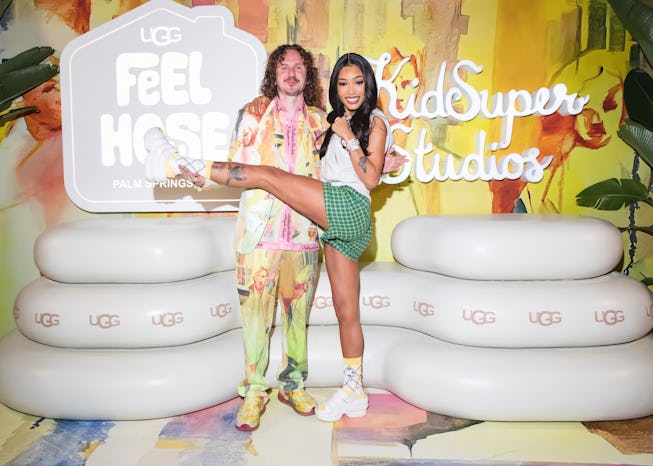 UGG
KidSuper's Colm Dillane & UGG Launch A Pre-Coachella Fête Under The Stars
The designer teamed up with UGG to bring good vibes — and a new shoe — to Palm Springs.
Welcome to NYLON's Party Report Card, where we give you the Who, What, Where, Why, and When on this week's hottest parties — plus all the gossip you missed. It's the inside scoop you need to feel like you were on the invite list. Sorry in advance for the FOMO.
WHAT: A pre-Coachella fête to launch UGG Feel House and their latest collaboration with KidSuper's Colm Dillane.
WHEN: Thursday, April 13
WHO: KidSuper's Colm Dillane, Coi Leray, Camila Marrone, DJ Jadaboo, and ASAP Nast
WHERE: Poolside, at the sprawling boutique hotel grounds of Palm Springs' Villa Royale, Ugg-ed out for one night.
WHY: To kick off festival season and unveil the new KidSuper x UGG Tasman Sport shoe, exclusive to Coachella 2023.
THE VIBE: At sunset, guests filtered in through the front gates of the Villa Royale that was fully transformed into UGG HQ for the weekend. Glass cases showcasing previous UGG collaborations dotted the courtyard of the sprawling, Spanish-influence hotel grounds. UGG pillows draped on couches and chairs. Splashes of KidSuper's now-iconic-style of watercolor-like artwork — specifically in the same sunny yellow print that coats the new KidSuper x UGG Tasman Sport shoe, which was unveiled that night — adorned the floor around the pool and on the walls. In the middle of it all was the walking, talking version of the print: KidSuper's Colm Dillane himself, decked in full yellow KidSuper designs, making conversation with strangers and longtime collaborators.
In KidSuper fashion, the atmosphere was casual and lax. Everyone mingled around the pool but didn't get in — except Coi Leray who jumped into one of the massive pool floaties, shaped in the style of an UGG sandal, for a photo op. DJ Jadaboo spun everything from Yaeji to Calvin Harris, to thumping house. Daisy Jones & The Six star Camila Marrone swung by for what looked like a longtime reunion with Dillane, frenzily captured by photographers. Throughout the evening, attendees had the chance to pick up customized Ugg boots by tattoo artist Jordan Hart, get their aura photo taken by Halo Auragraphic, and take part in the hottest Y2K resurgence trend of the moment, getting tooth gems (including yours truly), courtesy of the Gemz by Lizzie.
BEST DRESSED: KidSuper in head-to-toe his own yellow and pink designs (including, of course, the new shoe).
OVERHEARD: "Hold my leg, hold my leg!" — Coi Leray to KidSuper.
DJ JadabooJason Sean Weiss/BFA.com
ASAP NastJason Sean Weiss/BFA.com
Coi Leray Jason Sean Weiss/BFA.com
Coi Leray & ASAP NastJason Sean Weiss/BFA.com
Camila Marrone & KidSuper's Colm DillaneJason Sean Weiss/BFA.com
Coi LerayJason Sean Weiss/BFA.com