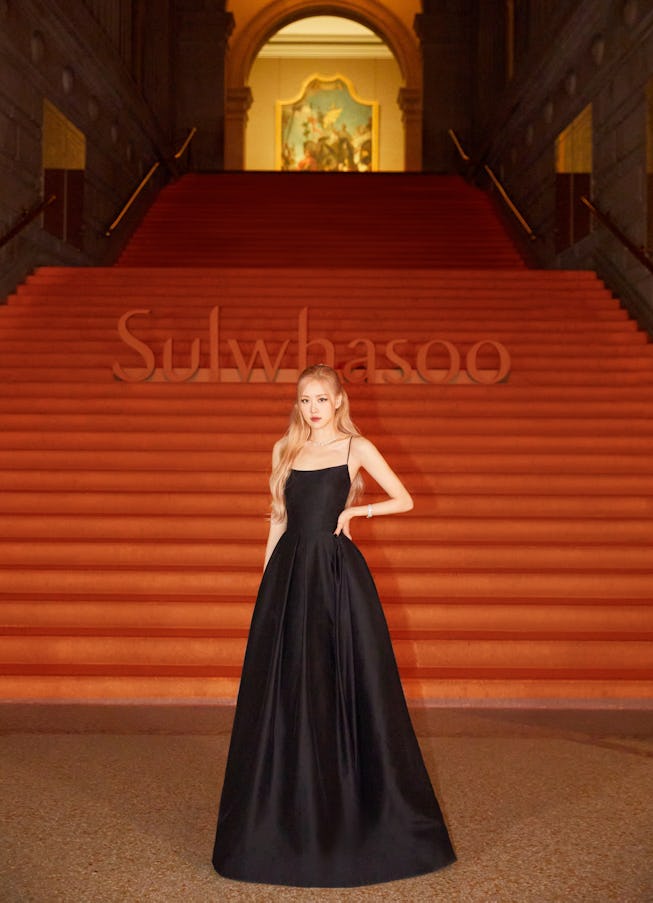 BLACKPINK's Rosé Takes Over the Met With Sulwhasoo
The singer co-hosted a dinner to celebrate the beauty brand's new collaboration with the museum.
Welcome to NYLON's Party Report Card, where we give you the Who, What, Where, Why, and When on this week's hottest parties — plus all the gossip you missed. It's the inside scoop you need to feel like you were on the invite list. Sorry in advance for the FOMO.
WHAT: A night at the Temple of Dendur to celebrate Sulwhasoo and Metropolitan Museum of Art's partnership
WHEN: Wednesday, March 29
WHO: Hosts Rosé, Yuh-Jung Youn, and Jia Song, along with Charli XCX, Paloma Elsesser, Precious Lee, Ashley Park, Ferg, Katerina Tannenbaum, Britt Lower, Duckie Thot, and more
WHERE: The iconic Temple of Dendur, transformed into a lounge for one night only
WHY: To kick off the museum's partnership with the global beauty brand
THE VIBE: The Met Gala came early this year. Arriving uptown, you could be mistaken that it was the first Monday in May. The museum's entrance was swathed in Sulwhasoo orange, with escorts in matching suits there to welcome guests; at the foot of the steps, a swarm of fans crowded around barricades waiting for a certain K-pop idol to arrive.
Once inside, guests were brought to the Temple of Dendur for cocktail hour (and, let's be honest, hour to get your shot for Instagram — it's not often that you get a museum to yourself for the night) before being ushered to dinner, set around intimate tables with luxe lounge sofas. The night kicked off with brief heartfelt speeches from Rosé, Youn, and Song; as soon as they wrapped, waiters descended with the first course of a custom dinner menu designed by Atomix Michelin-starred Chef Junghyun Park, who could later be found going from table to table to make sure guests enjoyed their meal.
After the final course (a ginseng panna cotta with verjus apples) hit the tables, it was time to segue into the party portion of the night, which kicked off with DJ Anderson .Paak spinning Nelly Furtado's "Promiscuous" — and ended well after the museum's normal hours, a crush of satisfied partygoers once again hitting the Met stairs on their way out.
BEST DRESSED: Charli XCX in a cool grey matching set with netting details by Maison Margiela.
OVERHEARD: On Rosé's flawless skin (no wonder she's the face of Sulwhasoo): "I just wish I could stare at her all night."