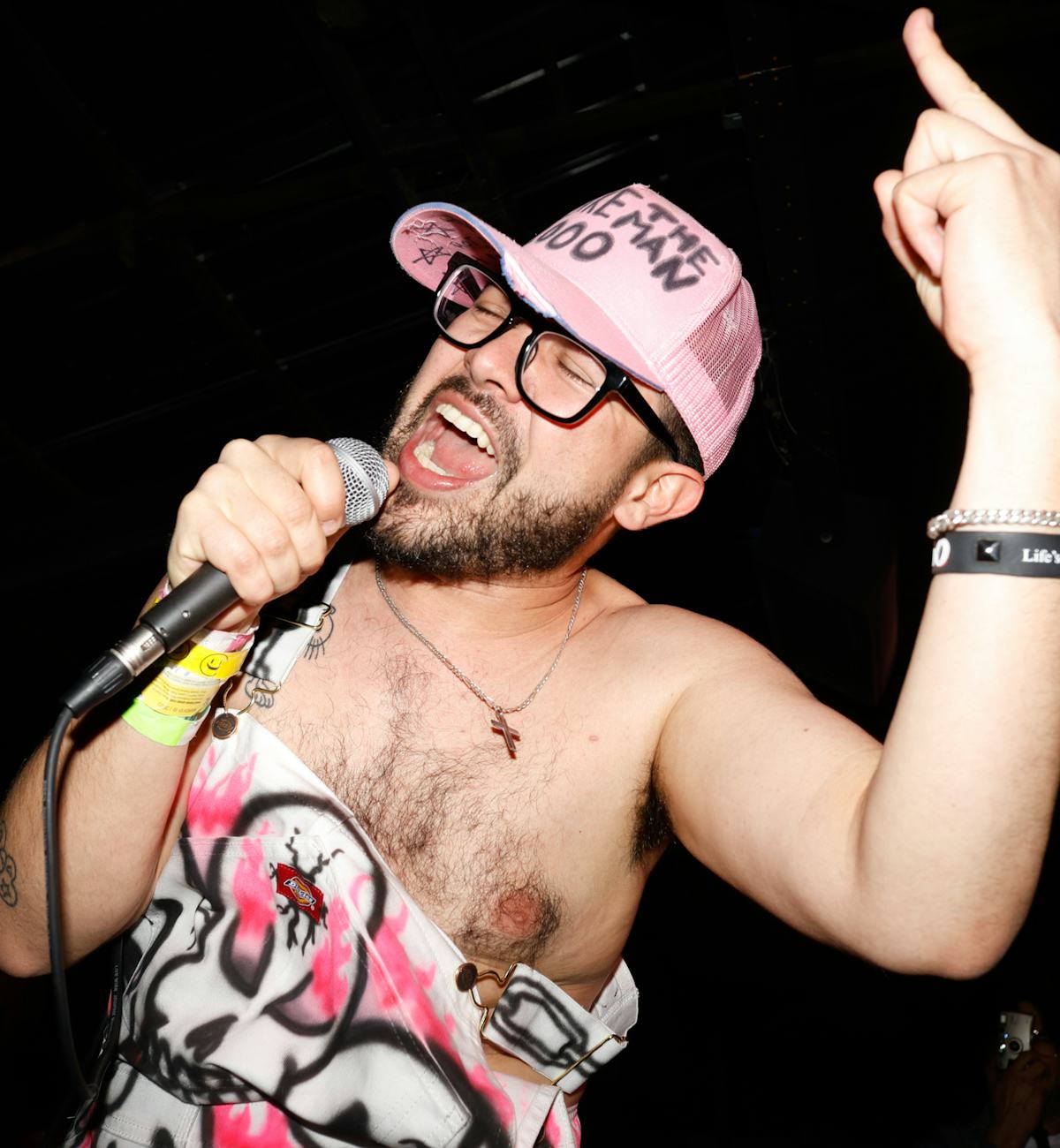 Mark Hunter/Cobrasnake/NYC Bands
Dimes Square Is Dead. Long Live The Bands of Dimes Square
Artists like Blaketheman1000, The Dare, and Frost Children are keeping the spirit of New York's most viral neighborhood alive.
Blake Ortiz-Goldberg's apartment burned down in 2020, but to him, it felt like a blessing. The 27-year-old had been living in Bushwick like so many 20-something creatives who flock to the Brooklyn neighborhood in search of reasonable rent and a sense of community. Making spacey alt-rap under the name Blaketheman1000, he was booking shows and meeting plenty of fellow artists. But something was still missing.
So during the pandemic, as Manhattan rent prices plummeted, Ortiz-Goldberg moved downtown with a vision for a music scene that felt "less like shows and more like parties," he says. Music venues were closed, so Ortiz-Goldberg and friends like hyperpop duo Frost Children put together makeshift concerts in sports bars, Chinese restaurants, and art galleries. "I was like, if I can get my friends in this tiny bar, get it really packed, and wear a cool outfit, it'll be on everyone's Instagram story, and then everyone who's a friend of a friend will see it and be like, 'Damn, I should have gone to that,'" he says with a laugh. "New Yorkers have so much FOMO and they want to believe that any event they're going to can and will only happen once."
Those gatherings became the soundtrack of Dimes Square, a tiny whiff of a neighborhood between the Lower East Side and Chinatown that attracted intense media attention during the early pandemic for its Covid-flouting parties and the colorful mix of models, e-girls, alt magazine editors, and edgelord podcasters who loitered around its bars. Now, as life in the city once again resembles pre-pandemic times — and as Dimes Square residents disperse amid climbing rents — the musical artists associated with the neighborhood may become its most lasting legacy.
Ortiz-Goldberg is in many ways the scene's ringleader — everyone seems to know him or credit him with their introduction to the scene or booking their first gig. But in addition to Ortiz-Goldberg, there's Frost Children, the sibling duo of Angel and Lulu Prost, who will release their new album, Speed Run, on tastemaking indie label True Panther later this month and just appeared in a campaign for Marc Jacobs' Heaven collection. Their Dimes Square-adjacent labelmates, noise-rock band Model/Actriz, who formed in 2016, scored Pitchfork's Best New Music designation last month for their new album Dogsbody. Meanwhile, Harrison Patrick Smith, better known as electroclash act The Dare, sat front row at Gucci's Milan menswear show in January and DJ'd its after-party (and only just released his second song).
"It's sort of in between subculture and pop culture," says nightlife photographer Matt Weinberger. "Every conversation I have is just a Substack culture report, but in real life." Indeed, these artists and their events have been generously covered in newsletters like Perfectly Imperfect, which features recommendations from in-the-know New Yorkers, and Joe Kerwin's You Missed It, which maps out New York's underground music landscape.
Dimes Square was as much a digital hub as it was an IRL scene, and the music most associated with it — made by people who don't necessarily even live in its vague borders — reflects that tension. "I'm in the city, while you're online / I'm in the club, while you're online," Smith yells over grimy synths on The Dare's latest single, "Good Time." Yet many acts also share a sense of internet-fueled nostalgia for early 2000s pop culture or the "indie sleaze" era that followed in the late aughts, collaging their different references: The Hellp evoke the swooped bangs and hedonism of Warped Tour groups like 3OH!3; Sub*T feels like Lindsay Lohan's fictional Freaky Friday band come to life; and acts like MGNA Crrrta, GRBGE_GIRL, and Club Eat recall the scrappy electronic music that ruled Myspace's heyday.
"Anyone that's our age making music right now is clearly on the internet, and making something that neglects that facet of culture feels tone-deaf," Lulu Prost says. "But I don't want to make music that can only be enjoyed by, like, chronically online 24-year-olds."
Perhaps what unites these artists most is their ambivalence, if not outright aversion, to the Dimes Square label — especially after an exhausting online discourse that spawned such headlines as "How Dimes Square Became the New York City Neighborhood We Love to Hate" and "The Next Dimes Square Is Just Around the Corner."
"I personally appreciate that other people have things to say about Dimes Square, but I try not to focus on it," says Allyson Camitta, a former bandmate of The Dare's old project Turtlenecked, who started the ghostly electronic group Shallowhalo with producer Ezra Tenenbaum in 2020. "When you look into trends too closely, it affects what you create. You become self-conscious."
"There's a Dimes Square derangement syndrome," says Curtis Everett Pawley, who records as The Life. "As soon as the phrase gets brought up, everything related to it is totally dismissed.
Behind the buzzwords, however, both found real community. Before the pandemic, Pawley was hitting a wall. He wanted to write music that had a "full band sound," but his full-time job was draining his focus. "I remember saying right before Covid hit, 'I just need a couple of weeks. I know I could finish. I could get this going.'" And then, he did. Holed up in his apartment, he started the film and pop culture podcast The Ion Pack, which developed a cult following, and he found his footing with his music, concocting a mix of sparkling alt-pop and 2000s radio rock that eventually led to supporting gigs and afterparties with The 1975 and Beach Fossils.
In the early days of Dimes Square, Pawley didn't think anyone was interested in that kind of music. "People just wanted to dance. It was hard to break the DJ thing." But over time, he noticed audiences' tastes changed. "Maybe, post-Covid, people wanted to enhance their social experiences, and there's nothing more visceral and powerful than a good live show," he says. As he started booking more gigs, "it felt like New York was back."
Like Blaketheman1000 and The Dare, Pawley was an expat of the Bushwick bar scene who also came to Dimes Square seeking a creative home. When his podcast partner got an office on Canal Street, he relished the chance to hang out in the area and network with other artists. "It was a lot of people who felt similarly disaffected from whatever art world they come from, finding new people that they related to," he says.
"We were all hungry to create and needed to have this outlet to share it with other people," says Camitta. "The pandemic had a huge impact on the scene." Though she lives in the Ridgewood neighborhood of Queens, she describes Dimes Square as an "essential point" and "central meeting place" for many of her peers. "Now we're all a little busier. We're not in quarantine anymore. But I think that time was really important for each of our projects."
As the excitement cools — Weinberger, the photographer, says downtown is already "post-Dimes Square" — some Dimes Square fixtures are trying to preserve its culture. You Missed It's Kerwin recently collaborated with Perfectly Imperfect co-founder Tyler Bainbridge on NYC Beat, a playlist-turned-SXSW showcase that this year featured Blaketheman1000, The Hellp, Model/Actriz, and The Life. Kerwin hopes projects like it will serve as "community centers" to maintain the connections born during the last few years. "That's the part of it that I want to stay rooted in, more than the internet hype," Kerwin says. "Because that aspect just seems kind of built to fail."
Even Ortiz-Goldberg sensed the thrills of Dimes Square couldn't last forever. "We were able to provide a fun social space after the lockdowns ended, which was something a lot of people wanted." But after his Manhattan landlord raised his rent by more than $1,000, he says, he returned to Bushwick. "This is, like, a really specific place where very few people get to live," he says. "And then once it got expensive, people were like, 'This isn't worth it.'"