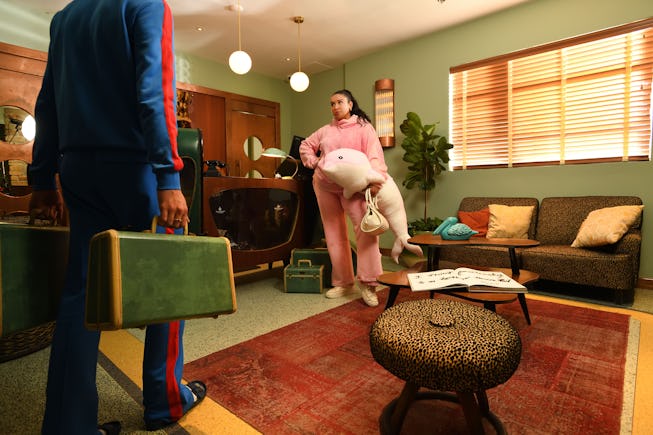 How Renzo Rosso Turned The Pelican Hotel Into A Miami Must-Stay
After a two-year renovation, the South Beach hotel is back and better than ever.
If you're looking for a mega-chain hotel in Miami with multiple pools, grand marble lobbies, and enough neon signage to rival the Las Vegas Strip, you've got plenty of options. But a stylish boutique spot that's both upscale and doesn't take itself too seriously? Nearly impossible. That is, until Renzo Rosso reopened The Pelican Hotel in November 2022 after a two-year renovation. Now, picking a spot for your next getaway is a no-brainer.
Located in the heart of South Beach, the hotel was originally built in 1948 and purchased by Rosso — the founder of Italian fashion label Diesel — in 1990. In its newest iteration, each one of the 32 rooms is inspired by a variety of movie sets and features one-of-a-kind vintage artifacts and furniture. Depending on your booking, you may get the keys to anything from "Green Boo," a nature-themed abode, to "Old Glory," which recalls the earliest Diesel denim. Included in the 32 rooms are seven suites, six ocean-view rooms, and one super-exclusive penthouse, designed with the idea of "where would James Bond stay if he were in Miami?"
In addition to the cadre of tongue-in-cheek rooms, the ground floor boasts it's own restaurant, Pelican Cafe. Led by Miami-based Italian chef Wendy Cacciatori, the restaurant is open for breakfast, lunch, and dinner service with full menus for each (the pasta is not to be missed). For those in search of a nightcap, there is also a full bar that is aesthetically pleasing (naturally) and would not look out of place in a Wes Anderson film. Despite being just blocks from the bustling Collins Ave, consider the entire experience a Miami oasis.
Here, Rosso shares how he made it happen.
What was your starting point when it came to approaching the redesign?
We wanted to maintain and respect the original, eclectic identity of the Pelican Hotel, as it was created in the '90s. The concept was already there, the fact that every room had this unique second-hand feeling from the '30s, '40s, '50s, '60s, was amazing. During the redesign my son Andrea went to vintage markets and sourced more incredible pieces. We worked respecting the authentic spirit of the Pelican, its unconventional DNA, and introducing an intelligent use of state-of-the-art technology with an eye to sustainability.
What makes a good hotel design?
A well-designed hotel has soft and hard components. It creates meaningful first impressions that help differentiate from competitors, but most importantly it must generate good vibes, it must be able to surprise guests with its identity and personality, recognizable in every detail. And the management of the hotel plays an incredibly important par in this. That's why I decided to work with San Domenico Hotels who run one of Italy's most incredible luxury resorts, Borgo Egnazia.
What design elements were important to you in rethinking The Pelican?
The Pelican has been restored with authentic Deco furnishings to keep its uniqueness intact. We worked on a mix of vintage, art, and design. North Miami is a reference point for second hand. We used vintage pieces from different decades found in flea markets around the world, as well as specially selected iconic pieces, such as the 1988 black sofas by Antonio Citterio for Moroso, which is a partner of our Diesel Living collection.
How did you incorporate the feeling of Miami into the hotel?
I think Miami is living one of its best moments, it's cool, it's vibrant, it's happening. Miami is a city full of opportunities and contradictions that coexist and contaminate each other. The Pelican reflects this: each room has a different design and tells a different story. Room themes range from the DIESEL "Old Glory" denim to the nature-permeating "Green Boo." It features James Bond-like "Penthouse One" (my room when I am in town), which boasts one of the most beautiful and extensive private terraces on Ocean Drive with unparalleled ocean views. The Pelican Hotel is an icon of Ocean Drive, and it will always lead the pack with its one-of-a-kind style.
How should guests feel when staying at The Pelican?
I hope happy and comfortable, and cool. Everyone at the Pelican can be what they feel like being, choosing the room most in line with their state of mind in a precise moment of time.
What small details are you most proud of that some guests might not even notice?
I think we are experiencing an important change today. Organic, recycled, and recovery solutions (like the entire secondhand market) are increasingly becoming a philosophy. For us sustainability means for instance not building anew but giving new life, working with local talents, and creating great design.
What room is your favorite?
I've always been in love with the Penthouse and even more so after the redesign. I like the aquarium that acts like a bridge between the day and the night areas, but most of all the terrace from which you look out and see the palm trees, the beach, the people of Miami training and simply enjoying life.
How does designing a hotel differ from designing a fashion collection?
Technically they are completely different. A collection has a seasonality, while a hotel must last for a long time. But both endeavors touch people's lives, creating individual experiences, and ultimately beauty.