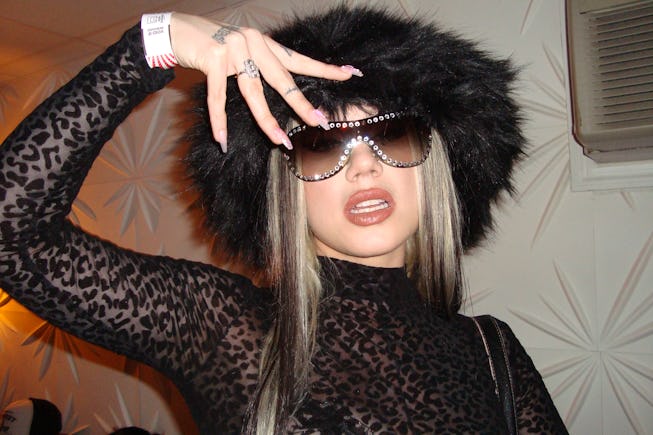 Slayyyter Shares Her Glitzy Boiler Room Photo Diary
The pop singer took over Brooklyn Mirage in lace and fur.
One word that accurately describes Slayyyter's style? Opulent. For the cult pop singer and songwriter's first-ever Boiler Room performance at the party series' after-hours New York City event on Saturday, July 15, she sauntered out onto the Brooklyn Mirage stage (which, in traditional Boiler Room fashion, was positioned in the middle of the crowd) wearing a luxe, all-black lace catsuit, bedazzled sunglasses, and fluffy fur hat — all in 80 degree weather.
The singer is currently revving up for the arrival of her sophomore album, a dazzling new era defined by glamour, glitz, and old-Hollywood melodrama, and she's pulling out all the stops. During her performance, as she debuted her upcoming single, "Miss Belladonna," she belted and serenaded the crowd diva-style, all while making sure a stage fan was positioned to blow her hair at just the right angle. (Later in the show, she stripped down to just lacy lingerie).
Below, go behind-the-scenes as she got ready for the Hollywood-meets-rave performance.
Describe your look for tonight's show.
All black, red lip, furry hat and boots. Hollywood star meets rave vibes.
What is your pre-show routine like?
I usually just chill, hang with my crew until show time. We do a pre-show shot to "Time To Dance" by The Shoes, that's always our ritual.
What's on your rider?
Juice shots, Celsius, tequila and limes, veggie tray, grilled chicken. My rider is pretty healthy these days.
What's your favorite part of playing in NYC?
The nightlife culture here is so different. The music scenes and club scenes feel so inspiring to play in. My first concert I ever did was in New York, so I have a special place in my heart for shows here.
What song do you love playing live and why?
"Daddy AF." That's when I go the craziest, that's the song the crowd moshes to the hardest. That's when the pit opens.
What's on the mood board for your new record?
Hollywood stars! Glamour. '80s deco. New and old Hollywood. Fame, red lipstick, opulence and excess. Living a hyper-indulgent lifestyle.
What's your favorite thing to do post-show?
Go to the afters, of course.
Photos courtesy of Slayyyter.