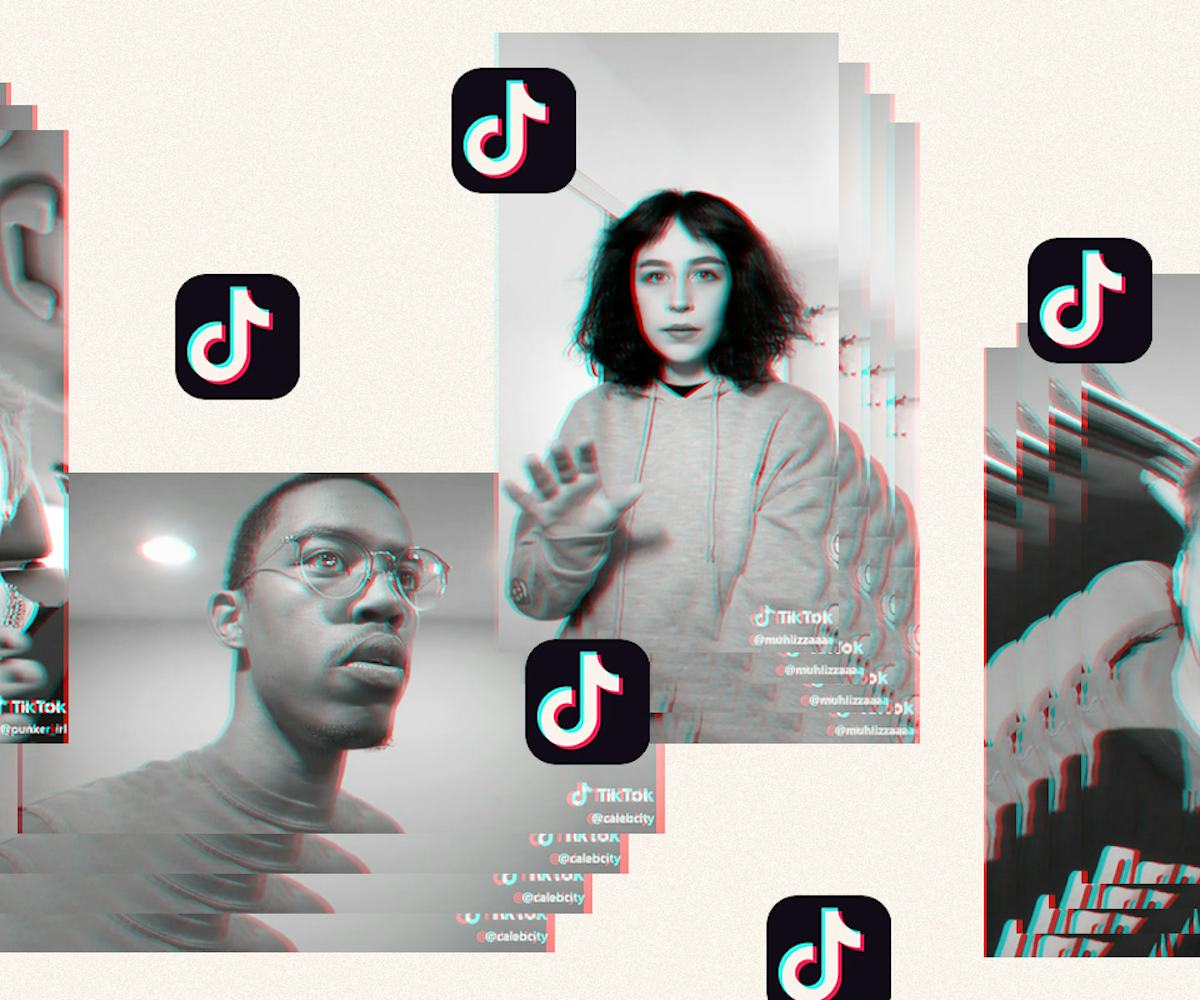 Screenshots via @punker_irl, @calebcity, @muhhlizzaaaa, @nathantriska / Tiktok
NYLON's Favorite TikToks Of 2019
*Bill Wurtz voice* we just did a GOOD thing
We just did a good thing — we don't regret this thing at all. And by this thing, we mean that NYLON staffers chose their favorite TikToks of the year to share with the world. If you haven't been singing MARINA's "Oh No!" under your breath for the majority of the past few months, you probably haven't downloaded the app yet, and that's a huge problem.
Plenty of trends took over TikTok throughout 2019, from throwing fluffy dogs' ears into "buns" with scrunchies to ousting our most embarrassing (and potentially traumatic) memories by typing them into Google Translate for a robotic playback. Musical trends were dramatically impacted by the app's soar in popularity. Where would we be without "Old Town Road"'s crossover from TikTok to No. 1 on the Billboard Hot 100? How would we dance through a bad breakup without Ashnikko and Yung Baby Tate's "STUPID"? How would we lock eyes with an ex at a house party without "We Fell In Love In October" by Girl In Red playing softly in the background?
Check out all of our favorite TikToks of the year below — as well as plenty of honorable mentions, because let's face it, when it comes to TikTok, we're going to keep scrolling for more hilarious clips until we fall asleep or remember we have real-life responsibilities to get back to.
NYLON'S FAVORITE TIKTOKS OF 2019
"Teens often take to social media to get political, and TikTok is where they get most creative with their ideologies. Back in April, when 800-year-old Parisian cathedral Notre Dame suddenly burned down, French billionaires — namely Bernard Arnault (CEO of LVMH) and François-Henri Pinault (chairman of competing luxury conglomerate Kering) — pledged hundreds of millions of euros to help rebuild the landmark. Of course, to an American teenager, it seemed suspicious that these generous benefactors were nowhere to be found during objectively more devastating humanitarian crises, including the constant pollution of our oceans, climate change, hurricane relief in Puerto Rico, and the public health emergency in Flint, Michigan. This resulting video clip, set to 2012 Kreayshawn track 'Go Hard,' is a darkly hilarious sign of the times."
- Alyssa Vingan Klein, Editorial Director
"Muhlizzaaaa's incredible, fourth-wall-breaking, modern-cinema TikTok is what finally convinced me to make an account on the platform. I have also watched it every day since. The 'hey' moment of recovery? Priceless."
- Steffanee Wang, Associate Music Editor
"With everything Aisha, aka @arbacn posts to TikTok, her delivery is key. For this one, it's not in making fun of VSCO Girls — they're cute, albeit a little basic — but the hip persona has impeded on Aisha's comfy wardrobe choice being seen as anything but a trend. 'I don't even have a Hydro Flask,' she says defensively, before tempering down and delivering her best line through a vocal crack: 'I got a Spiderman water bottle.' It's defeated, almost puppy-like, and a Very Big Mood."
- Allison Stubblebine, Editorial Coordinator
"We love a Samoyed who knows their worth! That's the energy we're bringing into all of 2020."
- Claire Valentine, Entertainment Editor
"It's so hard for me to choose just one favorite from the chaotic, joyful mess that is TikTok, but this video from YouTuber Jerm Bot has to be on the top of my list. The social media platform is known for its challenges created by its users (or brands), whether that be a dance, a song, or any other random performative antics with the sole purpose of going viral and garnering exposure/likes/followers. Jerm Bot's 'challenge' has nothing to do with gaining popularity on the app, but rather finding another more purposeful way to make use of your time. Should we follow his suggestion? Absolutely not. Keep on scrolling through that billion-dollar time suck, my friends."
- Maria Bobila, Fashion Editor
"I heard the sound of this video about 100 times before clicking through and finding the original, and I was not disappointed. Sometimes there is the curse of a TikTok sound being greater than the original that spawned it, but CalebCity's surrealist journey of putting his glasses down for 5 seconds is a modern cinematic masterpiece. Though, I'd be lying if some of its greatness is also that it created some other incredible TikTok's including your mom leaving you at the grocery store line, trying to find a song using lyrics on Google, and the more literal how do you find this sound on TikTok."
- Lindsay Hattrick, Designer
"I don't have a TikTok or really watch them, but Alyssa sent me this and, reader, I laughed out loud. Also Maroon 5 has some good songs, I'll say it."
- Lauren McCarthy, Executive Editor
"Crying while simultaneously doing something that signals everything is fine — like a choreographed viral dance routine! — is an extremely me thing to do. Also, Mariah Carey's 'Obsessed' is one of my top 10 songs of life. A TikTok made just for me."
- Tanisha Pina, Beauty Editor
"There is nothing that makes me happier than scrolling through TikTok and seeing so many teens unafraid to embrace who they are. As a once very closeted teen myself, I remember the long nights of scrolling through the internet in attempt to find other like-minded queer individuals around the world to connect with. The queer community on TikTok, and influencers like @punker_irl makes me excited and hopeful."
- Willa Bennett, Audience Development
HONORABLE MENTIONS
Finally, the empty chair dance solo Dance Moms fans deserve.
To be fair, Chloe *is* a beautiful name.
Candid footage of me going home for Thanksgiving every year.
Brittany Broski (aka Kombucha Girl) basically runs TikTok at this point.
If you watch this and don't have a hyper-specific flashback, did you even go to middle school?
The song really makes this one.
Pure chaotic energy.
Mighty Worm Elmo for president in 2020.
This TikTok is what the Miley Cyrus eyes meme wishes it could be.
Did I read this on Wattpad? This is the hot take we deserve.
This is the hot take we deserve.
Well, her mom isn't wrong!
Me, on my way to steal your girl.
This TikTok alone is responsible for countless hours searching for a silky pussybow blouse.
This TikTok made me accept my unhinged puppy-talk voice for what it is.
Alexa, play "Breakaway" by Kelly Clarkson.
Britty Little Liars — need we say more?