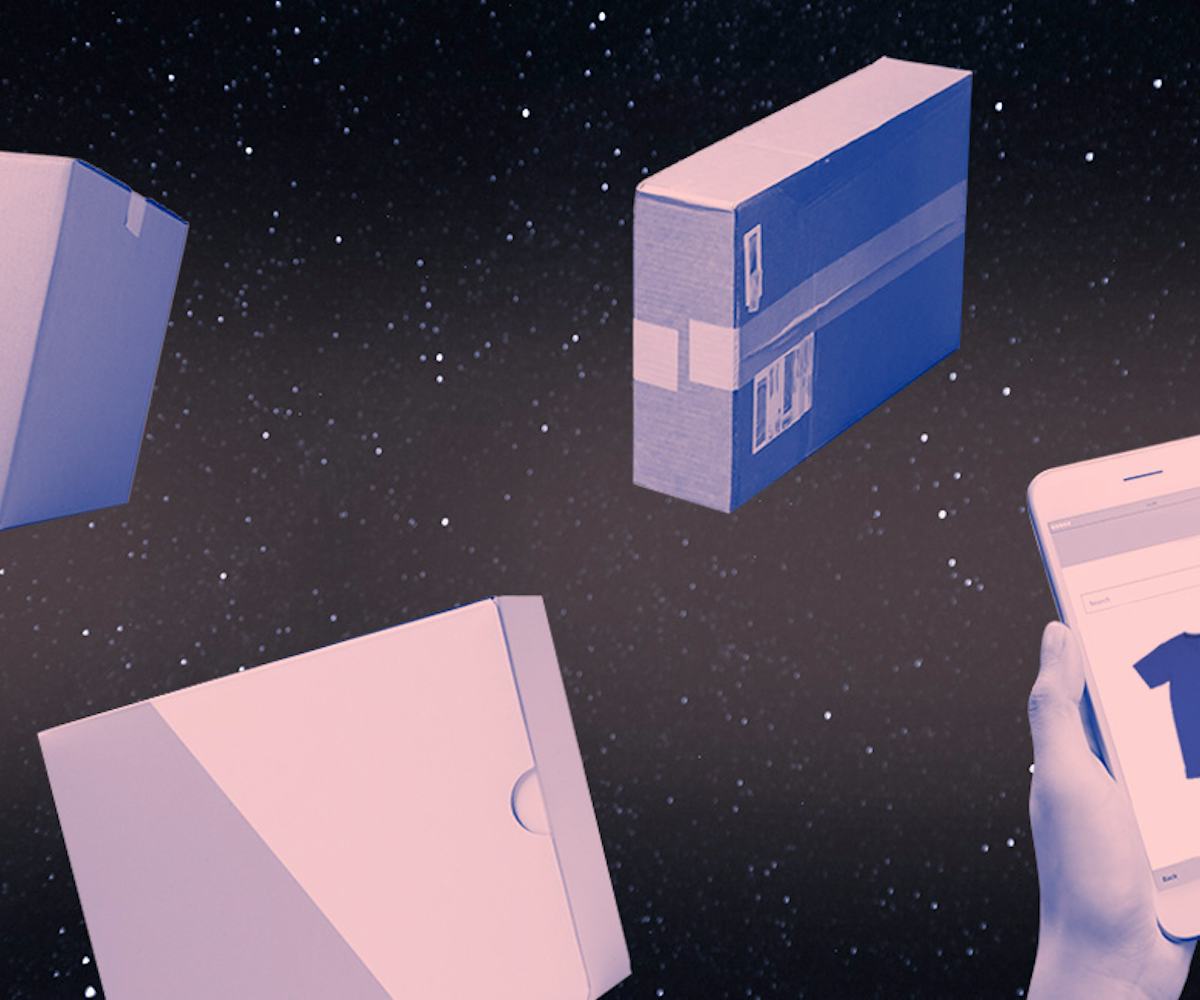 A Stylist Shares Her Best Tips For Online Shopping
Two words you hate to hear: Ignore. Sales.
Nothing on the internet is real. We know this, but then things arrive in brown paper boxes that are real, so we forget. We watch our friends perform for themselves on Instagram, then meet us for coffee. The internet is real. The internet is not real.
Which, I can appreciate. For 10 years, I've worked in the photography industry and seen my fair share of unreal things. I've faked zippers using double-sided tape, created safety pin chains to hold up tube tops, and clamped the hell out of T-shirts to make sure they fit just right. Unlike the photographer, I am not the ultimate manipulator, but as a stylist, I am a magician. My role on set is to make the clothing you want, look like the clothing you want. And sometimes, it can be harder than you'd think.
Photography is an interesting tool. It is, in and of itself, a way to minimize and categorize our world into smaller, more digestible pieces. It's also a way to make things look more desirable while dissociating them from the truth. In photographs, you can hide things you don't want people to see. You can choose a camera angle that will elongate a model's legs, or light a garment so that it feels glossier and more delectable than it ever would in real life.
On an e-commerce set, my role as a stylist is to fit every garment to the model's exact proportions. While the clothes may appear calm and collected from the front, more often than not, there is a fleet of binder clips flowing down the model's spine, like the plates of a stegosaurus. Collecting excess material left over from a shirt that's too big, or a pair of pants incorrectly sized, these office supplies hold the garment in place so that it looks attractive from the front for the photographer to shoot. Because, no matter the nature of the casting process, if the client's chosen a model with an "extra small" waist, but the sample size is closer to a "small," it's the responsibility of the stylist to fake the front by pinning everything behind the model... to then turn them around to repin everything to the front.. and then to the side, so that the garment looks enticing from 360 degrees.
If I understood these things, I probably would have spent the past 15 years using e-commerce differently. Instead, I wasted my time swearing at packages, feeling uncomfortable in my own skin, and struggling with my body. Because it's easy to believe a picture, especially when you want nothing more than to imagine that buying a new top or pair of pants will make you feel like a new person. But even though I thought I knew what I was looking at, I didn't know at all.
And since information gives us the power to make the best decisions for ourselves, and after seeing what goes on behind the scenes, I wanted to share a few ideas I've incorporated into my own online shopping process, while also tapping a few other stylists from The Stylist Coop for their opinions as well. Because once you have a better idea of how the system is gaming you, you have a much better chance of gaming it back.
Ignore sales.
More often than not, online sale items are pieces the retailer has already had trouble selling in the store. Many companies hope that by attracting you with a chic image, you'll be more likely to make a purchase, but the reality is that if it's still available, it's probably a lemon.
Because of all the pinning stylists do, it's not fair to assume that the garment you're interested in will fit the way you want it to, based off the image you see of it online.
Per stylist Xina Giatas: "I can tell an online store is committed to correct sizing when they have size charts on each product page made specifically for that item. If I'm directed to a size chart that acts as an umbrella for all of the items on the website, I get a little suspicious." Subvert this issue by always purchasing pieces you want in multiple sizes. That way, you have the flexibility to figure out what looks the best on your body, and can quickly send the other items back for someone else to try on.
Whenever possible, plan to view the garment in 360 degrees.
Stylist Charlotte Sims suggests that you always make sure to "look at the back of the garment, because that will tell you how your bum will look," and if there is a video is available, watch it. "That way, you'll be able to see how the garment moves on the model and can look for anything awkward in the fit. Example: If it's gathering at the crotch on the model, it's going to look even worse on you."
Use social media to your advantage.
"A few online stores now feature direct links to Instagram posts of customers wearing different items," says Giatas. "I find it very helpful to see people of different shapes and heights wearing the piece I'm interested in, as it helps me figure out which size will work best for my body."
When given the opportunity to use a credit card, take it!
It will make you feel more flexible buying garments in various sizes, without the anxiety of breaking the bank. Purchases on credit cards are also insured, so there will be less risk of losing your cash should your package(s) get stolen en route. Also, points!
Once the garment arrives, take a moment to really examine it.
Are all the seams in the right place? Does the material feel flimsy or durable? Per stylist Celine Griscom: "One of the most important things for me when buying a garment is to look at the fabric. It's tough when buying online, but most sites give information on the composition. The best is when the site provides a close-up detail shot. That way, you can see if it's a knit or if it's a woven, and get a sense of how it will feel and move." Sims also stresses how important it is to know what fabrics you like, prior to purchasing. Once you're holding the piece in your hands, don't be afraid to ask yourself if the amount you're paying feels equivalent to its quality.
Take your new item(s) out for a spin.
Every piece of apparel, except for footwear, can be worn for the day with the tags tucked away. Try all the sizes you've purchased, especially if you're having trouble choosing between one or two. And if what looks the best on your body is labeled larger than you've felt comfortable wearing in the past, screw it!! Cut the tag out once you're sure it's The One, then forget about it.
But most importantly: Never be afraid to return things.
An extremely high percentage of people never return the stuff they buy online because it feels like too much of a hassle. Per NPR, 91 percent of American online shoppers have said that they "only rarely" or "never" return things they buy online, while 94 percent say they "only rarely" or "never" order something expecting to return at least part of it. When utilizing e-commerce, make sure to always build the return process into your shopping experience (according to the same article, only 2 percent of people make returns "very often") but be sure to check each store's return policy first. Per Griscom, "I always always make sure I have read the return policy before I buy any clothes online. Do they do a full refund or just offer store credit? Do they pay for return shipping? Can I return to a store if it will be easier for me? Are sale items returnable? And how many days do I have to make the return?" Griscom emphasizes: "Know before you buy, and then try as many things as your heart desires."
With thanks to Xina Giatas, Charlotte Sims, and Celine Griscom.