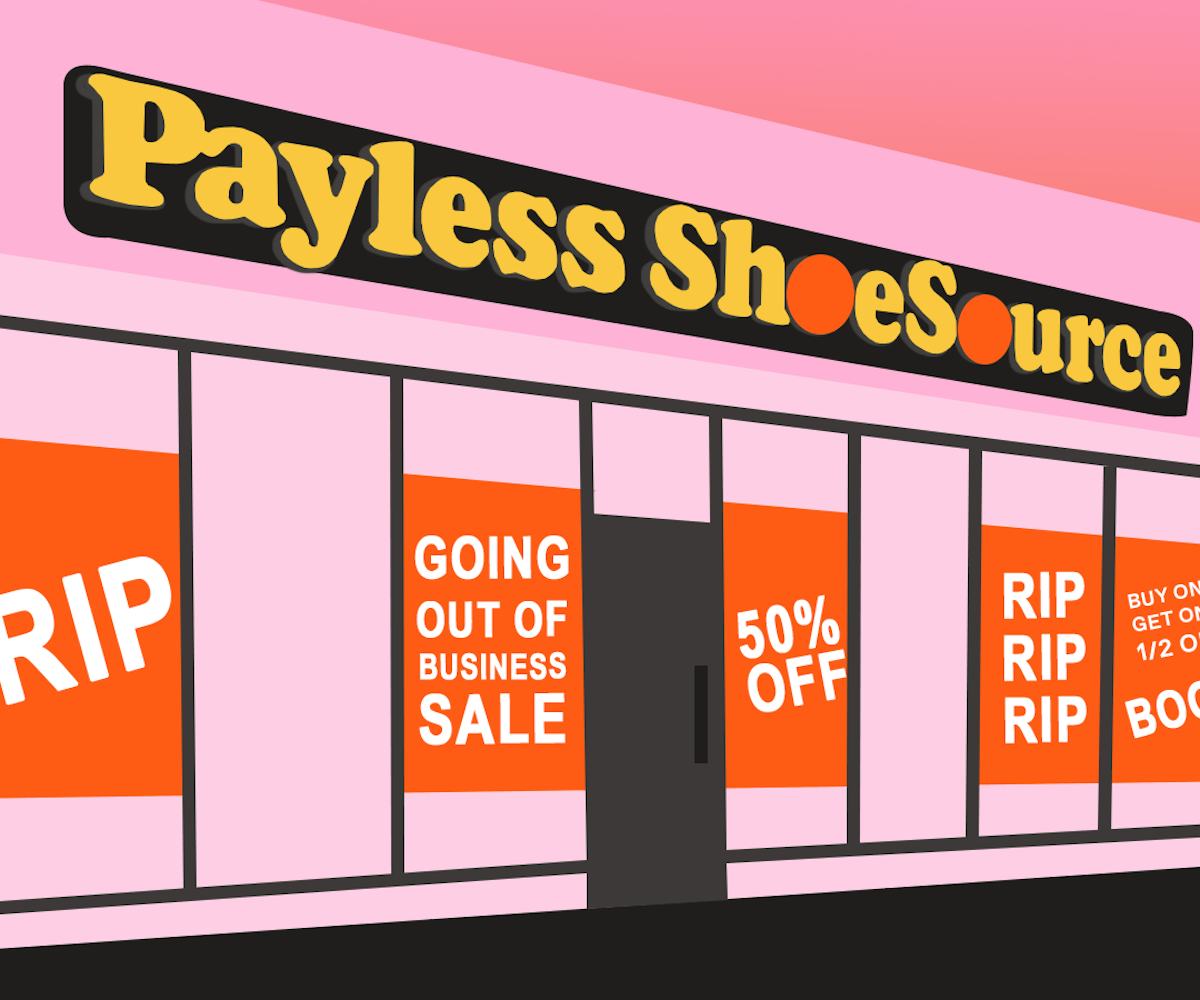 Illustrated by Lindsay Hattrick.
Loving Payless Was Embarrassing, And That's Why It's Hard To See It Go
It meant a lot to a lot of people
The memories I have of Payless are visceral. It's been at least a decade since I've stepped foot inside of one, but even with the passing of time, I can recall the smell of synthetic leather and cardboard boxes. I can feel my heart beating faster right before my sister and I ran inside its doors to avoid being seen by wandering classmates wandering. My skin still tickles with slight perspiration, the kind that comes from being on the lookout while trying on shoes at the insistence of my mother. It was adolescent shame in a glass-fronted box.
If you've never been to Payless, you're either a youth or your parents belonged to a certain aspirational tax bracket. I grew up pretty solidly lower-middle class, though in a town that's considered the "Park Slope West" of New Jersey. During my pre-teen and teenage years, when kids' bodies bloom faster than flowers in spring, my mom didn't want to spend crazy amounts of money on clothes or shoes I was just going to grow out of quickly. Since this was before online shopping, where you can avoid awkward run-ins IRL while staying within your parent's budget, we went to the local shopping center, where Payless's iconic yellow-and-orange bubble letters—nestled between Aéropostale and Perfumania—acted as a guiding light.
People who wore Payless shoes weren't cool. I don't make the rules, adolescent bullies do. And because we're talking middle school years here, the barometer of what's cool is measured by how much money your mom and dad had and would spend on you. If your sneakers had four stripes instead of the Adidas-designated three, then you were likely getting made fun of. I wasn't doing the teasing, but I wasn't interested in being on the receiving end of it either, so I made sure to pick up shoes that weren't obviously knockoffs—plain white platform sneakers, black sandals, etc. Keep it simple while also keeping my friends.
Eventually, I grew older and, by way of odd jobs around the house and saved holiday and birthday money, was able to distance myself from those carpeted aisles and BOGO sales, and graduated to Jordan sneakers and Steve Madden. But I also recognize that a lot of people don't have that option, and wonder if my experience being a reluctant Payless shopper helped me better appreciate the brand-name shoes that came later.
So it's been bittersweet to learn that Payless will close all 2,100 of its locations in the U.S. and Puerto Rico in the coming months. The news isn't all that surprising given the number of brick-and-mortar retailers shuttering recently, but it feels like a bigger loss than other mall staples like Victoria's Secret, because its existence wasn't hinged on perpetuating problematic body ideals, but rather on offering options to people who were told they didn't deserve to have as many.
Shopping at Payless meant being able to afford shoes for your kids; it meant being able to find cheap but comfortable ones for service jobs that required workers to be on their feet all day. It meant being able to find cute styles for anyone whose foot dared stretch past a size 10, and being able to be well-shod in your best friend's wedding without breaking the bank. The store meant a lot to a lot of people, even if some are too embarrassed to admit it.
As Vince Staples once tweeted: "R.I.P. Payless. We will never forget you and we thank you for helping us through the struggle."