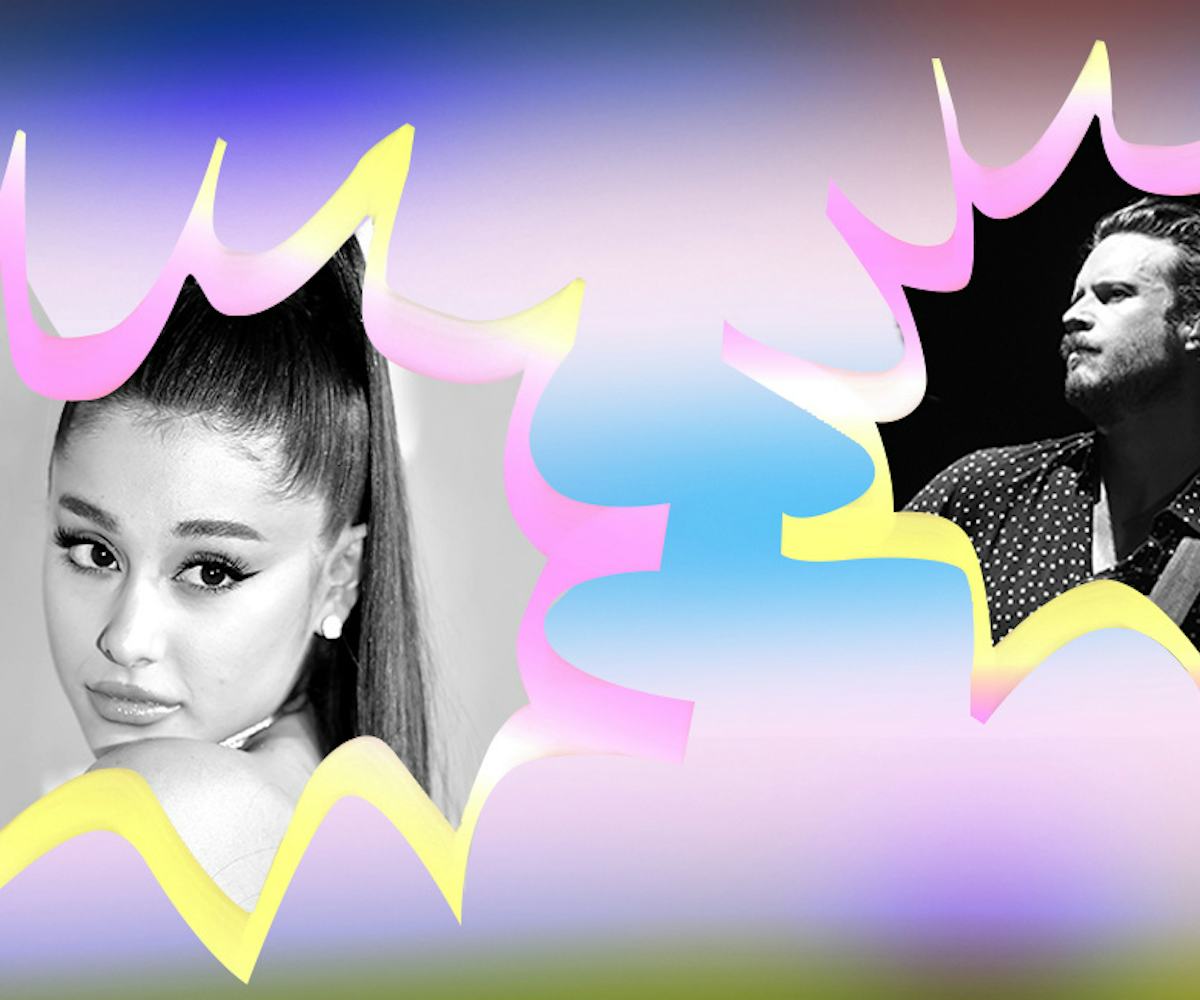 Why We Love Listening To Name-Dropping Songs
On the romantic pleasure of pop specificity
We're used to speculating about the hidden meanings within our favorite songs, and many artists encourage this type of guessing game. That's why Taylor Swift leaves clues in her album liner notes and Carly Simon kept mum about the anti-hero of "You're So Vain" for nearly 50 years. There's joy to be found in the fandom of guesswork, or even when there's no guessing required, and sheer implication affords us the beautiful truth that Joanna Newsom's complicated lyrics about love and mortality center around the guy who wrote "Dick in a Box." But, every now and then, a musician gives their fans insight into a publicly discussed relationship like a gift with a sign out front: This is about exactly who you think it's about.
Such was the case following the brief, glorious starburst of Ariana Grande and Pete Davidson, which felt like a perfect encapsulation of the celebrity relationship: ridiculous, over-the-top, both clearly misguided and desperately adorable, at once a promise that true love exists and that the kids are still, after all, fucking idiots—as they should be. And right bang in the middle of it—almost uncannily in the middle of it, when you consider promotion cycles and attention spans—was the new Ariana album, Sweetener, and its 73-second Davidson-dedicated second-to-last track.
The song is all soft pastel aesthetics and utterly untroubled public affection. The lyrics' vagueness, their almost casual certainty ("I'mma be happy") and shorthand romance ("I know you know you're my soulmate, and all that") are tied into the wider, brilliant move of the name of the track itself, "pete davidson." Then, three months after Sweetener was released and just two weeks after Ariana and Pete broke up, "thank u, next" came out, the mother of all name-droppers. Along with the Davidson reference ("Even almost got married/ and for Pete I'm so thankful"), Ariana explicitly checks her three other famous exes: Mac Miller, Big Sean, and Ricky Alvarez.
"Thank u, next" is notable for its tenderness, a breakup song that is endlessly generous and kind. And it names someone else, too: Ariana herself, the new love interest, sketching out her own fears and hopes in sweet, simple detail. Both songs are Ariana giving her fans exactly what they want, a window into relationships that felt at times completely open for public view, though whose outputs were, of course, immaculately controlled.
The relationship between a musician and a fan is an endlessly complicated one, frequently negotiated and renegotiated, new borders drawn and distances set. Songs that use moments of absolute specificity—the specificity of using a recognizable name—briefly erase this distance. They give the song the sense of gossip or confession, a discussion you'd have with your mate over drinks. It's what gives Beyoncé's furious, tragic "Sorry" hope and satisfaction; "Me and my baby, we gon' be alright, we gon' live a good life" in the coda is immediately understood, with our recognition of Blue Ivy and the way she has settled into the Beyoncé family mythology. Or it ups Taylor Swift's "Dear John" bite, the play on romantic tropes working as a perfect callout of John Mayer's tendency to run girls dry and burn them out.
But name-dropping isn't restricted to pop. In fact, pop is perhaps the genre of music that calls on it least, which is what makes it so fascinating when pop stars give into temptation. Hip-hop is, of course, the main arena for pinning a specific lyric on a fan-recognizable person, but to such an extent that the nature of the form is a little different. Specificity is expected in hip-hop, where artists so often populate their lyrics with real people and cultural references, creating a complex network of beefs and relationships, crushes and callouts.
As much as hip-hop is ever referencing one single person, it is also often referencing the form itself. There are, as ever, exceptions, but because it is in hip-hop's character to use specific names ("I never fucked Wayne/I never fucked Drake"), these references stand out less. When specificity does arise, it often goes to exceptional lengths, as in Nicki Minaj's "Barbie Dreams" (itself a play on the roll call of R&B stars in Notorious B.I.G.'s "Just Playing (Dreams)"), which gleefully churns through rappers both personally connected with Minaj and not. Lil Wayne's "Promise" takes an interestingly opposing approach. The track samples Ciara and is clearly, earnestly about Ciara ("And the thing you did with the chair—or stool?—was cool," he breathes, as devoted as a teen) but does not mention her name once, skirting around its subject so effectively that it highlights her in a circle of red ink.
The thrilling pleasure of specificity leaps from hip-hop to pop and settles comfortably in indie, where a subject doesn't have to be an SNL star or famous rapper to still have meaning for both musician and fans. Father John Misty's wife, photographer Emma Elizabeth Tillman, forms an irresistible heart in his music, appearing onstage at his performances and in his interviews and profiles. Fittingly, she is the first word in "Chateau Lobby #4 (in C for Two Virgins)", where the song begins with "Emma eats bread and butter/ Like a queen would have ostrich and cobra wine," in an enthralled, exuberant burst, transforming the tune into a love letter.
Wives feature frequently in the indie male discography. Of Montreal's frontman's now ex-wife Nina Aimee Grøttland recurs in name throughout their albums, and the National's Matt Berninger's wife Carin Besser appears in "Carin at the Liquor Store" in such explicitly angsty content that, as the Telegraph wrote, "listeners are essentially invited to sit in on the couple's marriage counseling." In a lighter, more hopeful touch, Perfume Genius' song "Alan" dedicates the nameless lyrics to his husband and sometimes-touring mate, a wistful, caught-breath of a love song that announces, "You need me, rest easy/ I'm here, how weird."
But the specific joy of knowing who a musician is talking about doesn't have to be contained to romantic relationships, as Beyoncé proves. In 2005, then-emo heartthrobs Panic! At The Disco covered The Smashing Pumpkin's "Tonight Tonight" and changed the line "the place where you were born," itself a reference to Chicago, to "the place where [then-bassist] Jon [Walker] was born." The lyrical change became a moment poured over and beloved by fans as a marker of the band's internal friendships; indeed, the very romance of a band itself.
In actual fact, the romance is very often not between the musician and the person they're singing about, or the internal politics of a band, but between the musician and the fan. The moment of specificity is both generous and careful, a way for fans to glimpse exactly as much as the artist wants them to. For a moment, the fannish pleasure of interpretation and ambiguity gives way to sure knowledge, like being invited into a private conversation. The dream of Pete and Ariana is dead, but the romance of "pete davidson" and "thank u, next" live on. "love u,"
Ariana Grande tweets to her fans
, and closes the door.