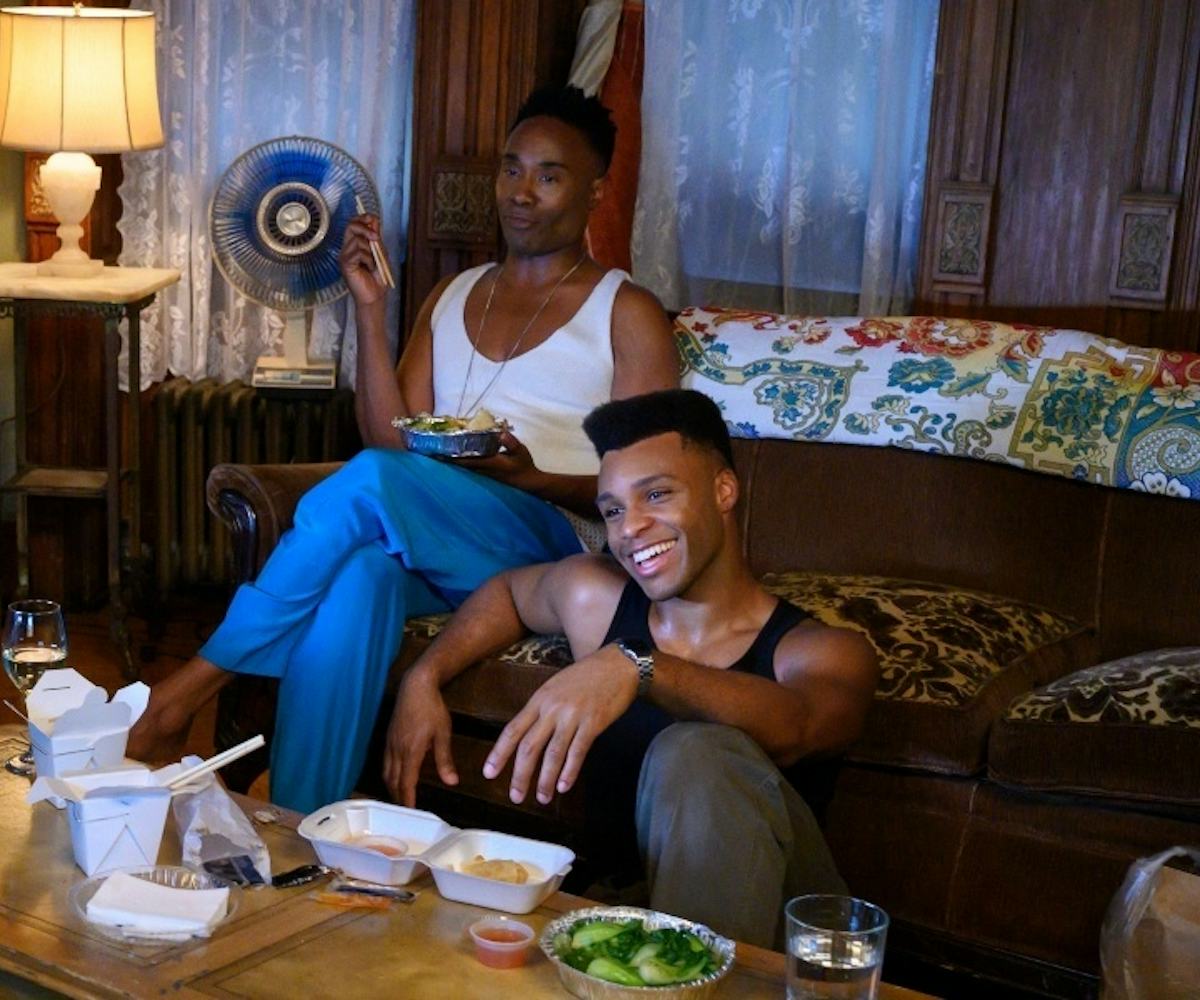 Photo by Jeffrey Neira/FX.
Why 'Pose' Needed THAT Sex Scene
It's time to normalize queer sex
I covered my eyes when it became clear that one of my favorite Pose characters was about to hook up with another one. I didn't want to see it, and I cringed as one of them put the other's hand down their pants. My discomfort stemmed not from what was about to happen, but who was about to do it. But I'll get to that in a moment. By the time it was all said and done, I wanted to rewind the scene and watch it again. It was a powerful moment of onscreen passion, between two queer Black men, that added yet another necessary element of representation to Pose.
Spoilers ahead for the latest episode.
All season, Pray Tell (Billy Porter) has grappled with his own mortality and identity within the ballroom scene and the broader LGBTQ community. His lover has already died from complications related to AIDS, he's dealing with the ups and downs of his own HIV diagnosis, and all of it is magnified by the fact that he's getting older. He's lonely, and unsure that he won't always feel that way.
Ricky (Dyllon Burnside) just received his own HIV-positive diagnosis and is struggling with what his future looks live. He's trying not to think of himself as "damaged goods," and is still keeping his status a secret. In "Revelations," Pray Tell is playing an elder by helping Ricky through all of this, teaching him which vitamins to take and letting him crash at his place. But Ricky has "a thing" for Pray, and, after some takeout and TV, he acts on it. The power dynamic between the two of them makes the affair a little scandalous, which was the reason for my initial discomfort. Pray has been like a father figure to the younger members of Evangelista (their house). Plus, a relationship between Pray and Ricky is a huge betrayal to Damon (Ryan Jamaal Swain), Ricky's ex and another one of Pray's proverbial children. But the sex itself was visually beautiful.
Queer sex is rarely given the proper artistic treatment, and especially not on major networks. We've reached a moment in pop culture where we've normalized queer relationships but still tiptoe around how they're engaged in the bedroom. A lustful kiss, and perhaps a pair of exposed shoulders, is often meant to signify what happens next, without actually showing anything. Director and writer Steven Canals did no such thing in this episode.
Pray and Ricky kissed deeply. Viewers heard Pray's breathy moans as Ricky went down on him. We saw their naked bodies thrust against one another. Audiences listened to them navigate consent and desire when Ricky told Pray, "I think I want you to have me, too." We watch both of their faces contort in ecstasy from being penetrated. And yes, we were made to linger on Pray's face as he holds Ricky's naked body, butt exposed, in his arms and wonders if any of it was a good idea. It was intense, and it was real.
This scene is proof that it is possible to portray gay sex without making it exploitative or pornographic. Normalizing queer identities also means normalizing how queer bodies experience pleasure. That includes those who may be living with HIV, another community who is rarely depicted as being able to experience pleasure post-diagnosis. Pose took its time getting all of this right, and it should be celebrated.