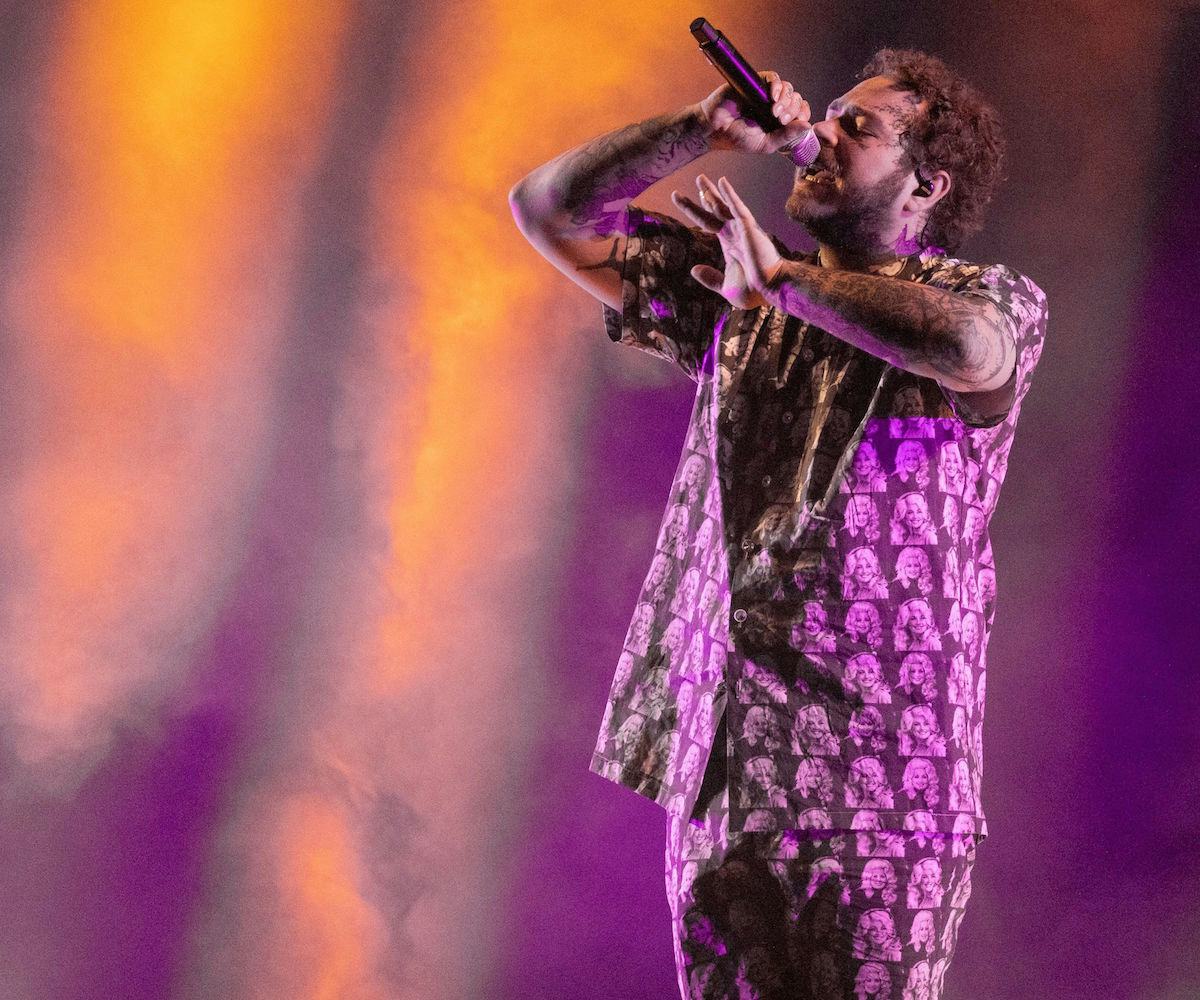 Photo by RMV/Shutterstock
Post Malone's Stylist Talks Crocs, That Amazing Stevie Nicks 'Fit, And Sleazecore
"Oh, I don't even want to talk about how many Crocs I've bought, but, it's a lot"
Cathy Hahn isn't a huge fan of the term "sleazecore." When talking over the phone with me recently about the past two years working as stylist to Post Malone, she explains why it's not quite accurate when describing Post's look. "He actually has a really sophisticated style," Hahn points out. "He's knowledgeable and knows about the way things fit and the way things are supposed to feel. You can't really put him into any certain box or genre or look. I feel like he's always evolving."
Post is really big on classic looks, if by classic you mean taking a traditional silhouette like a Western suit, but remixing it by adding neon spray paint iconography. And Hahn's styling choices are a similarly subversive showcase for Post's style and taste, as could be seen when he rocked the faces of Dolly Parton and Stevie Nicks in custom coordinating outfits made by Hahn, who explains that the inspiration for those outfits came from Post's wide-ranging musical tastes.
"There's often, like, downtime where he'll just sit and pick up an acoustic guitar, and he'll sing," Hahn says. "Obviously he's well-versed in hip-hop, but he knows about old country music and old folk music, rock and roll, and he loves heavy metal. And so there are just times where he'll be playing an old Pearl Jam song, or he'll play a Fleetwood Mac song or Bob Dylan." Fleetwood Mac is one band Hahn and Post both love—they're Hahn's "all-time favorite"—so putting iconic images of Nicks all over a button-down shirt and pants was a no-brainer.
And, when Post played Bonnaroo Music Festival down in Manchester, Tennessee, Dolly Parton was an easy choice, because, of course, both Post and Hahn are also fans of Parton. (Who isn't?)
But Hahn's favorite part of the job isn't plastering the faces of her favorite women across 'fits meant to be seen around the world, rather, it's getting to collaborate with young designers and elevate their work to new audiences. "I'm always so thankful to [Post] that he's willing to wear these [collaborations], and he performs in these outfits in front of so many people," Hahn says. "It's such great exposure for these independent artists, and he's getting to wear things that are one-of-a-kind that no one else has." From airbrush artist Isa of Gentle Thrills, who brought to life the custom smiley-face suit Post wore onstage at the MTV VMAs, to Judith of Rusty Cuts, who has appliquéd plenty of Post's suits, many independent artists are getting their time in the spotlight thanks to Post and Hahn.
"One of the first custom pieces I did for Post was with Judith... I admire her work," Hahn tells me. Now, they've collaborated many more times, but the first suit they worked together was particularly special—it was the album-art inspired suit he wore to announce Beerbongs & Bentleys during a show in Nashville.
The suit had actually been made prior to knowing when or how Post would announce the album—as something to wear for his Bud Light Divebar show in Nashville. "The album was yellow with barbed wire and snakes, so I took the art as inspiration," Hahn says of the Western-cut suit, to which she added his initials as the final touch. "At the time when we were figuring out his outfits, we didn't know he was going to be announcing the album release that night, so it kind of all magically came together… I feel like everything with him is kind of magical."
All of Post's own collaborations, Hahn states, are just as organic. His favorite beer is Bud Light, so, of course, he would partner with Bud Light. Similarly, you won't catch him without his Crocs. "Day one I met him, he was wearing Crocs. Every time he travels, he was in Crocs. He loves Crocs," she says. Hahn was "constantly buying Crocs for him," so much so that she had to buy herself a couple of pairs to test out. "I get it [now]. These are the most comfortable shoes," she says. But how often was she buying him Crocs? "Oh, I don't even want to talk about how many Crocs I've bought, but, it's a lot," she laughs.
Hahn never planned to become a stylist—and probably never planned on becoming a Crocs stan, I'd guess—but as fate would have it, she wound up in what seems like the most cohesive stylist-artist partnership possible. "Meeting him for the first time… it was almost like I felt like I had known him for a long time," she says, having begun working with him before "Rockstar" was released, before it catapulted him up the charts, and before his face tattoos and Crocs would become so easily recognizable. Now, it seems that neither would have it any other way.