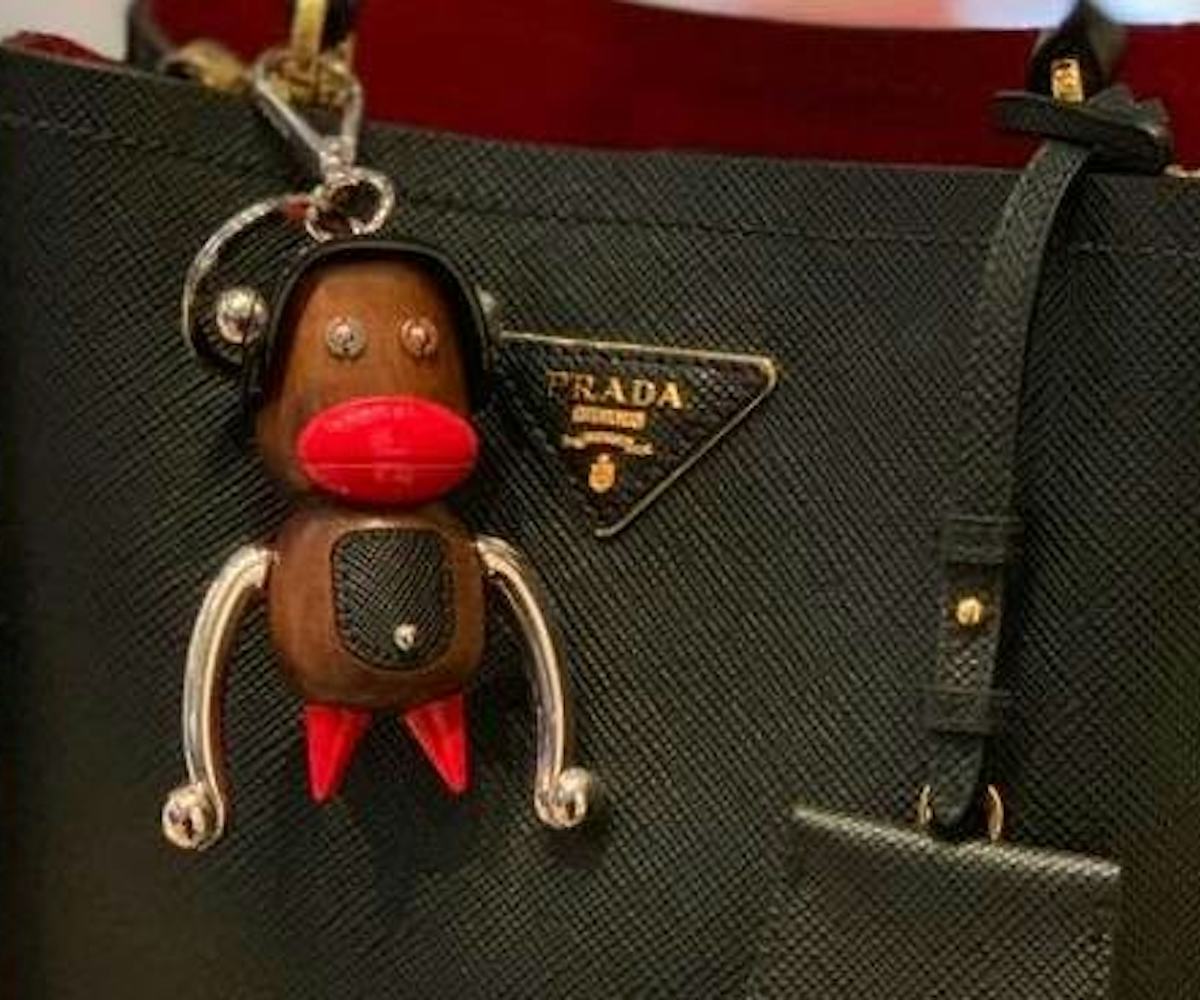 Photo via @chinyereezie Facebook
Prada Withdraws Keychains And Figures Accused Of Depicting Blackface
Prada will remove "Otto" keychains and figures from its stores and circulation following criticism on social media that they resemble blackface.
Part of the brand's "Pradamalia" collection of "mysterious tiny creatures that are one part biological, one part technological, all parts Prada," Otto is characterized by its dark wooden body and large, bright red lips.
Facebook user Chinyere Ezie made a Facebook post calling out the resemblance to blackface, with multiple photos placing the figure beside photos that she had taken at an exhibition on blackface at the Smithsonian National Museum of African American History and Culture.
Ezie wrote in her post that she walked past Prada's storefront in Manhattan after her trip to the museum, "only to be confronted with the very same racist and denigrating blackface imagery" when seeing the figures and keychains placed throughout the store. "History cannot repeat itself," she says. "Black America deserves better. And we demand better."
After the post went viral, many others joined the conversation in protest of the imagery. "I guess the devil actually does wear Prada," said one tweet.
After it was called out, Prada responded on Twitter saying that the characters would be removed from display and circulation and stated that it "never had the intention of offending anyone." "Prada Group abhors racist imagery," the tweet reads. "The Pradamalia are fantasy charms composed of elements of the Prada oeuvre. They are imaginary creatures not intended to have any reference to the real world and certainly not blackface."
Somehow, people still haven't caught on to the fact that blackface is offensive: Celebrities like Gigi Hadid and Drake have been called out for wearing blackface just this spring. And the fashion industry isn't above racism, either: Earlier this month, Dolce & Gabbana was called out for racism, after the brand released videos that portrayed Chinese people in an offensive, stereotypical way.