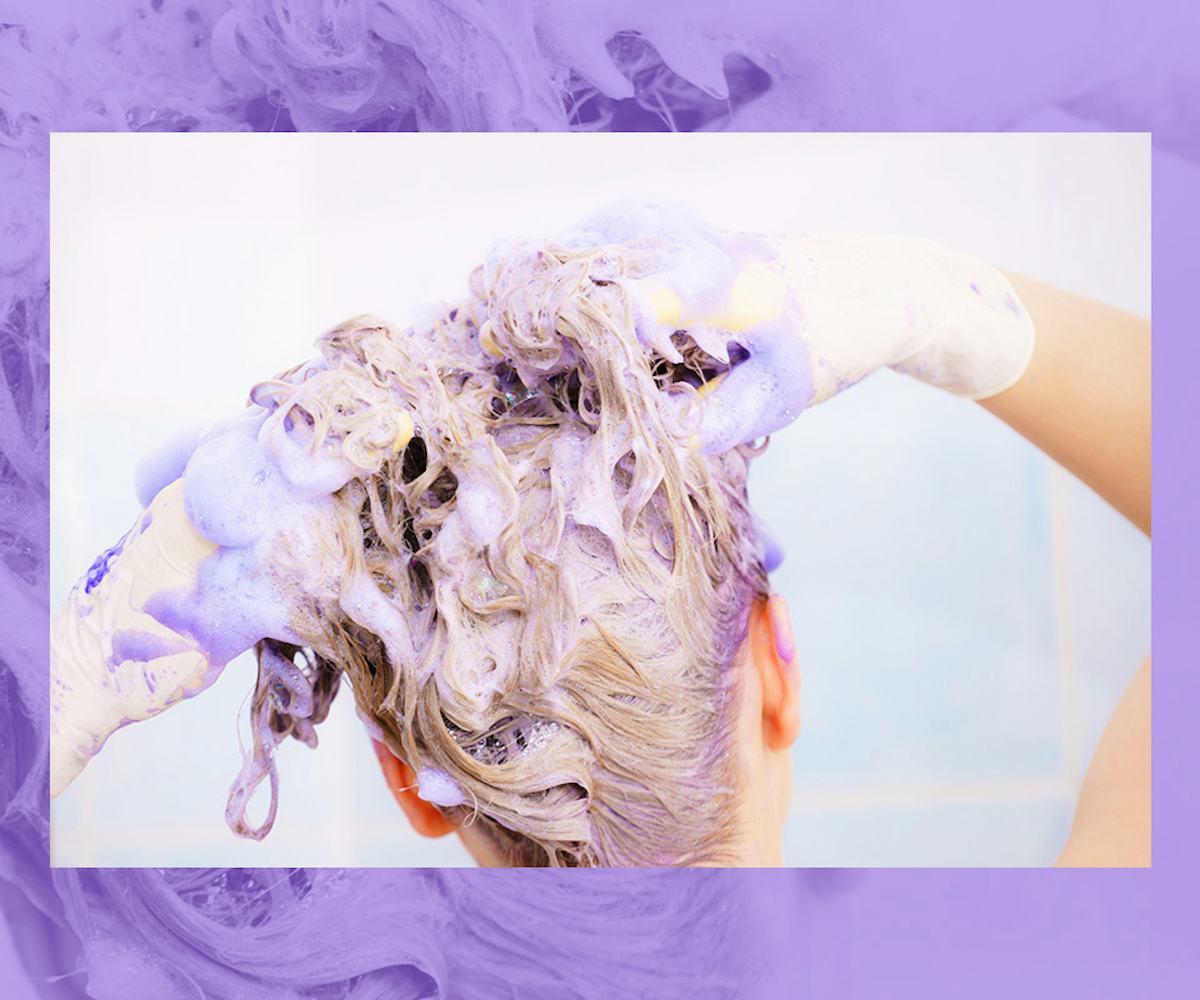 Photo from Shutterstock
Teens on TikTok Are Wasting Purple Shampoo Trying To Lighten Their Hair
The latest beauty hack blowing up on TikTok isn't really a "hack" at all. Teens are posting videos of themselves using excessive amounts of purple shampoo on dry hair — the idea being that it'll turn their hair icy blonde. Some even seem to think it'll turn their hair purple, but really, it does neither. Toning shampoo (which is a must-have for any icy blonde arsenal) is designed to remove brassiness (which creates the cool-toned effect) but only works on already-blonde hair. But that hasn't stopped teens of all hair colors (and a horse!) from trying the trend, many with the same, predictable results.
"I've seen this trend on TikTok of y'all using [purple] shampoo, so I bought a lifetime supply on Amazon and I'm about to see what it does," one of the most popular TikTok videos begins, as user rosewitdachalk applys the shampoo on dry, brushed-out hair. At first, it seems like the results could be dramatic, which is obviously part of the allure. Everything's purple, including rosewitdachalk, her hands and face stained a dramatic lavender hue. But ultimately it's a tease. She ends the video with, "like for part two to see the results!" which she posted in a separate TikTok hours later. Despite the high view count, the comments are mostly critical, with people slamming her for making them wait to see the final results. Although the initial video has 7.6 million views, the reveal only has 2 million views and a few hundred comments, most of which are people explaining the correct usage of colored toners.
rosewitdachalk on TikTokwww.tiktok.com
The most popular TIkTok, posted by Abby Kovi (@makeupbyabbyk on the app) has 13 million views and counting. In the video, Kovi puts the purple shampoo over her already-platinum hair while lip syncing to Lil Mayo's "Be Gone Thot!", utilizing the app's quick-cut capabilities to go from wet, purple tresses to a mane of blown out, ultra-blonde hair. Upon closer inspection, it's obvious that Kovi's hair hasn't changed much from its pre-transformation state; if anything it's a truer platinum, which is exactly what purple shampoo is supposed to do. So, in conclusion, it works, but it's not as exciting as a complete color change or turning dark brown hair bright blonde.
Abby Kovi on TikTokwww.tiktok.com
In true TikTok fashion, there have been a bevy of videos trolling the originals. Some poke fun at the idea it'll change hair at all, while others use the #purpleshampoo hashtag to tell stories about forgotten social media moments. One features two girls actually dying their hair Manic Panic purple.
The trend has (of course) also sparked reaction videos, most addressing the misinformation the initial videos spread. One video tells people to stop doing it on dry hair (really, it just wastes product), while another explains the basics of toning theory: Purple shampoo gets rid of wanted yellow tones, while blue shampoo pulls out orange and green gets rid of red. Others point out the sheer wastefulness of the trend, posters using double or triple the amount needed to get the same results.
Mady Lee on TikTokwww.tiktok.com
Nevertheless, they're entertaining to watch. See the best "transformations" ahead.
Heather Welsch on TikTokvm.tiktok.com
lydia on TikTokvm.tiktok.com
corahoaglin on TikTokvm.tiktok.com
Riley Williams on TikTokvm.tiktok.com