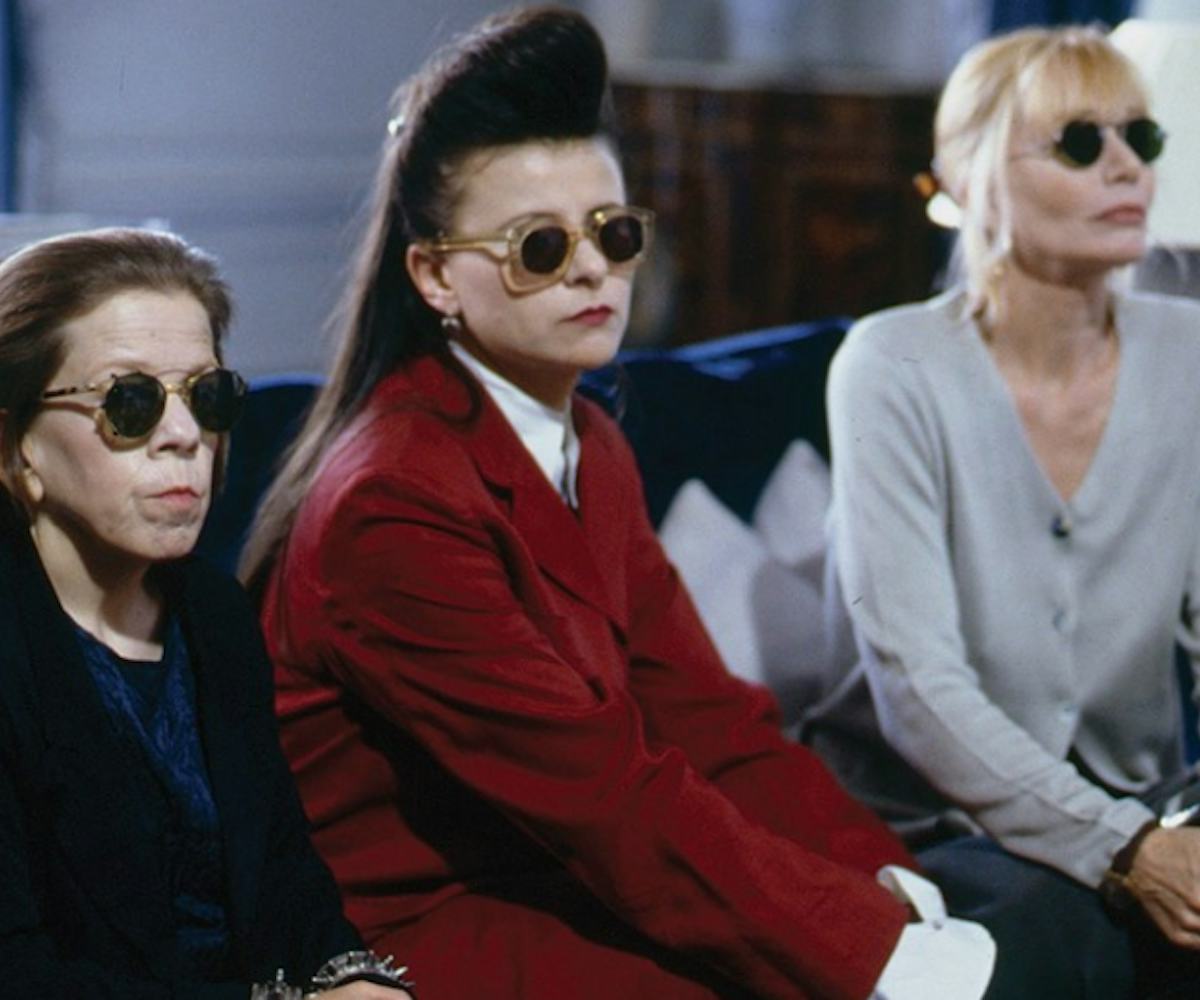 'Ready To Wear' Is A Perfect '90s Fashion Time Capsule
Cowboy hats and drapey tunics abound!
Robert Altman is widely regarded as one of the great directors, with a career that spanned decades and spawned many of the most fondly remembered films of the '70s New Hollywood era. His diverse filmography covered country music (Nashville), gambling (California Split), the Korean War (MASH), and neo-noir (The Long Goodbye), to name just a few highlights. And, in 1994, he turned his eye on fashion, with the satirical Ready to Wear (Prêt-à-Porter). The film, playing at the Museum of Modern Art this week, was poorly reviewed and is generally considered a minor work. While it's certainly not the director's best, it features a truly top-notch time capsule of '90s runway looks.
Ready to Wear has a large ensemble cast, with real-life designers and models mingling with movie stars. The scattered plot touches on mysterious deaths, hookups, and the cutthroat competition that permeates the fashion world. There's a running gag of characters stepping in dog poop as they rush from one place to a next, and the film ends with a fashion show in which all the models appeal fully nude. Overall, one senses that Altman sees the fashion world and its internal dramas as frivolous; while this is undoubtedly true in some ways, it makes the film feel rather inconsequential, and the jokes are too easy. Watching it some 25 years after its release, in an age of '90s runway being a constant source of nostalgic Instagram posts, the onscreen looks feel fresh, and Altman's film might be received differently now, with so many fashion enthusiasts nostalgic for the days when runway was truly adventurous, and supermodels reigned.
"Ready to Wear" is an intentionally ironic phrase here. Most of the looks onscreen are anything but for the average viewer. Just look at this absurd (but potentially comfy?) teddy bear-covered jacket.
The fashion editors dress in a caricatured style, with sunglasses that automatically connote bitchiness and quirky accessories like top hats.
Classic stars of Hollywood and foreign film, like Sophia Loren, Lauren Bacall, and Anouk Aimée all make appearances. These women, in elegant blazers or, in the case of Loren, a veil, all dress in more self-consciously classic, tailored styles than those around them. Nineties runway trends aren't part of their wardrobes.
Plenty of the fashion featured in Ready to Wear could be pulled from an editorial today. Cowboy boots and draped tunics, seen in a photo shoot, are still an easy and fun style, and some of the runway looks feature athleticwear-inspired accents, which are definitely making a comeback.
The runway shows feature a range of delightful looks. All parts of the '90s style spectrum are represented: There are dramatic fur trims and metallic blazers, suggesting holdovers from the over-the-top styles of the '80s, but we also see cream-colored, slouchy outerwear, more immediately suggestive of the '90s shift toward luxe minimalism.
The textures on display are rich and dramatic. Whether it's a fuzzy sweater and gem-covered boots, a sparkling dress that looks fit for a historical debutante, or a satiny, boudoir-influenced bridal ensemble, these looks have a tactile appeal in their garishness. The runway can present a vision of fashion as escapism, and in the increasingly terrible year of 2019, it makes sense that the fun looks of '90s runway might serve as a fantastical respite.