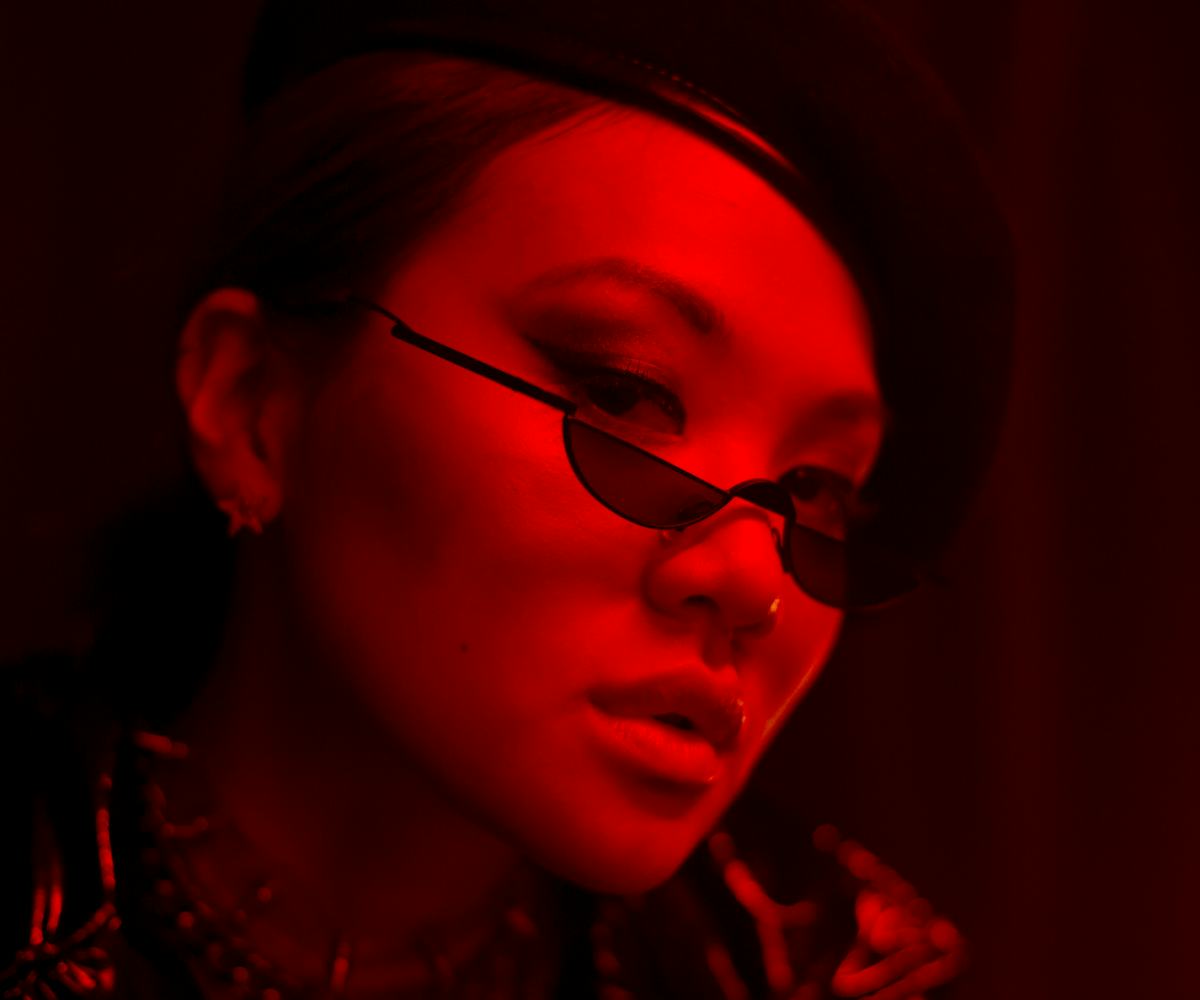 Courtesy of Artist
Premiere: REI AMI Is Both The Bad B*tch And The Soft Girl In "Dictator"
Who says you can't burn an ex down and still find time to be vulnerable?
Seoul-born, Maryland-bred rapper and singer REI AMI speaks of her own music career in parentheticals. She's only put out three songs — "DICTATOR", "SNOWCONE", and "MAKE IT MINE" — but she's already amassed millions of Spotify streams with her bedroom-voice raps and abrasive-cute lyrical persona. And she's still holding down a 9-to-5 (and requesting paid time off) to drop her next banger, due out in February, with a larger project to come in May. On Wednesday, NYLON is exclusively premiering the music video for REI AMI's "DICTATOR," on which she introduces listeners to her darkest side.
The first half of the song is her vindictive playground, bending men to her will over distorted guitar; the latter half is a total 180, an acoustic R&B ballad filled with hushed falsettos and riddled with admissions of naïve heartbreak. The Alex Cook-directed video leans into that duality, creating a split-story. REI AMI plays manipulator and leather-clad dominatrix, leaving fuckbois to burn and "collecting tears from her previous relationships to put on a performance for her current love interest," Cook explains in an email. "In the first half she has the power, in the second she tries to gain affection and attention, despite the toxic nature of the relationship." On top of the visual light shift from red to blue, the arrival of the second act is marked by REI AMI's retreat to soft acoustics and breathy vulnerability, coupled with Cook's subtle shift in camerawork and framing.
REI AMI and Cook laid everything out for fans to devour with ease — that is, except for the meaning behind one of her more peculiar love interests. "At the very end, we reveal a mysterious figure with a lizard head, which will probably leave many viewers confused. But, I don't want to say too much about what this means to me," she says. "I want the fans to figure it out for themselves, so give it your best shot." Watch the video for "DICTATOR" below, and get to know the up-and-comer in our full Q&A.
What was the inspiration behind the song?
To be brutally honest, I was on some strong pain medication when I wrote "DICTATOR". I had just gotten my wisdom teeth out and got really bored because I couldn't leave the house. I'm pretty sure I was browsing YouTube when I realized that I had never really written a super aggressive song, so I was like, okay f*ck it, time to go off. And I kinda just went off while looking like an Asian chipmunk.
Is your writing/performing persona as REI AMI the same as your own?
REI AMI is me. Literally ask any of my close friends or anyone on my team. I'm high-energy, sassy, and IN YOUR FACE but then other times, I'm super lowkey and quiet. I'm also a huge crybaby b*tch. You can see the duality in every song I have out right now with the transitions. They represent the highs and lows that I experience on a daily basis. And I know for a fact that I'm not alone in this struggle — I think the reason why my music has resonated with so many people is because I literally lay out my emotions in my music. I don't pick and choose what emotions to display. I just leave them all out for people to see and take. Human beings are so much more than just this and that, why should I have to choose between the different parts of myself? That's not fair and it definitely isn't honest.
This is a much darker, glossier visual than the pseudo-DIY visuals for "Snowcone". What was it like to shoot? What about this song demanded a more intense video treatment?
From the very beginning of my music career, I wanted a slow, gradual transition from the DIY look to a more polished aesthetic. With my first single, I literally shot the music video on my Macbook and with "SNOWCONE", we shot it on an old camcorder so obviously there was a slight increase in production value. But for "Dictator," I knew I had to step it up because, well, there were a lot more eyes watching. Working with Alex, the director, and his crew was so much fun. I guess this was my first "legit" video shoot so I was really nervous and not used to any of it, but Alex and his team were so kind and helpful. It was professional AF and I'm so thankful for everyone involved.
Your music has really popped off in such a short time — did you expect such a strong reaction? What has it been like?
I never thought in a million years that I would be where I am today in just a span of six months… I never expected this kind of reaction and support. I sometimes cry just thinking about it because I'm so grateful — it's surreal. Things have been super crazy and everything's been moving really fast. But thank god for my team and my support group for always holding it down and grounding me. I also still have a 9 to 5 day job which makes traveling a bit difficult...I'm in LA right now on PTO answering these questions in my hotel room. The funny thing is my job has absolutely no idea that I'm an artist. I'm eventually going to quit but only when the time is right, so until then, I'm okay with being Asian Hannah Montana.