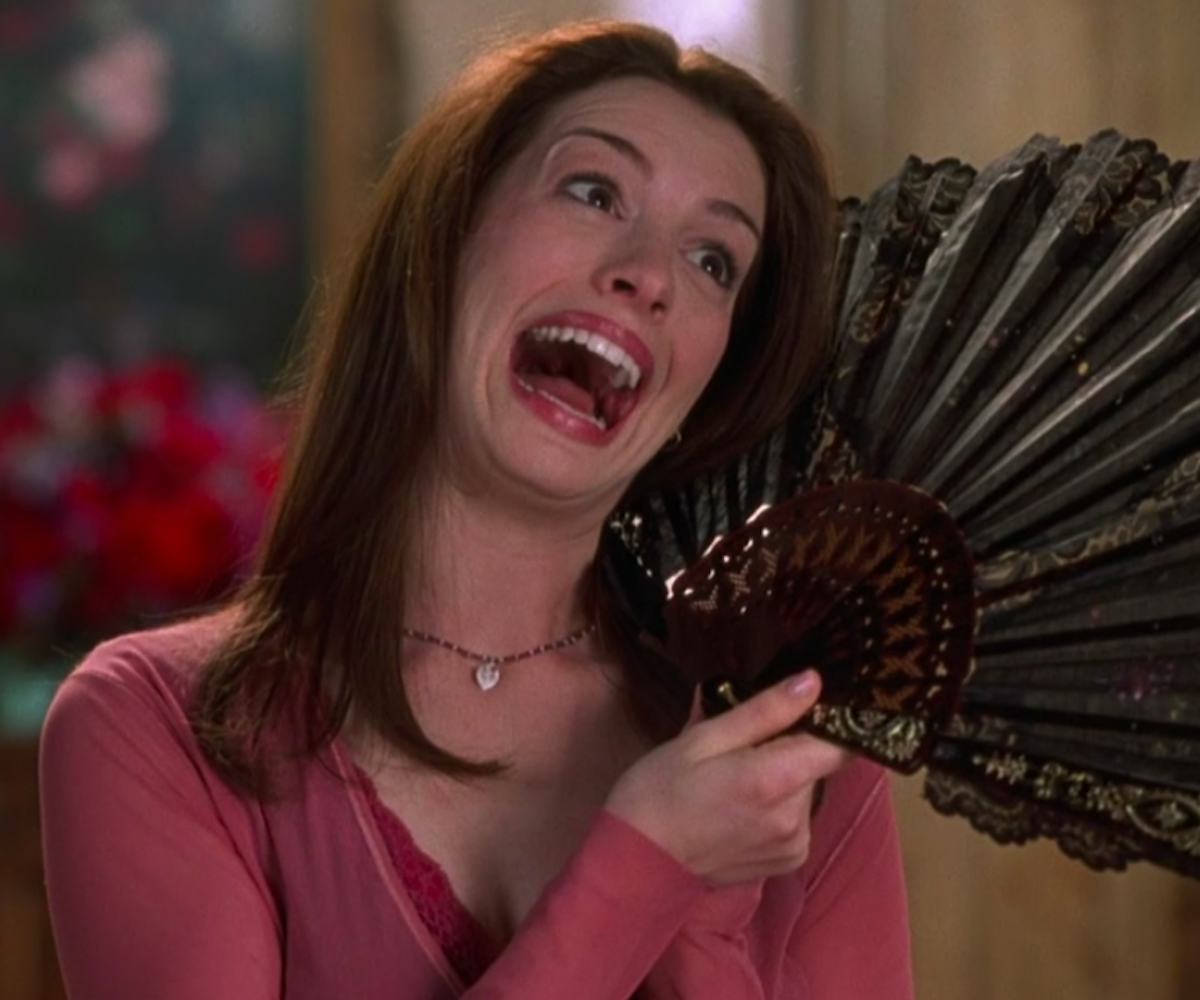 'The Princess Diaries 2' Is Still The Only Sequel That Matters
Setting sleepover standards high since 2004
In Look Back at It, we revisit pop culture gems of the past and see if they're still relevant and worthy of their designated icon status in our now wildly different world.
As one does, Amelia Mignonette Grimaldi Thermopolis Renaldo has to find a husband in 30 days in order to keep the Genovian crown. This, anyway, is the way the sequel to The Princess Diaries kicks off, as it reintroduces us to the protagonist, better known as Mia, and we see that she's a manicured Princeton grad now, albeit still plenty clumsy and not quite sure if she's ready to rule an entire fictional nation.
Released 15 years ago today, The Princess Diaries 2: Royal Engagement was a departure from the Meg Cabot book series the first film was based on and introduced entirely original story lines and new characters to eager audiences. While, at the time, critics seemed to think there wasn't enough material to work with to make the sequel interesting, revisiting the film all these years later reaffirms my original feelings: Shonda Rhimes wrote an absolute gem of a sequel that deserves just as much love as the first movie—if not more.
Princess lessons are now queen lessons, and Anne Hathaway's charm is relentless. Commentary on Mia's appearances and which physical traits were deemed more ladylike and royal were left behind in the first movie. Sure, her aesthetic transformation had already been completed, but critiques of her every move were traded for an opportunity to poke fun at the absurdity of the behaviors being taught, like holding a fan the right way or riding a horse side-saddle. As a queen-to-be, Mia is still goofy as ever, bumping into every corner and dramatically falling into a fountain during a royal event. But, rather than being chastised for her having a personality and attempting to change her, her grandmother Queen Clarisse Renaldi (Julie Andrews) now embraces every quirk—and becomes a little more down-to-earth herself, thanks to Mia.
To this day, I still can't think of a sleepover without remembering what it was like to watch this movie, and see Andrews effortlessly surfing down a slide on a mattress in the middle of the palace ballroom. Mia set the standards higher than ever for staying up all night, and I'd be lying if I said my friends and I didn't try to recreate that Queen Clarisse scene down my family's carpeted stairs with lounge chair cushions. The princesses of the world, of all ages, came together for one glorious night in the castle. There was rollerblading, mountains of snacks, and one hell of a karaoke session. If your sleepover doesn't end with a magical duet between a young Raven-Symoné and Andrews, I want none of it.
A baby-faced Chris Pine makes his feature-length film debut as Lord Nicholas Deveraux, an alternative heir to the Genovian throne who stands in Mia's way of claiming it once she's ready. We're made to think that Deveraux is a fuckboi; he has all the telltale signs. He's got a fancy royal title, a new girl on his arm at every function, and kisses Mia so well that her foot pops every time. But when he rejects his claim to the throne and sweeps Mia off her feet against all the fuckboi odds, he cemented himself as the superior Chris of the Hollywood Chrises, and also, as one of my favorite unproblematic movie crushes.
Oh, and speaking of soulmates, my man Joe (Héctor Elizondo) finally gets the screen time and DTR-ing he deserves. Now that Clarisse is passing on her crown to Mia and, with a little help, loosening up her views on how a queen should behave, she's free to publicly love the scene-stealing head of security and actually be happy. I love love!
But, back to the women of The Princess Diaries 2. While the movie quite literally follows Mia's search for a man, her story isn't really about them—it's about finding and owning her power on her own. Sure, she has a few hunky princes to pick through in hopes of a wedding at the end of the month, but the real plot has everything to do with Mia's choices that would change the course of the rest of her life. Rather than accepting her fate and marrying a beautiful, boring man due to an antiquated law that required queens be married in order to rule, she rejects it at the altar and sets a new precedent for queens to come.
Should The Princess Diaries 3 be as real as Hathaway has been saying it is, I do hope that Queen Mia's righteous ruling has only gone further and gotten more fierce, and that Clarisse returns to give tear-inducing advice on how to live life, with Joe at her side. She set up quite the feminist monarchy to uphold, after all.