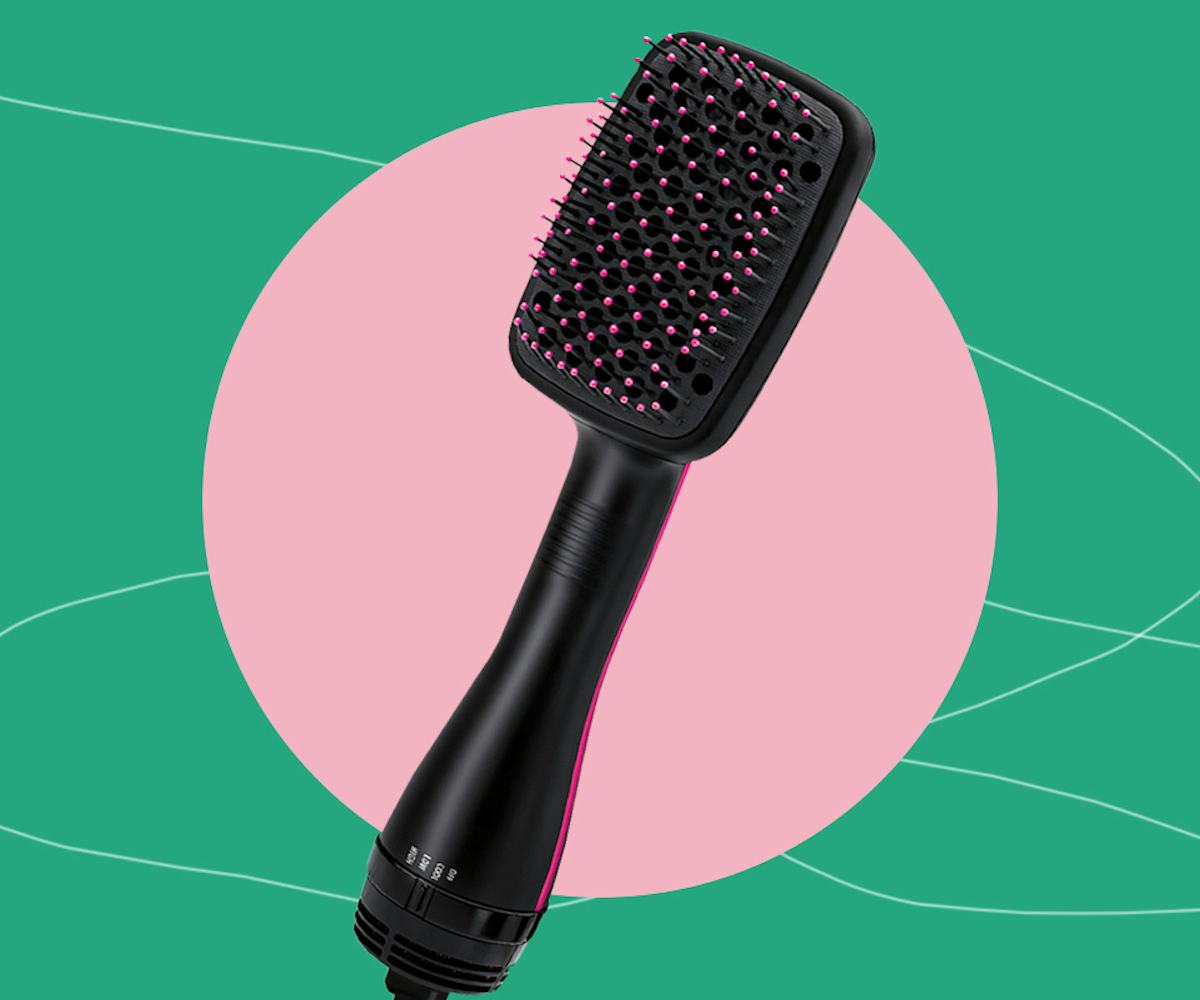 Photo Courtesy of Amazon
Here's Why 28,000 Amazon Reviewers Swear By This Hot Air Brush
When it comes to hair styling tools, what was once old is new and trending again. More than 28,000 Amazon shoppers have shared their love for the Revlon One-Step Hair Dryer & Volumizing Hot Air Brush, making it one of the site's top-selling hair care products. And while similar models have surely been around for decades, the tool's convenience, ease of use, and $55 price tag is what's made the item a modern day must-have according to experts and consumers alike.
From busy schedules to preparing for the apparent return of every millennium trend, there simply isn't enough time in the day to properly account for an unexpected battle with one's hairdryer. Enter the hot air brush, a tool that made its debut in the time of bell-bottoms. "Hot air brushes are a great, everyday tool for a handful of various hair types. They really are an all-in-one styling tool, and extremely easy to handle. It's interesting they're making a comeback, as they've been around since the '70s, but for a while, nobody liked them," Suave celebrity stylist partner Felix Fischer told NYLON. "It's great to see them making a comeback."
According to Vox, the brush's comeback could be attributed to Dyson's unveiling of the Airwrap, a popular product that hit the market in 2018 and cost $550. At the time, beauty YouTubers started looking for more affordable options, and many believed they had found the answer in Revlon's Hot Air Brush.
If you're new to the concept of a hot air brush, celebrity hairstylist Andrew Fitzsimons offered NYLON readers a crash course on the product. "These new hot hair brushes are really interesting; they basically combine a blowdryer with a round brush with the aim to streamline your blow dry experience," he said. "The two brush size attachments allow you more control with your styling options. It's great that this dryer comes with an attachment for just concentrating blowdrying to give you maximum control in your blowout."
Many reviewers have praised the Revlon brand product for how easy it is to use, and that it takes mere minutes to achieve a salon-inspired look. "My hair looks like i just walked out of the salon and spent $100, every time," one reviewer noted. Another reviewer shared of a similar experience, writing, "To my disbelief, when I was finished with my hair, it looked as if I had just left the salon! It was completely straight, smooth and silky without a flyaway in sight."
Before you eternally swear off hair dryers, Fitzsimons warned that not every hair type will necessarily benefit from a hot air brush. "Those with thicker and more textured hair would likely see faster results with blow dry methods, but it all comes down to personal preference," the stylist said.
Whether you choose to purchase a hot air brush or not, Fitzsimmons and Fischer both reminded DIY stylists to always use heat protectant and hairspray before use. The last thing you need is a perfectly blown out 'do with heat damaged ends.
NYLON uses affiliate links and may earn a commission if you purchase something through those links, but every product chosen is selected independently.