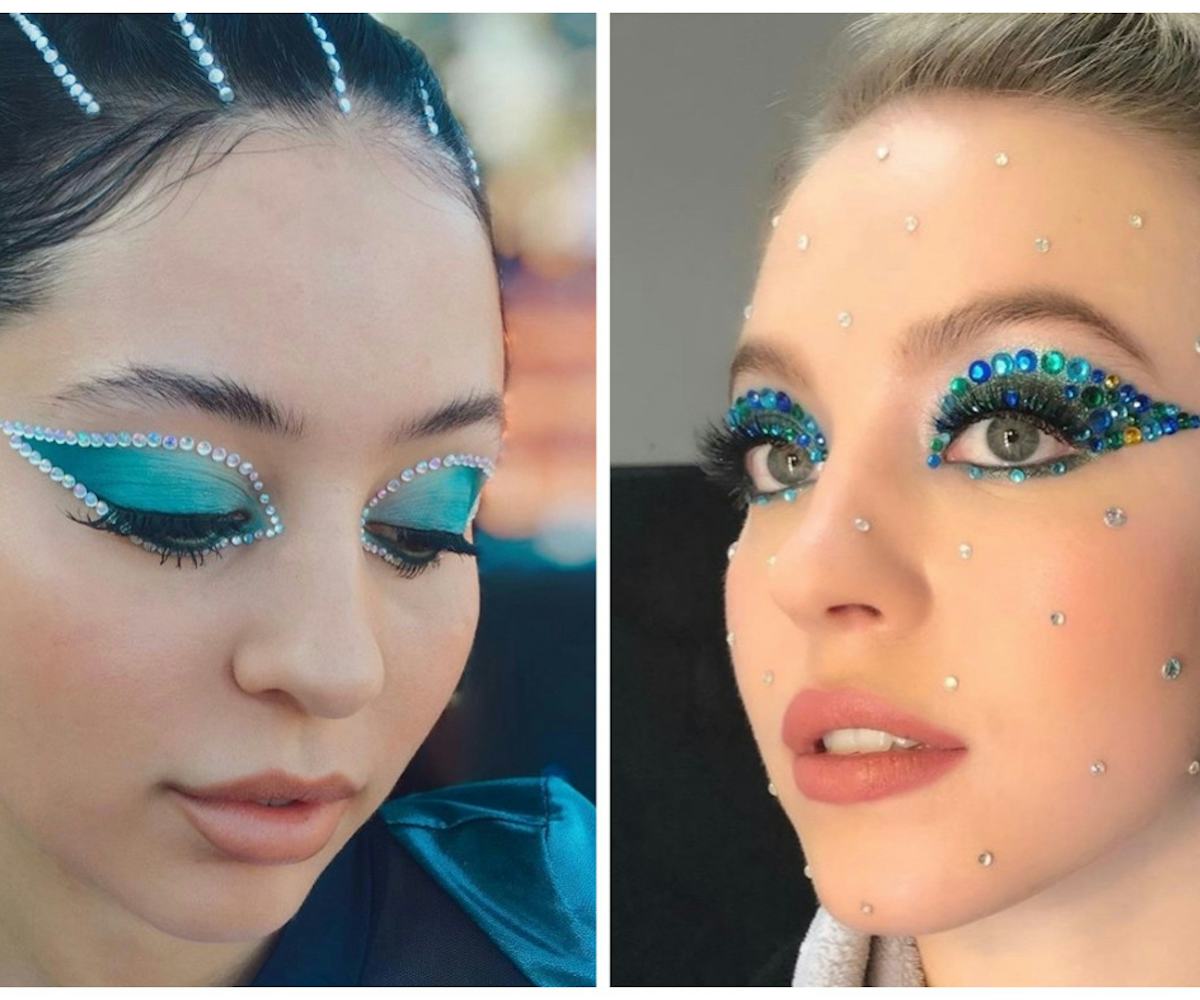 Photos by @kirinrider Instagram
Why Are Rhinestones So Trendy Again?
I thought they went away in the early 2000s, but I'm not complaining
Recently, I was tapping through Instagram stories and stumbled upon an influencer putting rhinestones in her hair with a Blinger, the hair bedazzler that I definitely used as a kid. But, while I know that I looked tacky AF with multicolored jewels all over my head as a kid, this girl's look was… cute. Little star jewels were placed in a straight line in her hair which she'd then pulled back into a low ponytail. I felt so strongly about the finished look that I immediately pre-ordered a Blinger for myself (it launched this month) so that I could recreate my childhood looks, but better.
If you think this sounds hopelessly nostalgic or don't believe that my hair actually looks really cool with tiny rhinestones artfully stamped into it, you're not riding the reinvigorated, sparkly wave of all things blingy. Because, this was not the first time I'd seen a rhinestone trend I'd wanted to duplicate recently—not at all. Think: the barrette trend, that is full of colorful, glimmery pieces to place in your hair, and the way in which rhinestones are dotting all the cutest accessories. Arguably most out-there is the very Gen Z trend of adding them to your makeup look for a pop. The rhinestone, in all its forms, is back (but you probably could have figured out as much after watching any one episode of Euphoria.)
According to Amanda Hallay, a professor of Fashion History in Manhattan and host of The Ultimate Fashion History on YouTube, the rhinestone trend that I fondly remember from my childhood is from much earlier than the days of Mariah Carey wearing them as temporary tattoos on red carpets. "Rhinestones ruled the Jazz Age and the Golden Age of Hollywood in terms of glamorous evening wear for women," she tells me, "but it was the Country and Western scene that brought the rhinestone to men, with artists like Elvis unashamed in their love of rhinestones, and designer Nudie Cohn made rhinestones a trademark feature of his iconic Nudie Suits." Seeing as we're all currently following the yeehaw agenda, it makes even more sense that rhinestones have reemerged now.
But when it comes to the rise of the rhinestone in the late '90s and early '00s, Hallay says it became a thing "in reaction to the Anti-Fashion and Grunge trends," noting that they were "seen on everything from handbags to velour tracksuits." (Juicy Couture, hi.) However, Hallay thinks that the biggest inspiration for the trend just may be the '70s, with Glam Rock stars like David Bowie as the source material. "Fashion has been sourcing the '70s for the past 10 years, yet Glam Rock has remained relatively untouched in terms of runway revival. Perhaps this is just another way to rework the '70s in a 'new' way," she says.
Finding another way to update old trends is hard nowadays, seeing as we've been relying on nostalgia to inform our fashion for decades. "We've sourced the past for so long that it's becoming increasingly difficult to make the 'old' look 'new' again," says Hallay. But rhinestones are primed to succeed as a trend due in large part to their simplicity. "It makes perfect sense that designers today are focusing on just one item from past fashion trends to rework and revamp for today," says Hallay. "The rhinestone can evoke anyone from Liberace to Britney Spears, just as it can suggest the flappers of the Jazz Age to the Juicy Couture tracksuits of the '90s. A rhinestone may be tiny, but in a fashion climate that almost exclusively relies upon the past for inspiration, its impact will be big this fashion season."
Of course, there is a more bleak read on the whole situation, as well. "It would be tidy to say that the current trend in rhinestones is a case of 'Bread and Circuses;' in troubled times, fashion often becomes flashy to distract us from a worrying socio-political landscape. Politics dividing nations, the seemingly endless and tragic mass shootings, and the rise of domestic terrorism have culminated in a cultural anxiety," Hallay points out.
And thinks don't get much more bleak than the story lines of HBO's Euphoria, in which rhinestones and sparkles featured prominently. Yet, Hallay says that the uniqueness of the show's looks is a sign that makeup is about to get much more creative. "It suggests that we are about to move into an era of far more eccentricity than we've seen in two decades," she says, pointing to the individuality of the looks.
"We are clearly breaking away from imitative fashion expression, and although turning one's face into a glittering canvas of sparkles and rhinestones might not be for everyone, there's evidence that we may be getting bored with 'fitting in,' and are ready to embrace the idea of 'standing out,'" she says. "No one ever became a fashion icon because they dressed like someone else. And what can help us stand out better than that showbiz stalwart, the trusty rhinestone."
NYLON uses affiliate links and may earn a commission if you purchase something through those links, but every product chosen is selected independently.