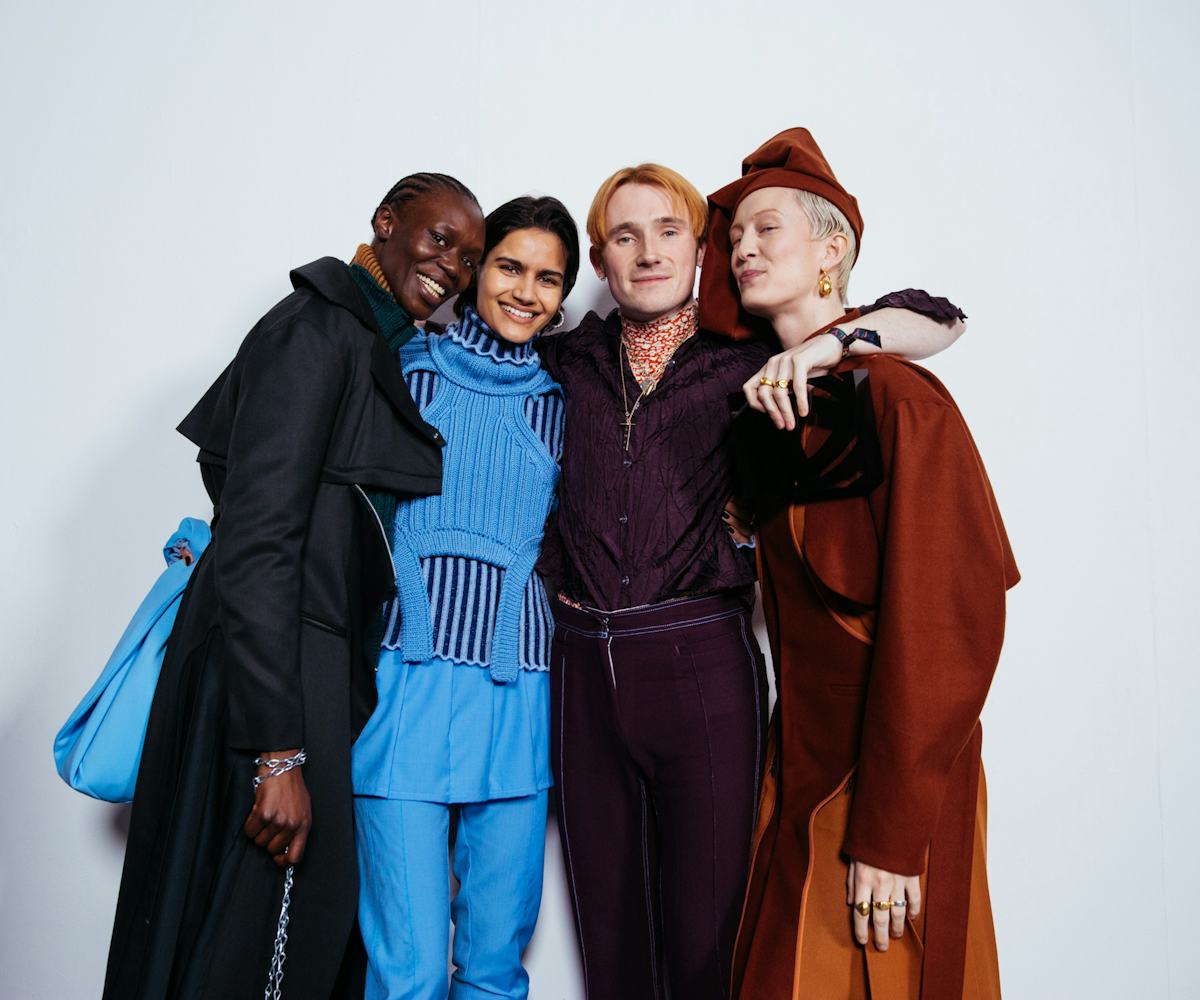 Photo courtesy of Woolmark.
Richard Malone Wins The 2020 International Woolmark Prize
Bode also took home the Karl Lagerfeld Prize for Innovation
If Project Runway, or Next in Fashion, or the forthcoming Making the Cut, are any indication, there's nothing the fashion industry loves more than a little healthy competition. And so, London Fashion Week came to close with just that — albeit with a very sustainable twist. On Monday night, the Woolmark Company held its annual final show for the International Woolmark Prize, where ten finalists showed mini-collections which were a culmination of months of mentorship and access to the competition's sustainable resources. Additionally, each designer provided a sustainability "roadmap" for each of the pieces, making for fully traceable collections.
Among the finalists were Matthew Adams Dolan, Ludovic de Saint Sernin, Bode, and Feng Chen Wang, but in the end, there could only be one winner, as selected by an impressive panel of judges that included Anja Rubik, Kim Jones, and Takashi Murakami: Ireland's Richard Malone.
Inspired by his upbringing in Wexford, Malone's collection eliminated traditional chemicals in favor of a natural color dyes, and worked with weavers in Tamil Nadu, India, using completely organic and plant-based dyes, as well as Merino wool. "We ensure that everyone in my supply chain is paid over triple the fair-trade wage and that everyone's opinion and expertise is respected and encouraged; it is a real partnership," Malone told NYLON prior to the show. "We've also established a regenerative farm to re-use our water waste and encourage crop rotation (at the minute we have regrown cotton), so we are actually regenerating land that has become barren through mass production and giving back to the planet. My plan is to present a supply chain that actually gives back to the planet and focuses on educating consumers to buy less and repair and mend where possible; a garment's after-life or end-use are vital for moving forward, and we are finding really excellent solutions through fiber shed."
Additionally, Emily Bode was awarded the first-ever Karl Lagerfeld Award for Innovation, named for the late Chanel designer. For her collection, Bode showed overcoats and suits composed of reclaimed and remade equine show blankets. "I reinterpreted historic traditions such as 1920s pennant quilting with traceable and certified Merino wool felt, a housecoat with hundreds of individually crocheted merino wool fleurettes, and repurposing and reimagining equine show blankets as garments," she explained to NYLON.
Each finalist will be presented with commercial opportunities with collections to be commercially available in September 2020; in addition, Richard Malone and Bode have also been awarded AU$200,000 and AU$100,000, respectively.