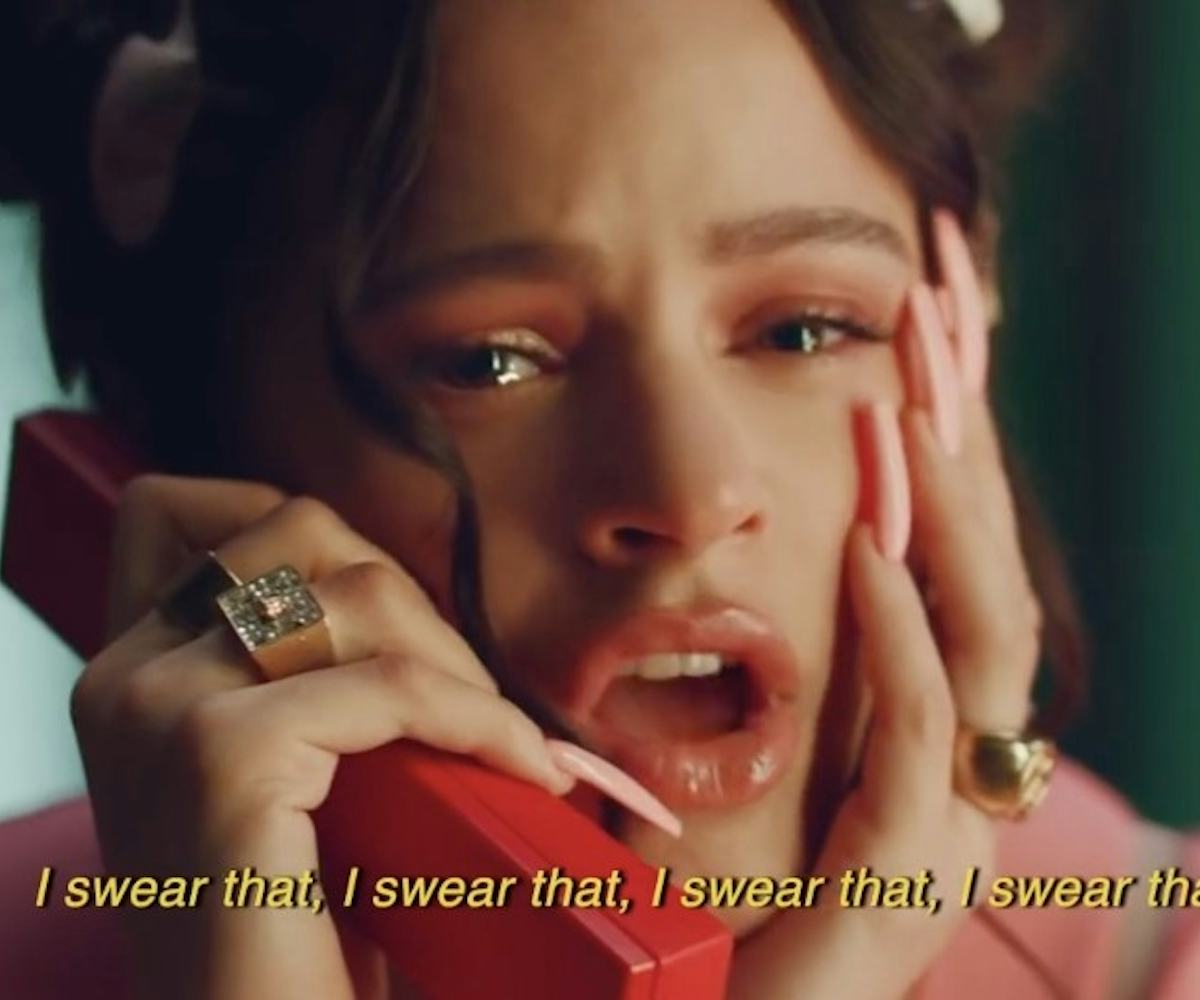 YouTube
Rosalía Will Go To Prison For Her Man In Cinematic "Juro Que" Video
What it really means to be ride-or-die
Rosalía will ride for her man and she doesn't care who knows it. Keeping up with the singer's tradition of creating jaw-dropping cinematic visuals, the Tanu Munio-directed music video for her latest single, "Juro Que," transforms the bleakness of a prison visit into a hyper-stylized backdrop for a love story. Released Thursday afternoon, "Juro Que" (which translates to "I Swear That" in English) finds the Spanish singer promising to stay loyal to her man no matter what. Not only will she wait for him, but she promises to pawn her possessions — including, but not limited to a Gucci purse, diamonds, and ivory — to pay for his release. And if that doesn't work, she vows to rob a bank and join him behind bars. That's devotion, baby!
After releasing a steady slew of reggaeton bops throughout 2019, like last summer's "Con Altura" and "Yo x Ti, Tu x Mi" with genre heavyweights J Balvin and Ozuna, respectively, "Juro Que"'s arrival is also a stunning return-to-form for Rosalía. The guitar-led Flamenco track, which spotlights her elastic and powerful vocals against a backdrop of rhythmic palmas or handclaps, feels like a throwback to her 2018 breakout album, El Mal Querer. That record, which led with the fiery and dramatic "Malemente," introduced Rosalía to international audiences, awarding her Album of the Year at the Latin Grammys in November 2019. The singer is set to perform at the 62nd Grammy Awards, where she's also nominated for two awards, including Best New Artist.
Watch "Juro Que," which stars Omar Ayuso from the Netflix series Elite, below.