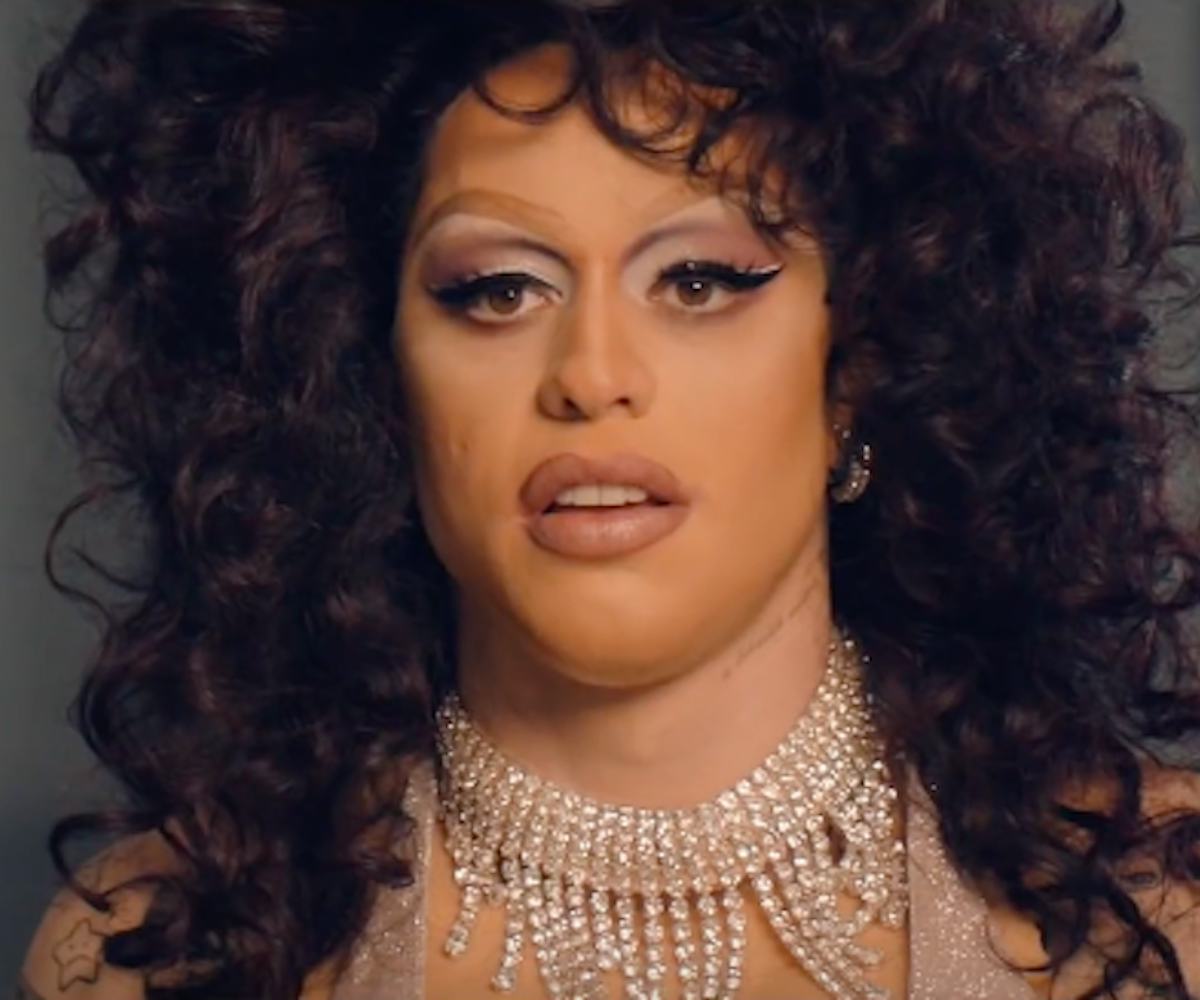 Photo via screengrab
Pete Davidson Does Drag For RuPaul On SNL
Apparently, the absentminded "Chad" is "the future of drag"
Every single player on Saturday Night Live has their strengths: Kate McKinnon is a master of over-the-top impressions, Colin Jost and Michael Che have a witty repartee during "Weekend Update," and newcomer Chloe Fineman is apparently really good at the fine art of "steering wheel acting." But Pete Davidson, the lanky comedian and 'Big Dick Energy' ex-boyfriend of Ariana Grande, is perhaps best known for his adorable awkwardness and deadpan delivery. So this weekend, when the one and only RuPaul made history as the first drag queen to host the live sketch comedy variety show, Davidson was selected as the queen's perfect foil.
In a skit called "Chad & RuPaul," the self-proclaimed Supermodel of the World, playing a version of herself, poses for a cover shoot with photographer Dante (played by Mikey Day) while her hit single "Covergirl" blasts in the background. But after a few shots, RuPaul stops the proceedings, expressing ambivalence about the concept. "Me? On another cover of Drag Magazine? It's redundant!" she scoffs. "Where is the next generation?"
"Drag needs someone new," she proclaims while scanning the room, right before spotting a clueless Pete Davidson holding up a white board reflector. "Who are you?" RuPaul asks curiously. "Chad," Davidson responds simply, his clear disinterest only intriguing RuPaul even more. Before long, the queen dismisses the rest of the team for a break while she is left alone with what she has deemed "the future of drag."
What follows is a hilarious montage of RuPaul gawking over Davidson's (or, Chad's) specific features ("That face! Those cheekbones! These eyes!") while he accepts everything with little more than an indifferent shrug. He's willing to go along for the ride, sure, but the juxtaposition of RuPaul's caffeine-addled enthusiasm and Chad's nonchalance is the primary source of the skit's humor. Many laughs arise from contrast — whether it's Chad's hilarious confusion (when Ru asks if he's ever done drag, he responds, "Nah. Just weed and pills") or his outright misunderstanding (when Ru makes a joke about being a married man, Davidson earnestly responds, "You're a man?")
Once the makeover is near complete, Chad awkwardly stands around in a sparkly sleeveless dress, complete with big curly hair and chicken cutlet breasts. For the final step, RuPaul instructs Chad to "find a song that speaks to the new you — you know, the queen that you really are." Fittingly, he chooses a mumble-rap trap song and uncoordinatedly dances around the set until he trips in his heels and falls flat on his face into the catering table.
It all leads to the final moments, when RuPaul reprimands him, telling Chad that such egregious mistakes will not work in the world of drag. "I can mold you into the next RuPaul, and if you want to be the best, you've got to be willing to work your padded ass off," RuPaul warns. "So I'll ask you one more time: Do you want to be the greatest drag queen in the world?"
"No," he says, again with a shrug. RuPaul tells him to walk away, and he does. "Okay! Bye, RuPaul!"
Watch Pete Davidson get all dragged up in SNL's "Chad & RuPaul" below. Be prepared to laugh.