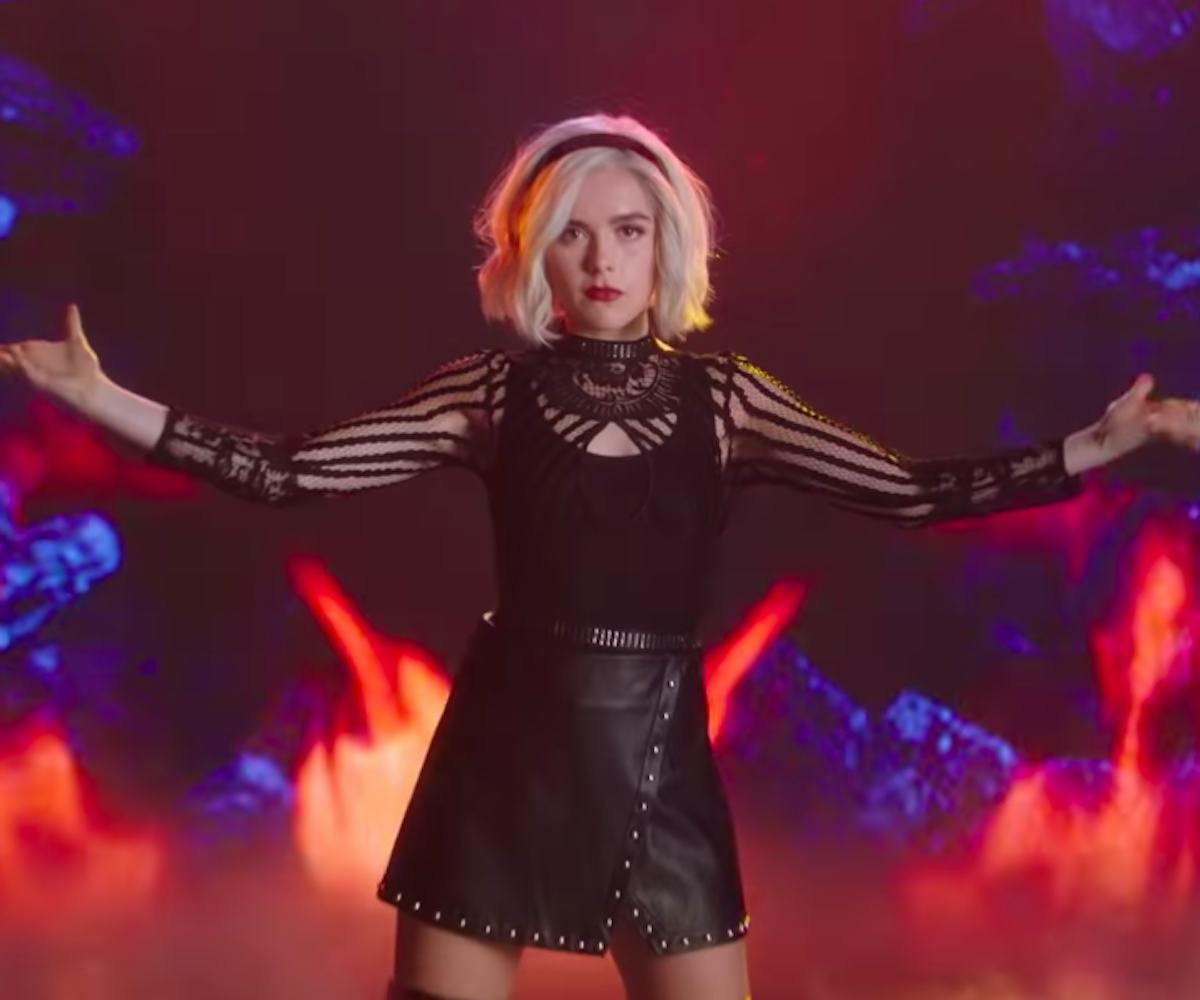 Screenshot via YouTube
Sabrina Spellman Is A Witchy Pop Star In 'Chilling Adventures' Music Video Trailer
Have you ever heard Kiernan Shipka sing?
Netflix opted out of a traditional Chilling Adventures of Sabrina Season 3 trailer — and instead filmed a campy music video to tease all the witchy drama in store when the series returns on January 24. Sabrina Spellman (Kiernan Shipka) tries on a popstar persona for a change, leading the video with a devilish crew of dancers as she foreshadows a darker turn of events.
All of our Chilling Adventures faves make an appearance in the trailer, in short clips that cut in and out of Spellman's performance. Harvey Kinkle (Ross Lynch) is in a crop top, Ambrose Spellman (Chance Perdomo) and Prudence Blackwood (Tati Gabrielle) are up to no good, and Nicholas Scratch (Gavin Leatherwood) is still very much trapped in Hell with Spellman's devil daddy inside him. In case you need a quick refresher on where we're at, Netflix shares in a synopsis:
Though she defeated her father Lucifer, the Dark Lord remains trapped within the human prison of her beloved boyfriend, Nicholas Scratch. Sabrina can't live with herself, knowing that Nick made the ultimate sacrifice and is suffering, burning in Hell under Madam Satan's watchful eye. So with an assist from her mortal friends, "The Fright Club" (consisting of Harvey, Rosalind, and Theo), Sabrina makes it her mission to free him from eternal damnation and bring him back into her arms. However, the Dark Lord's unseating has sent shockwaves through the realms—and, with no on the throne, Sabrina must assume the title of "Queen" to defend it against a challenger, the handsome Prince of Hell Caliban.
Watch the "Straight to Hell" music video trailer, below.