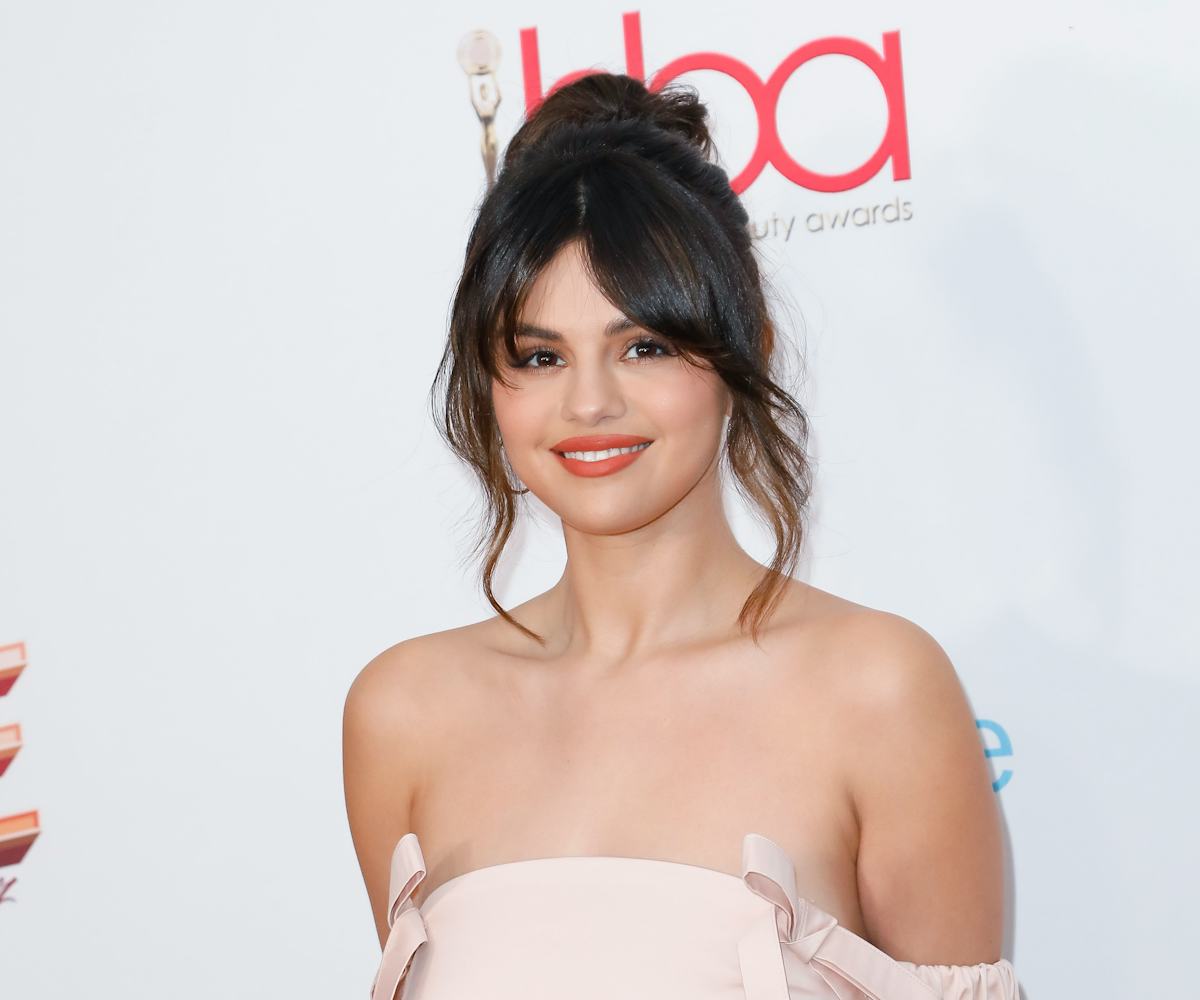 Photo by Tibrina Hobson/Getty Images
Selena Gomez's Selfie Might Be a First Peek at Her Makeup Line
Fans believe she's wearing Rare Beauty products in the photo
As shoppers eagerly await the summer 2020 launch of Selena Gomez's beauty line, the star might have just dropped a peek at some of the collection. Gomez posted a selfie on Feb. 10, and while there was no accompanying caption, she did tag Rare Beauty, her forthcoming makeup line. The singer didn't divulge the meaning behind the tag, and whether it signified that she was wearing any of the brand's products, but the picture has the internet speculating .
In the photo, Gomez has her hair styled in an epic curly bang. The wispy curls perfectly frame her face, and the remaining loose ringlets fall softly around her head, hitting slightly below her shoulders. In addition to the gorgeously styled hair, the star coordinated the look with an equally romantic makeup palette, including a peach lip defined by a darker shade of a liner, and a smoky eye with sky-high lashes.
Some fans theorized that the photo was a sneak peek at her next music video, while others picked up on the interaction between Rare Beauty and Gomez, writing, "You guys are about to rule the makeup world and change the standards of beauty Im so excited."
Rare Beauty then shared the photo on its Instagram feed, and while the brand also didn't add a caption, Instagram followers theorized the dual posting was a sign of something. "Can't wait to find out what that lip color's name is," one person wrote, while another fan wanted to re-create the look. "The LIP I need," a follower wrote.
Again, it remains unconfirmed whether Gomez is wearing any Rare Beauty products in the photo, but it's not entirely out of the question. Based on her previous patent filings with the U.S. Patent and Trademark Office back in July, Gomez plans to create a line that included "fragrances, cosmetics, skin-care preparations, hair-care preparations, soaps, moisturizers, and essential oils," among other items. And while she did confirm that Rare Beauty was coming later this summer — and at Sephora — the announcement didn't detail what products might be included in the launch.
Below, check out Gomez's bangs and our first possible peek at Rare Beauty.