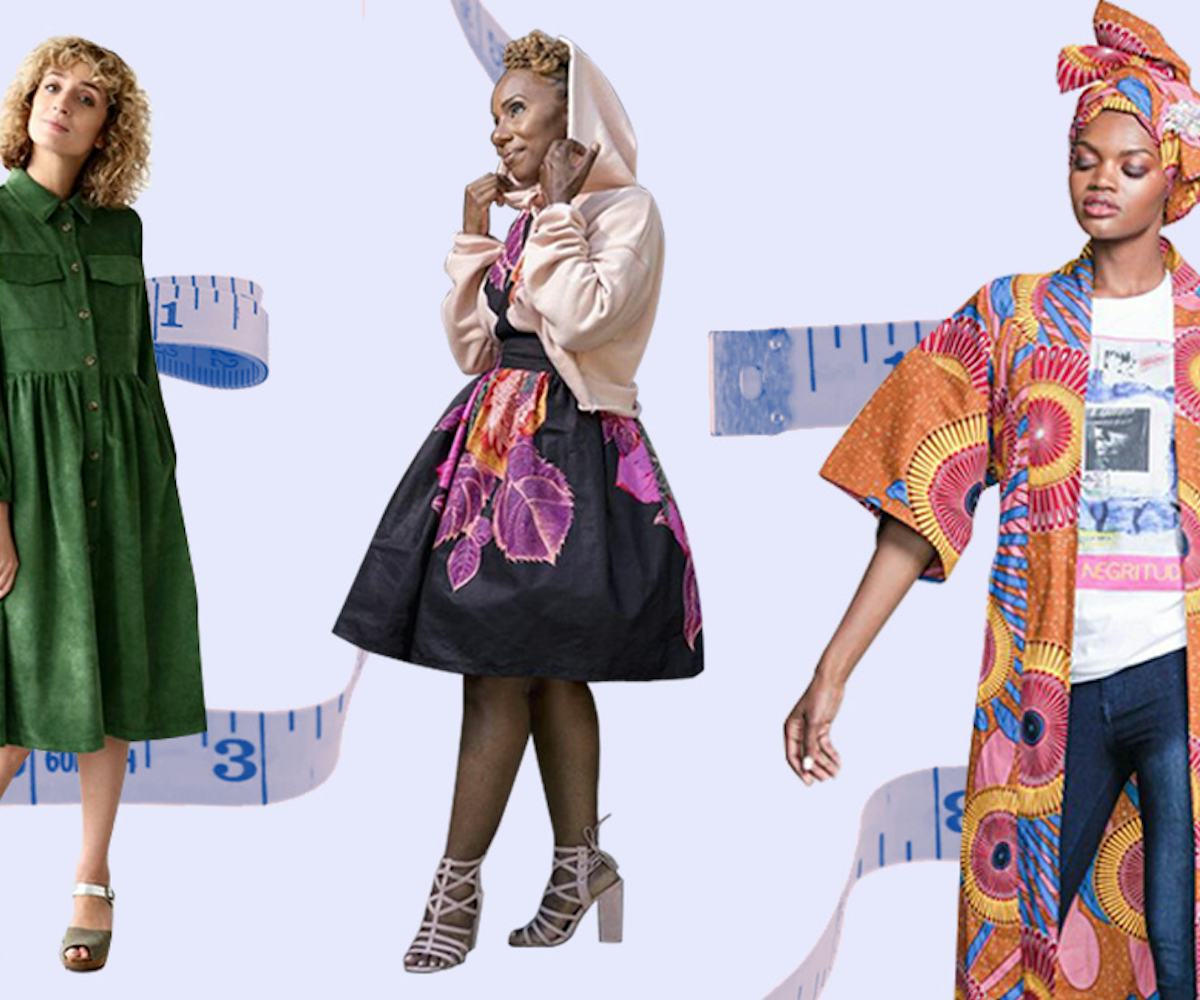 Photos courtesy of OffOn, Li-LI's Creations, DOMESTIK
Getting Custom Clothing From Etsy Is Easier Than You Think
If you're anything other than a sample size, shopping for clothes online can be a hassle; honestly, it's usually my own personal hell. I have a body type that often falls between sizes, so it's hard for me to buy clothes online, especially if there's not an option to return it. And, when it comes to the option of custom clothes, I had never thought to try it, because, to be honest, it seemed like way too much of an investment for an everyday piece or something that I may still be able to find in a store. But, previously unbeknownst to me, Etsy is the solution to all my problems, because it actually has a multitude of affordable, size-inclusive custom sellers in its marketplace, which allow you to get anything—from a simple shirt to an embroidered gown—tailor-made for your body type and personal style.
It is, though, admittedly a challenge to source out the best retailers for you, and to really understand the process of buying a custom piece if you have never made that jump before. Dayna Isom Johnson, Etsy's resident trend expert, knows the ins and outs of the site's custom offerings and gave me her best insider tips on how to navigate the expansive marketplace.
Focus on location
"When you visit a shop, take into account the seller's location, because that will let you know a little bit in advance how long the shipping times can be," notes Isom Johnson. Sellers are located all over the world, so, if you're looking for a piece that you'll need a tight turnaround for, you're probably going to want to shop Stateside.
If you're nervous about shopping for something made-to-order or/and are a novice on how to take your own measurements, there are also sellers who offer in-person consultations. Isom Johnson notes that if you'd rather have an IRL experience, you can take advantage of the filters that are available on the site and make sure that you're shopping with a local designer.
Ask for pointers
Says Isom Johnson, "A lot of sellers actually show templates of what their design process is like, so they can give you a guide on exactly where to measure from and what you're looking for." She suggests that anyone looking to buy something custom should always have a tape measure on hand, because, since each designer has their own patterns, they may need the measurement of a different part of your body than another designer. And if you're not sure that you've taken the right measurement, "ask all the questions you may have." Since it's custom, "that probably means there's some additional cost because there's more labor, and attention, paid" to the piece being made. "You want to make sure that you're getting everything exactly the way that you want," she says.
Take advantage of Etsy's resources
If you don't know where to begin, Isom Johnson points out that many resources for navigating the expansive marketplace are built into the site itself. The location filters mentioned above can help narrow your search if you're looking for a local retailer. Filters are also available for you to browse results based on size, color, and price, so if you have a limitation or price point in mind, you can opt to only see the options that work for you.
Etsy also gives "best seller" badges to select stores and products, which you will be able to see on a shop's listings. If you're worried about a shop's reputation, these badges "offer a nod from Etsy's internal voice and really digs up those sellers that are performing well." Added to that, the site has Editor's Picks pages which give you the ability to shop vetted brands. "This is a great tool for that person who hasn't shopped on Etsy before, and may feel a little overwhelmed," says Isom Johnson. "If you want a more curated experience, these pages break things down by category, trend, or seasonality."
Keep communication lines open
The most important advice, says Isom Johnson, is to take into account that you're working with a real person and that an open line of communication is available. "Working with someone online, you have the ability to have an open dialogue with them from start to finish," she points out. If you're not sure about something, the best thing to do is just ask—sellers want you to love what you get from them, so they'd probably appreciate you being open with them about your concerns.
Isom Johnson notes that pretty much anything is available for customization on the site, since "you're working with real people." All it takes is to "just ask if you have something in mind, whether you want something made from scratch or if you'd like to have something you find in their shop to be completely customized." If you're worried about a piece's quality, "you can always ask the seller for swatches of the material, and even talk to them about how a color can be customized."
Don't limit yourself
Basically, the sky is the limit when it comes to shopping for custom clothes on Etsy, and you just have to ask your seller what's possible. "Even if you don't see something listed in their shop, the chances are that the seller is going to be able to work with you," says Isom Johnson. "You just have to say what you're looking for: what color palette you love, what size you are, or what shapes or silhouettes you prefer." Don't confine yourself to the options that you see in your search results; if you want something truly unique and are willing to spend a little extra time and money to get it made, it is feasible to work with someone to design something completely from scratch. All it takes is opening up a line of conversation.
Still not sure where to start? Isom Johnson told us five custom designers that she swears by.
DEMESTIK's designs have been worn by Beyoncé, which is the ultimate seal of approval.
DEMESTIK, Gugu Dress, $218, available at Etsy.
OffOn sells mostly linen pieces, but also dabbles in cord and denim.
OffOn, Long Sleeve Denim Coverall, $140.88, available at Etsy.
TheCurvyElle offers reworked and plus sized vintage items, as well as original designs.
TheCurvyElle, Vintage Pink Floral Pleated Swing Skirt Dress, $45, available at Etsy.
Li-Li's Creations celebrates the designer's identity and heritage.
Li-Li's Creations, Cropped LiliGirl Sweatshirt, $60, available at Etsy.
PettiBear offers a size-inclusive range of swimwear and simple knits.
PettiBear, High Waisted Bikini Swimsuit, $220, available at Etsy.