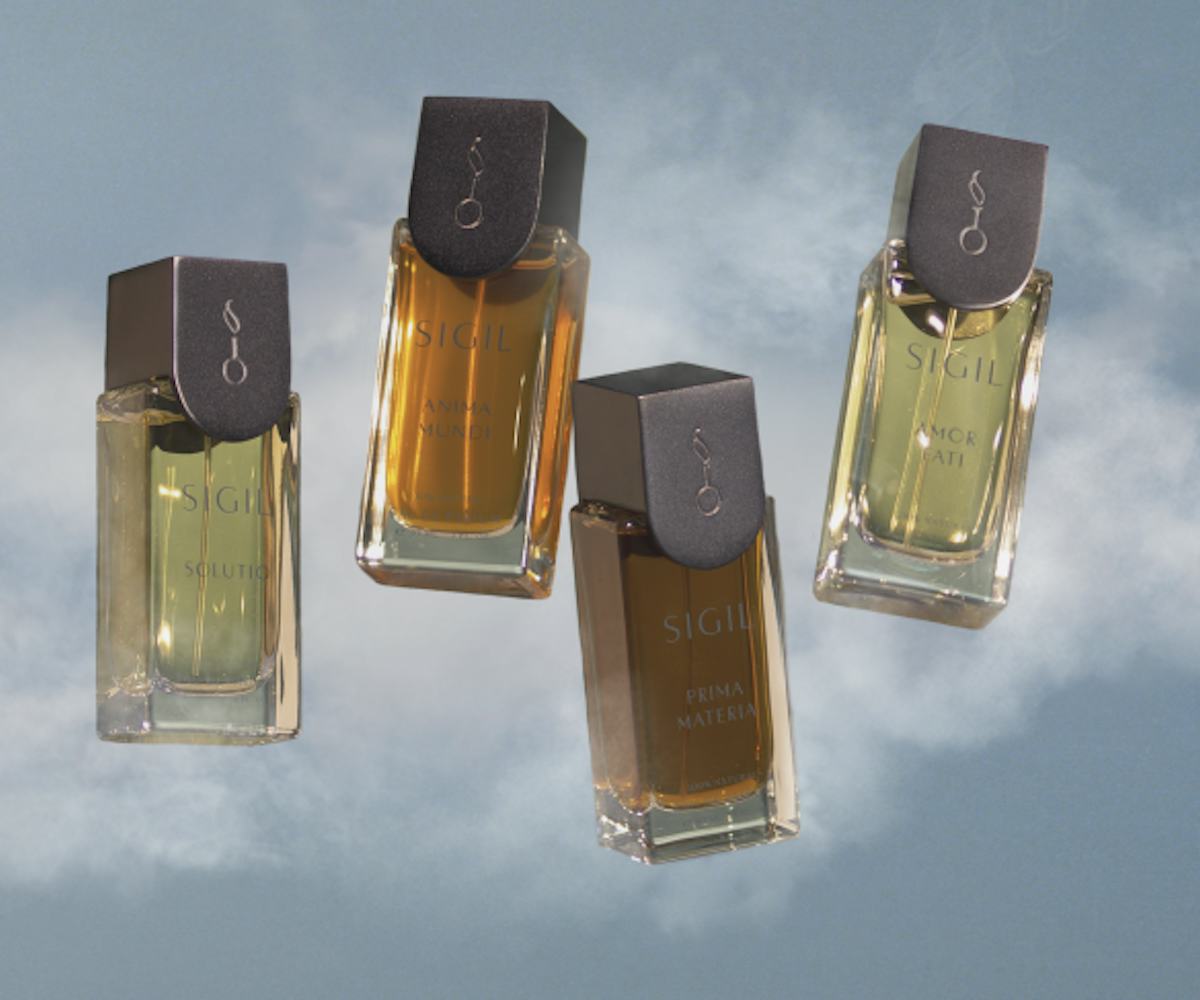 How To Smell Like Your Favorite Memory
Sigil Scent offers four gender-neutral, 100 percent natural perfumes that will quickly become your most beloved fragrances
Try to describe a favorite scent, and you'll probably find it difficult to do so; language never feels so limited as it does when it comes to the elusive, ephemeral quality of a beloved perfume.
Try to describe a favorite scent, then, and you find yourself describing things that have little to do with the composition of the fragrance at hand, you find yourself describing a memory. And so, a perfume that evokes the strong, musky notes of frankincense smells to you like the cool stone walls of a cathedral you once visited in a seaside village in Normandy; or, a scent that thrums with a dark green base and finishes with a bright, watery flash makes you think of the way you feel when you're lying on the sun-warmed dock by your boyfriend's parents' lake house, just as summer is coming to a close.
Language's failure, then, to adequately describe it, is actually what makes scent so powerful; it becomes inextricably tied up with our memories, because it is a part of them, it is a part of us. And it is precisely because fragrance is so important to our sense of our past, and our sense of ourselves, that it feels all the more essential to find those fragrances that invoke the things we love, the scents we want to carry with us into our future.
Lately, I've been switching on and off from wearing Anima Mundi and Prima Materia from Sigil; lately, I've been feeling like I've never smelled more like myself. Sigil was introduced to me by its founder, Patrick Kelly, who is committed to creating his gender-neutral fragrances with 100 percent natural ingredients, and speaks readily of the way in which the line of four fragrances was inspired by his own memories of things like orange blossom petals opening up in the hot summer air, or the arid landscape of the Californian desert, populated by musky sage plants, sand, and embers.
Kelly's sensitivity to the way scent transforms experience is obvious in each of his fragrances, and his use of expansive language, his invocation of celestial bodies and magical practices, to describe the individual scents, makes it clear that he perceives perfume as having the potential to transform a person's way of viewing themselves.
For me, spraying a mist of Prima Materia on my collarbone, and tracing its oils up onto my neck and along my jawline, feels instantly transportive, like I'm in a low, small boat, floating in brackish water, through a mangrove forest, smelling the same fecund flowers that the dinosaurs smelled tens of millions of years ago. With Anima Mundi, I've found my favorite floral; it's a rose getting its petals torn off and thrown into a fire; it's the fire, now out, just a pile of smoking embers. Both scents are new to me, both scents feel like I've always known them.
And it's not only me. For others who smell me, who have leaned in close to say hello or goodbye, the response is pretty much always the same: "What are you wearing? Your smell is so familiar. I know it from somewhere."
Sigil fragrances can be purchased at Sigil Scent, here.