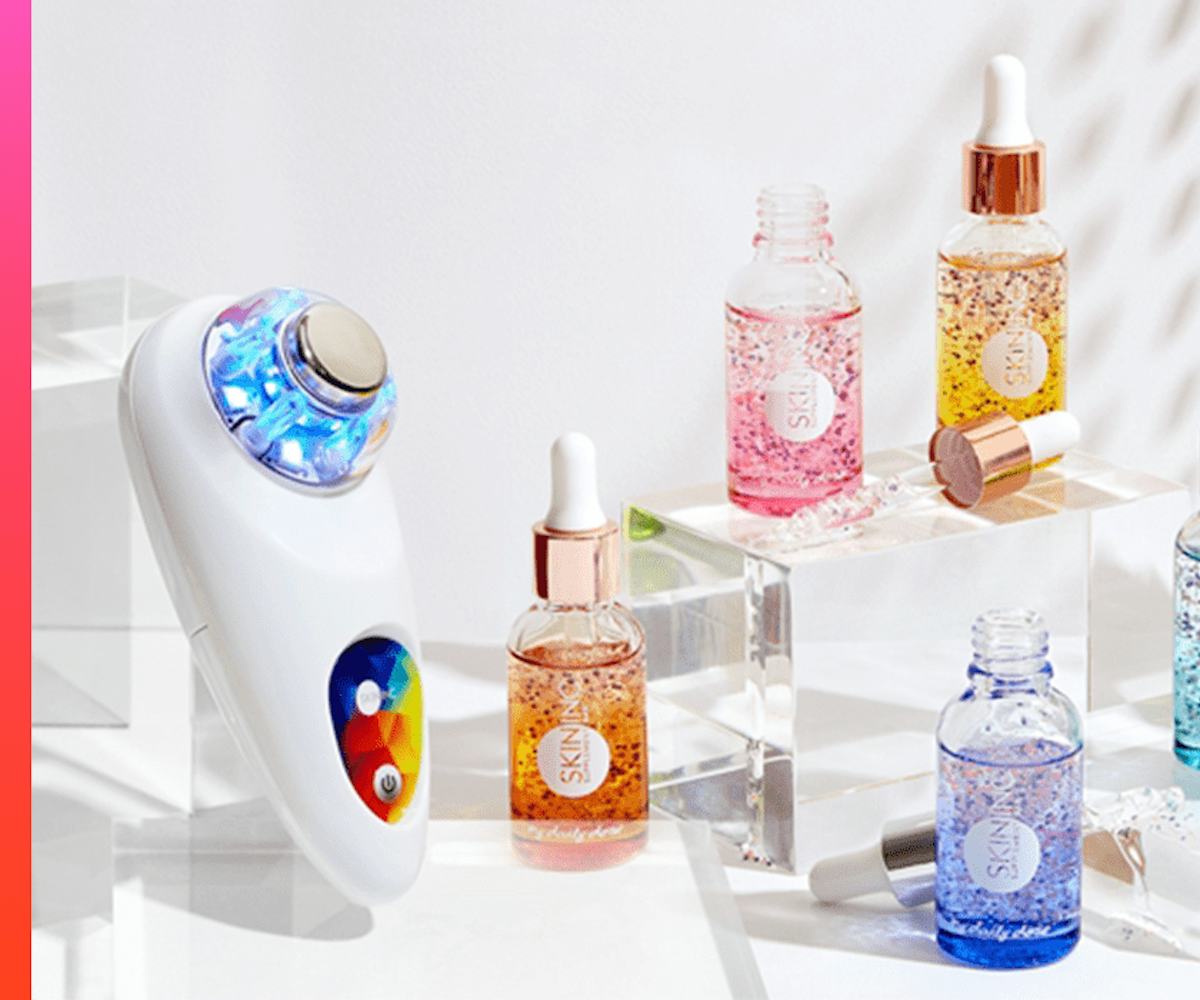 Photo courtesy of Skin Inc.
This Perfect Serum Allowed Me To KonMari The Rest Of My Beauty Drawer
Friends don't let friends miss out on all the cool, under-the-radar things they know about, like which little-known beauty brand is low-key making the best highlighter around. And because we consider our readers to be like friends, we gather together all our best finds in our Don't Sleep On This series. Check in every week to see what things we can't wait to share with you.
Our complexions are like snowflakes; no two are exactly the same—which is why, when it comes to skin care, it's rarely a "one size fits all" situation. One person's holy grail product is likely to be totally meh for someone else. The trick is to find something as suited to your needs as possible. And that's where Singaporean skin-care brand Skin Inc. comes in to help.
Skin Inc., which recently celebrated its 10-year anniversary, has been at the forefront of customizable beauty since its beginning. Founder Sabrina Tan started her brand upon leaving a career in IT and finding herself frustrated with not only the lack of products for those with sensitive or eczema-prone skin but the number of steps involved in the average beauty regimen. From there, she created her customizable, multi-ingredient serums. The rest is history.
As a beauty editor and a self-described skin-care obsessive (and someone who enjoys a clutter-free living space), I've come to love this brand for allowing me to declutter my medicine cabinet, particularly with its My Daily Dose Custom-Blended Serum, one that addresses my particular needs. While you can purchase a number of individual serums of all sorts—from ceramide serum for rough, dry spots to chlorella serum for pigmentation and dull skin—the true winner here is the custom blend of your top three.
After taking the brand's Skin Identity test, an algorithm automatically creates the most effective custom serum for your specific skin-care needs. Using patented Japanese technology, active ingredients are encapsulated in caviar-inspired spheres that protect it from light exposure and oxidation, ensuring they are fresh and potent when they finally reach your skin. Hot tip? You can also add a drop or two to your other favorite products, from moisturizers to foundations, to give skin an extra boost.
As someone who suffers from particularly dry and itchy skin during the winter months, along with the constant fear that my facial eczema will resurface, my concoction, of hyaluronic acid, ceramides, and licorice, has been my one-stop shop for healed, hydrated skin, and proven to be a godsend. It calms and nourishes any irritation, while keeping my skin supple and hydrated, preventing further irritation.
The brand carries a number of other covetable products that allow for at-home pampering, from the Pure Deepsea Hydrating Mask to the Pure Revival Peel (which visibly yet gently sloughs away your dry skin—something I find grossly satisfying). My absolute favorite, however, would have to be the Facial In-A-Flash Multi Masking Bento Set. As an avid spot masker, I find it frustrating that you can't really work with multiple sheet masks at once. That's why I love these two-piece hydro-gel sheet masks that can be mixed and matched to cater to your specific needs. (Pimply chin, but dull, dry cheeks? No problem!)
But perhaps the most exciting part of the brand is its advances in skin tech. Considering Tan's background in IT, it's not surprising that tech plays a major role in Skin Inc.'s story. The handheld Optimizer Voyage Tri-Light might seem a bit intimidating for the average skin-care enthusiast, but, I promise you, it's a game-changer. This award-winning device uses LED chromotherapy and low-frequency stimulation to tackle a number of skin-care concerns through its five different settings, resulting in more radiant, calm, and brighter looking skin (and, again, playing into that customizable beauty beat). It also boosts absorption of whatever products you apply beforehand, ensuring you get the most bang for your buck.
This fall, the brand will be introducing the Optimizer Voyage iGlasses, a chromotherapy-based eye tech that addresses multiple needs, from repairing blue-light damage (a result of staring at screens all day) to combatting other environmental stressors. And considering the device looks like a glowing, futuristic pair of sunglasses, I promise it's just as fun to use as it is effective. (Come September, catch me wearing this on my morning subway commute.)
All in all, the brand aims to simplify your skin-care routine and allow you to KonMari your medicine cabinet, all while ensuring you're using products that actually work for you. Wouldn't you rather trade in your 15 different serums (and one billion other products) for a custom-created handful that address all of your unique and specific needs? Yeah, thought so.