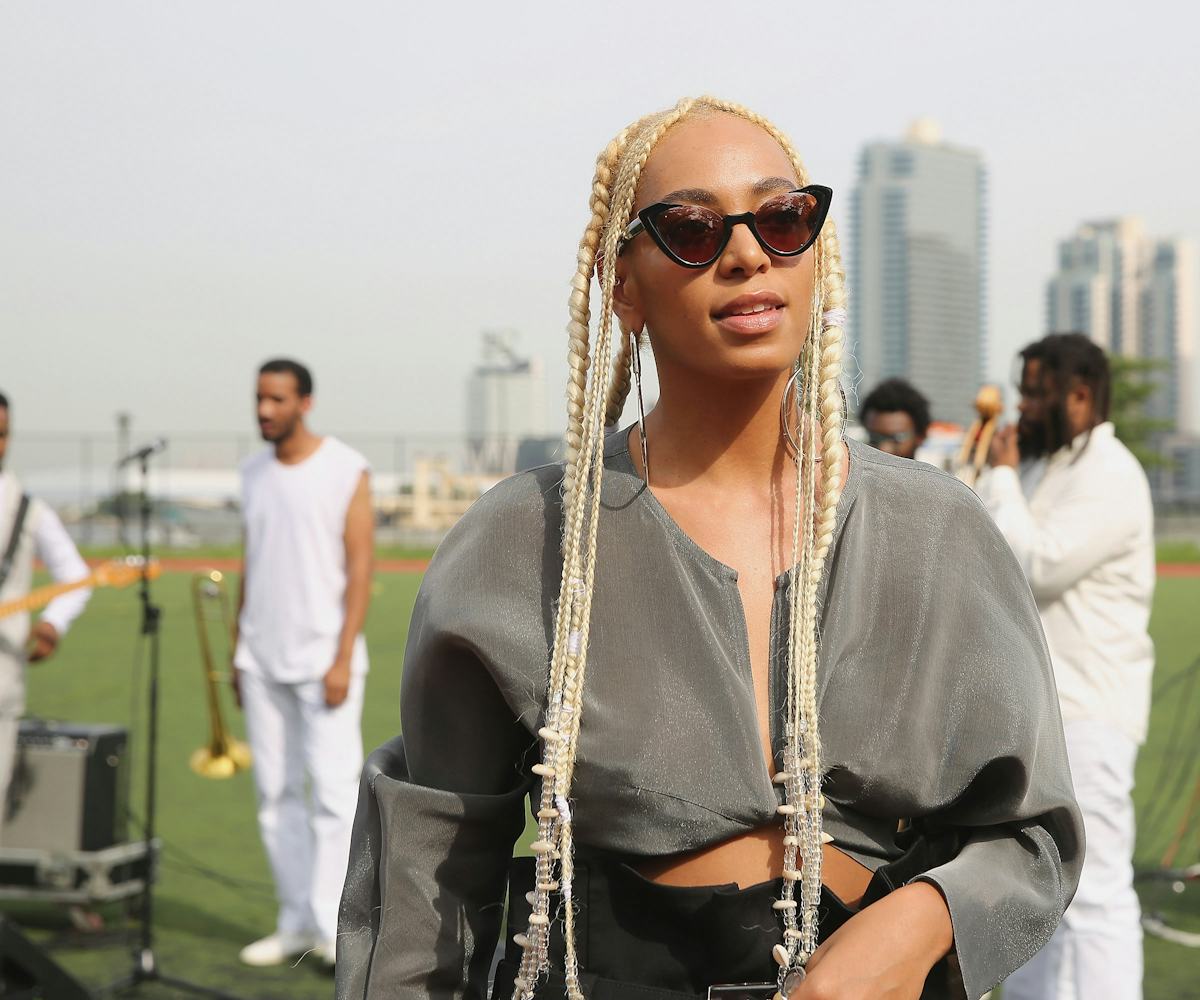 Photo by Mireya Acierto / Stringer / Getty Images.
Solange Just Saved BlackPlanet And Black History Month
Not all heroes wear capes
This February has not been good to Black folks. Big fashion brands are using problematic imagery to sell clothes that already cost too damned much. Jussie Smollett and R. Kelly are forcing us to hear more from the Chicago Police Department than we ever wanted to. Jordyn Woods is caught up in a cheating scandal with Tristan Thompson. Green Book won Best Picture at the Oscars. With only two days left in the month, things were looking bleak until Solange Knowles, first of her name, protector of sisters, and guardian of Black hair, swooped in to save the day with a BlackPlanet account.
Solange took to Twitter today with a simple directive: "find me on BlackPlanet!!!" She then included a link to blackplanet.com/solange which features never before seen pictures and videos; A pole dancer in clear heels, Solange in a clear top, and a Black man atop a horse are among the artistic offerings. There are little quotes embedded onto the page that I pray are song lyrics. "For the bad weaves and two days" and "Threw my earnings like offerings and prayed it made her feel good" are already bops as far as I'm concerned. Fans are hoping that this is part of a rollout for Solange's long-awaited follow up to A Seat At the Table. Her account also includes a tab with a list of festival dates where she's performing, starting in May.
A flood of new, creative Solange content is already enough goodness to turn our BHM luck around. But the messenger, in this case the platform that she chose to use, is just as important. BlackPlanet.com launched in 2001 as a social networking site that specifically targeted African-Americans. Before Twitter and Instagram, and even before MySpace, there was BlackPlanet. My friends spent hours coding their pages to include music, pictures, and other personalized elements. It was here where they dared DM the person they had a crush on in the hallways; It was today's Tinder and Facebook for a generation of Black millennials. It was started by Omar Wasow and is now owned by Radio One, a media conglomerate that also targets African-Americans and is owned by Cathy Hughes.
If this is Solange's new, permanent internet home, she just made a huge case for buying Black and diversifying tech at the same damn time. She's the hero we both want and need. BlackPlanet's servers better be ready for the influx of new accounts.