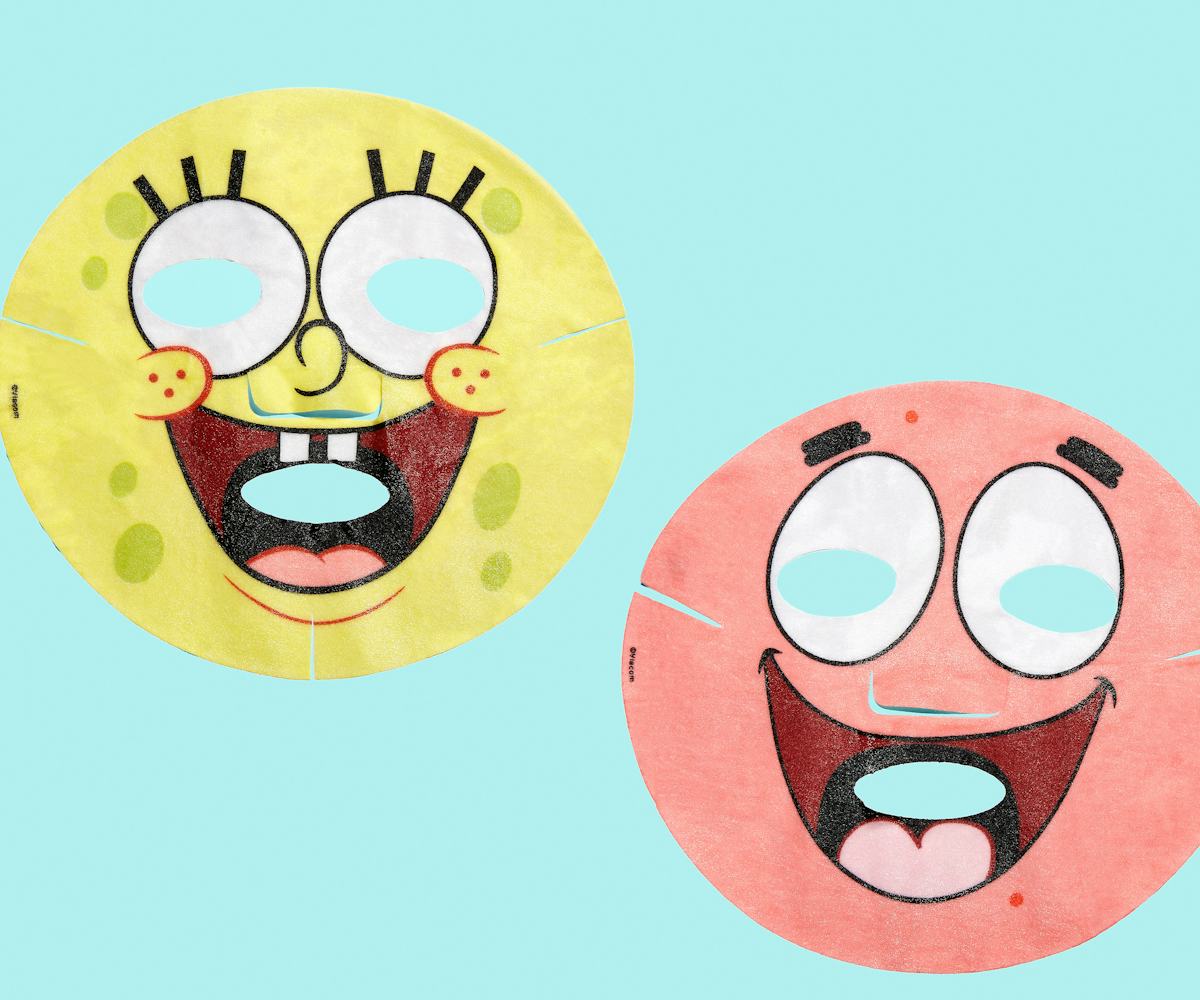 Photo courtesy of HipDot
SpongeBob's New Face Masks Are Low-key Terrifying
Is this keeping you up at night?
In celebration of SpongeBob's solar return (it's the 20th anniversary of SpongeBob SquarePants' first episode), HipDot—best known for their influencer collaborations and marble packaging—launched a skin-care and makeup collection inspired by everyone's favorite underwater sponge. For the most part, the collection is everything you'd expect; the eyeshadow palette features show-appropriate shades like Bikini Bottom Blue, and there's a coconut oil-infused lip gloss called Jelly Fish. Cute, right?
And then there are the face masks... which are terrifying.
Laid flat, they look fine, adorable even. The character-inspired masks depict a smiling SpongeBob and Patrick, both of whom (I'm sure) didn't expect that their likenesses would make the wearer look like a serum-sucking demon.
Exhibit A 
Exhibit B 
Aesthetics aside, the products are actually a worthy addition to your sheet mask stash. SpongeBob's Best Face Ever Mask contains marine protein and hyaluronic acid, while Patrick's Spa Day Mask contains seaweed and hyaluronic acid—all nourishing, good-for-skin ingredients.
The entire collection will be available on HipDot.com for the duration of the Best Year Ever, and the brand even alluded to more products to come. "HipDot Studios will make the Best Year Ever even better with new products soon," the brand shared in a press release, and we can't help but wonder if Sandy or Mr. Krabs face masks will be haunting our dreams next.
HipDot, SpongeBob & Patrick Sheet Masks, 4 Pack, $20, HipDot.com.