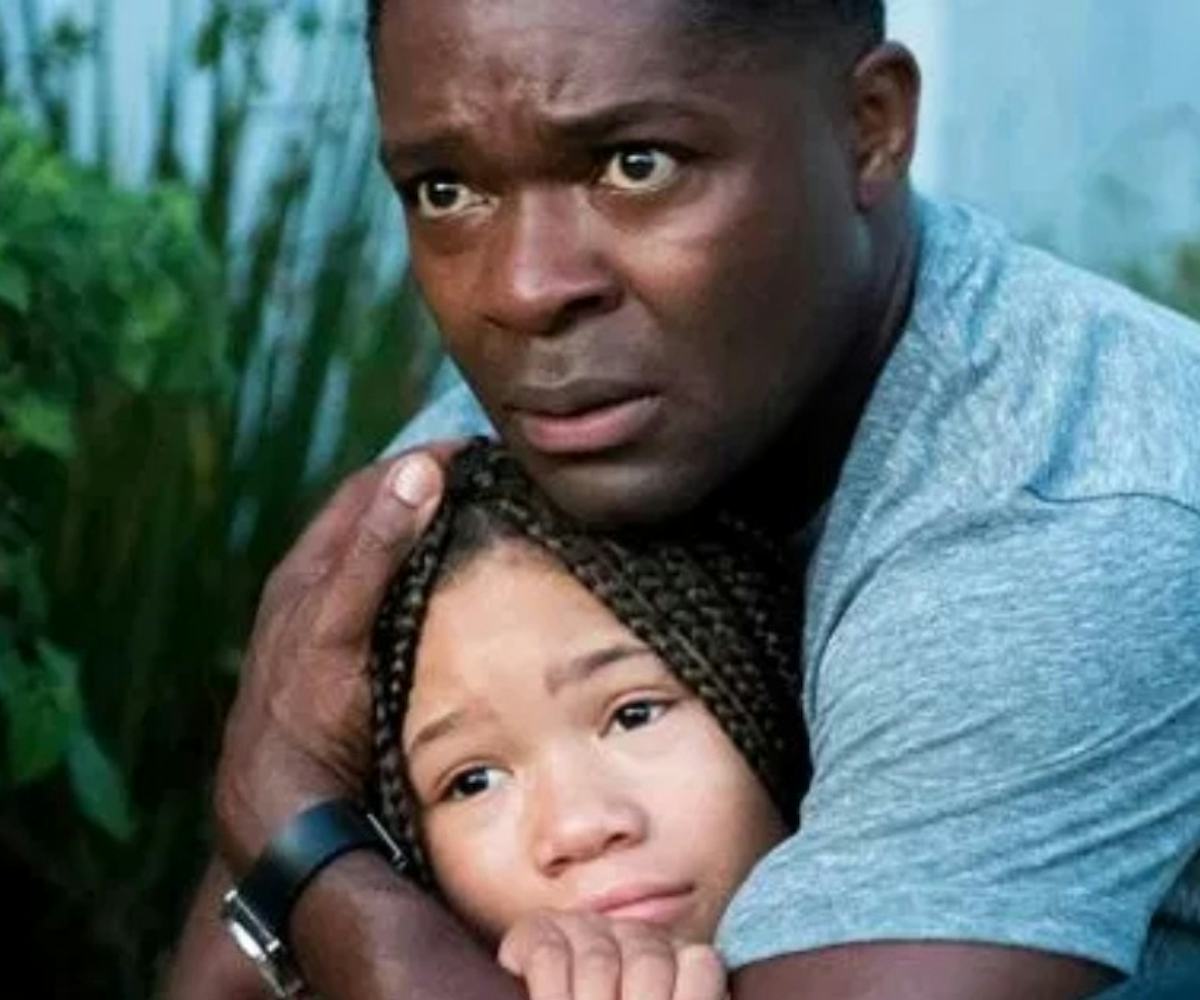 Photo courtesy of Blumhouse.
'Don't Let Go' Is Not Just Another Time Travel Movie
The stars of the new Blumhouse movie, David Oyelowo and Storm Reid, explain why
Imagine that the worst kind of tragedy has struck: Someone very close to you has been murdered. You start the difficult grieving process, wishing there was something you could have done, and then BOOM: A few days later your cell phone rings, and it's your dead loved one on the line.
This is the premise of Don't Let Go, a psychological thriller starring Storm Reid and David Oyelowo.
The Euphoria actress plays Ashley, who has a complicated relationship with her father, and finds more support from her uncle, Jack (Oyelowo). Jack's a detective, and his world is shattered when Ashley and her parents are murdered. It will take all his investigative skills to figure out what is happening when, a few days later, he receives a mysterious call from Ashley that leads the two of them on a mission to figure out what happened, and perhaps rewrite history.
For a Blumhouse flick, Don't Let Go is surprisingly light on the supernatural elements. But this leaves room for you to wring your hands together trying to piece everything together before it ends.
Below, I talk with Reid and Oyelowo, and they explain how they built their onscreen chemistry despite not having many scenes together, meeting on the set of A Wrinkle in Time, and why the movie is better with its current name.
I was so stressed watching this movie. [Laughs] It's so intense. Storm, for a lot of people this is going to be their first time seeing you in a role like this. You've been acting for a while, but what was it like for you to step into not only a strong emotional performance but also one with a lot of action?
Storm: It was a challenge. But it was so much fun. I feel like the genre is super different [for me]. I've never done a psychological thriller before. But I do feel like I've always played grounded emotional characters. It's easy to tap into that, but the psychological thriller aspect, plus the action, plus the emotion, was hard. I'm glad I was able to do it, and I feel like I learned from the experience, so I can't wait for people to see it.
David, what was it like to partner with a young person for such an intense role? It's an unlikely duo, but you worked off each other really well.
David: What I loved, both on the page and working with Storm, was that it was an unlikely duo. It would have been really easy to make this a father-daughter story. But an uncle-and-niece story felt unique. One of the challenges we had is that we didn't have that much screen time with each other. But so much of how you feel about these two characters, and your hope for them to get back together, you have to feel the love between them. So we worked very hard to make sure that that chemistry was there and that we were around each other enough so that it felt real. We made a pact with each other that we would always be on set for each other while the other was [in the same setting or speaking to the other on a call]. And if for whatever reason we couldn't literally be there, we would be with the other person over the phone so that relationship felt very real. I first met Storm on the set of A Wrinkle in Time. I was visiting my friend Ava [DuVernay], the director.
Casual… Your friend Ava. [laughs]
David: Yes she's like a sister to me… [laughs]... I don't know how else to say it. But that's where I first met Storm. I saw her working and thought that she would be a great person for this, and, boy, was I proven right. Her talent is just extraordinary. It was literally just about turning up and doing my work, because she just brought it every day, 100 percent. She's just a really lovely person to be around.
I also love that she doesn't take a passive role in the film. You don't rush in to save her, she is a really active participant and also a hero. How would both of you describe the supernatural elements of the film? It's a strong part of the premise, but when you see the film it's actually very subtle.
Storm: Working on Wrinkle really helped me with Don't Let Go because it does deal with supernatural things and the time traveling aspect of it all. That helped me while reading the script and trying to break it down so I wouldn't be so confused. But, like you said, it did help that it was still so grounded, and still so subtle. It wasn't, essentially, a time travel movie. We were dealing with trying to save our loved one and trying to save ourselves, with a time travel aspect.
David: I think one of the great opportunities that the film presents is to basically look at the love and the connection two family members have, and the price they could pay to save each other; but with an elevated genre and an elevated concept that makes it feel more cinematic and makes the story more exciting, entertaining, and thought-provoking. But at its core, it's something that anyone who is in a family situation can relate to, just in terms of wanting to protect someone they love. We just happen to have this element that really elevates that and makes it worthy of an exciting ride. That's why we wanted the time travel element to not overwhelm the emotional side of it because essentially that's the side of the story that we were most interested in and heavy-handed with.
The title of the movie was changed from Relive to Don't Let Go. Can either of you speak to that?
David:Relive was a title that, in line with what I just said, was almost talking more about the time travel element. After we had taken the film to Sundance, we learned some things about the film from interacting with the audience who saw it. We did a little more work on [it], and we really focused more on the emotional and familial side of the story. That meant that Relive felt not quite right. We wanted it to be a more emotional title and something that spoke to the relationship rather than the genre. Don't Let Go felt more appropriate for the film that we ultimately have now, and wanted to make.
Don't Let Go is in theaters on August 30.