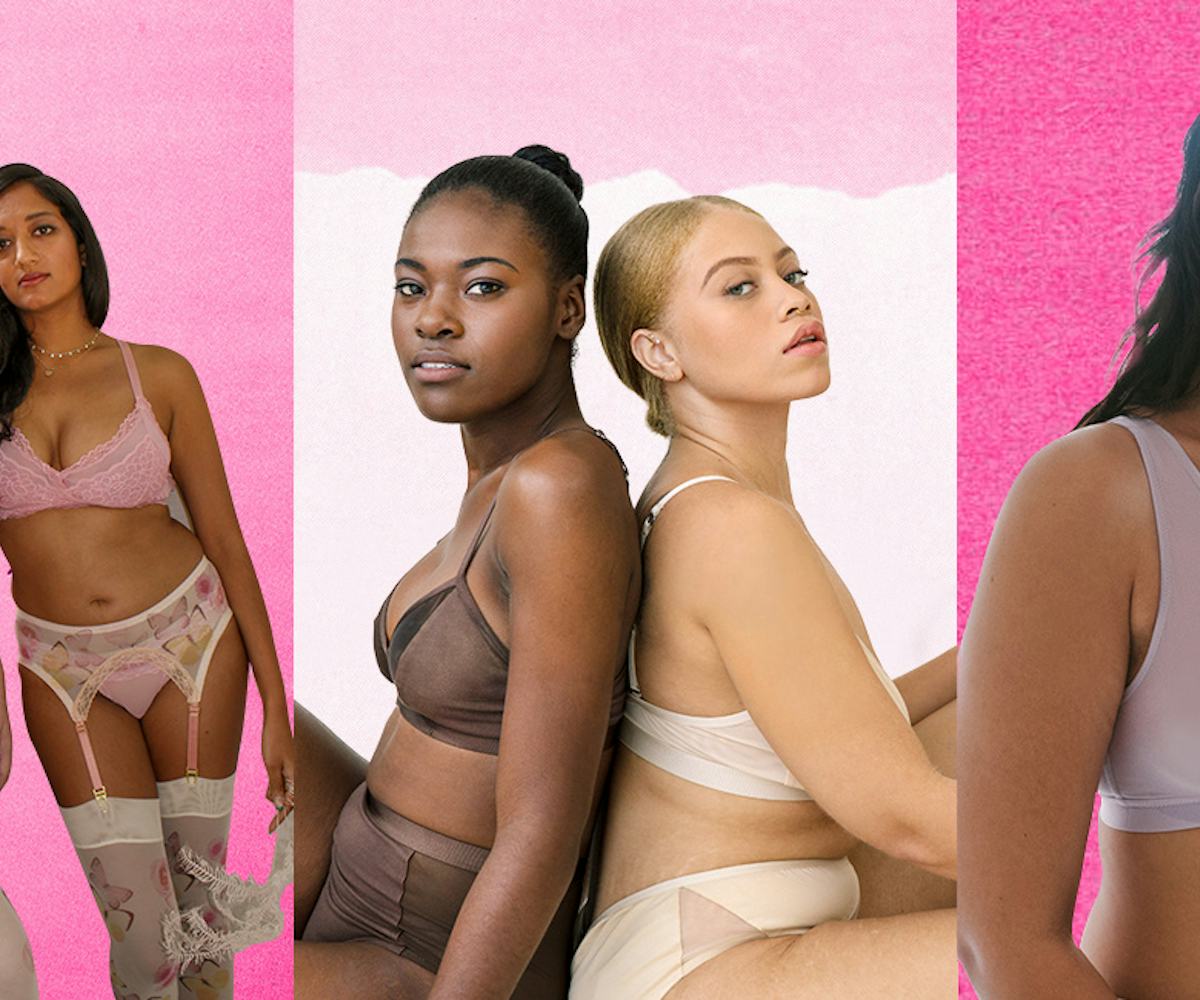 Photos Courtesy of the Brands
7 Eco-Friendly Lingerie Labels To Support This Valentine's Day
And they're all inclusive—what could be sexier?
With Valentine's Day right around the corner, we're all feeling the urge to buy ourselves lingerie that makes us feel both sexy and confident. Whether we're wearing it for ourselves, or wearing it for our partners to enjoy, too, we ultimately should be able to feel good about what makes us feel good.
This year, we're focusing on brands that not only create beautiful and empowering undergarments—whether traditionally lacy and strappy, minimalist in design, or comfort-focused—but also dedicate themselves to creating sustainable products that leave minimal impact on our planet.
We rounded up seven lingerie and intimates labels that value sustainability, environmental friendliness, waste reduction, and overall ethical production as the core of their brand story. However, not only do we champion these brands for implementing sustainable practices into their work, but also for celebrating diversity and inclusivity of body type, gender, and age. And to be honest, it's pretty hard to find a brand that'll do both.
Below, learn more about the brands you should support this Valentine's Day—and year-round.
Uye Surana
NYC-based Uye Surana is a whimsical lingerie label, creating dreamy pieces that cater to an inclusive range of body types. The brand performs fittings across an inclusive range of body types and sizes in order to ensure the most comfortable and accurate fit.
But in addition to celebrating all bodies, sustainability and mindful design practices are core to the brand. Every piece is handmade in its NYC studio, mostly in small or limited-edition batches, ensuring that products are never over produced. The brand prides itself on an in-house technique that allows for it to print photo-realistic prints onto garments sans any excess water or dyes. And, as fabric scraps are often unavoidable, it has partnered with a recycling team to work toward keeping leftovers out of landfills.
HARA
Melbourne, Australia-based HARA is an underwear and loungewear line that serves to empower, creating comfortable yet understatedly sexy pieces that are designed with how the body naturally moves in mind. The brand, which translates to "green" in Hindi, keeps sustainability and ethical practices in mind for every aspect of the brand.
The core ideal of HARA is to keep its entire supply chain in one country, one location—all pieces are naturally dyed, cut, sewn, packaged, and shipped in Melbourne. Bamboo fiber-based textiles are dyed with natural extracts such as madder root, indigo, and turmeric, and both water and leftover dye materials are recycled through a filtration system to minimize waste.
In addition to being eco-conscious, the brand also ensures that ethical practices are carried out within its facilities—including paying living wages for its workers.
Baserange
Baserange is essentially the perfect line of basics. The Portugal-based label offers comfortably cozy underwear and underpinnings, as well as clean and minimalist ready-to-wear, with the idea that sustainability should be affordable as its core philosophy.
Pieces are often crafted from ethically sourced fabrics that are produced with little impact on the environment, opting to use materials such as bamboo fibers, organic cotton, recycled cotton and wool, and natural silk, linen, and bamboo. However, as an organic or sustainable option is not always possible, the brand prides itself in its transparency, allowing the customer to make an informed purchase decision based on the information they're provided with.
Baserange's products are produced exclusively at small, family-owned factories around Porto, Potugal, which is close to the company's headquarters in Toulouse, allowing them to regularly oversee that ethical and sustainable practices are carried out. Its woven pieces are produced in a small Turkish town, where only natural fabrics (and processes) are used.
TomboyX
TomboyX is an underwear and swimwear label that's here to challenge the definition of sexy, creating pieces with the "human agenda" in mind. The result? An offering of underwear that's fun, colorful, and comfortable, catering to all regardless of gender identity or body type.
Aside from representation, the brand is also heavily focused on its sustainability practices. A majority of its cotton underwear and swimwear pieces are Oeko-tex 100 certified, an international standard for non-toxic fabrics, while its luxury MicroModal fabric is made out of sustainably harvested and processed beechwood fibers. It uses crab and shrimp shells to give its activewear its quick-dry, moisture-wicking antimicrobial qualities rather than using synthetic chemicals, and all of its signature prints use an eco-friendly method that recycles water well above requirement standards.
Between The Sheets
NYC-based Between The Sheet's luxe offering of lingerie, loungewear, robes, and pajamas is designed with the idea that rest and rejuvenation—which begin and end between the sheets of our beds—is when we most connect with ourselves, as well as our homes. With that said, we should be enjoying these moments, wearing things that are not only comfortable but something we can feel good about wearing.
Founder and designer Layla L'obatti works with her LEED-certified environmental lawyer husband to ensure that BTS runs as sustainably as possible. The brand became B Corp certified back in 2017, which essentially means it meets the highest standards of verified social and environmental performance, transparency, and legal accountability. It works with NYC-based factories that are owned by both women and minorities, which ensures that workers are paid livable and legal wages and are protected by OSHA laws.
While it strives to work only with U.S.-based suppliers for eco-conscious materials, it will turn to overseas suppliers so long as they are a more environmentally friendly option. Additionally, all of its mailers are recyclable and are made from 100 percent recycled materials, and it also donates to 1 percent For The Planet to plant trees worldwide.
KALA
Brooklyn-based Kala believes that intimates should do right by Mother Earth, which is why its sustainable offering is produced with ethical and eco-friendly practices. Offering a range of bras, underwear, sleepwear, and tees in an array of colors—including an inclusive range of nude—all products are made in America in all-natural and/or biodegradable materials and made by local artisans who are paid fair wages.
Even more exciting? The brand is expanding into sustainable and all-natural wellness products, launching later this year.
Lara Intimates
London-based Lara Intimates creates comfy-chic lingerie and intimates that are sustainable, ethically produced, and size-inclusive.
Produced in an all-female factory, all of Lara's offerings are made entirely of deadstock fabrics sourced from the unused offcuts of larger factories and brands. It prides itself in offering one of the larges bra size ranges in the world: beginning at 26A and ranging up to 36I. In an effort to minimize waste, it sells "factory seconds," which are damaged pieces, sold at 50 percent off, which would typically be discarded. Additionally, the brand is planning to roll out a textile waste scheme this year, which aims to turn any fabric waste into new product.
Another important aspect for the label is transparency. This May, its first "factory shop" is opening, which will be a retail concept store serving as half factory, half shop, allowing customers to witness firsthand the brand's creative and production process.