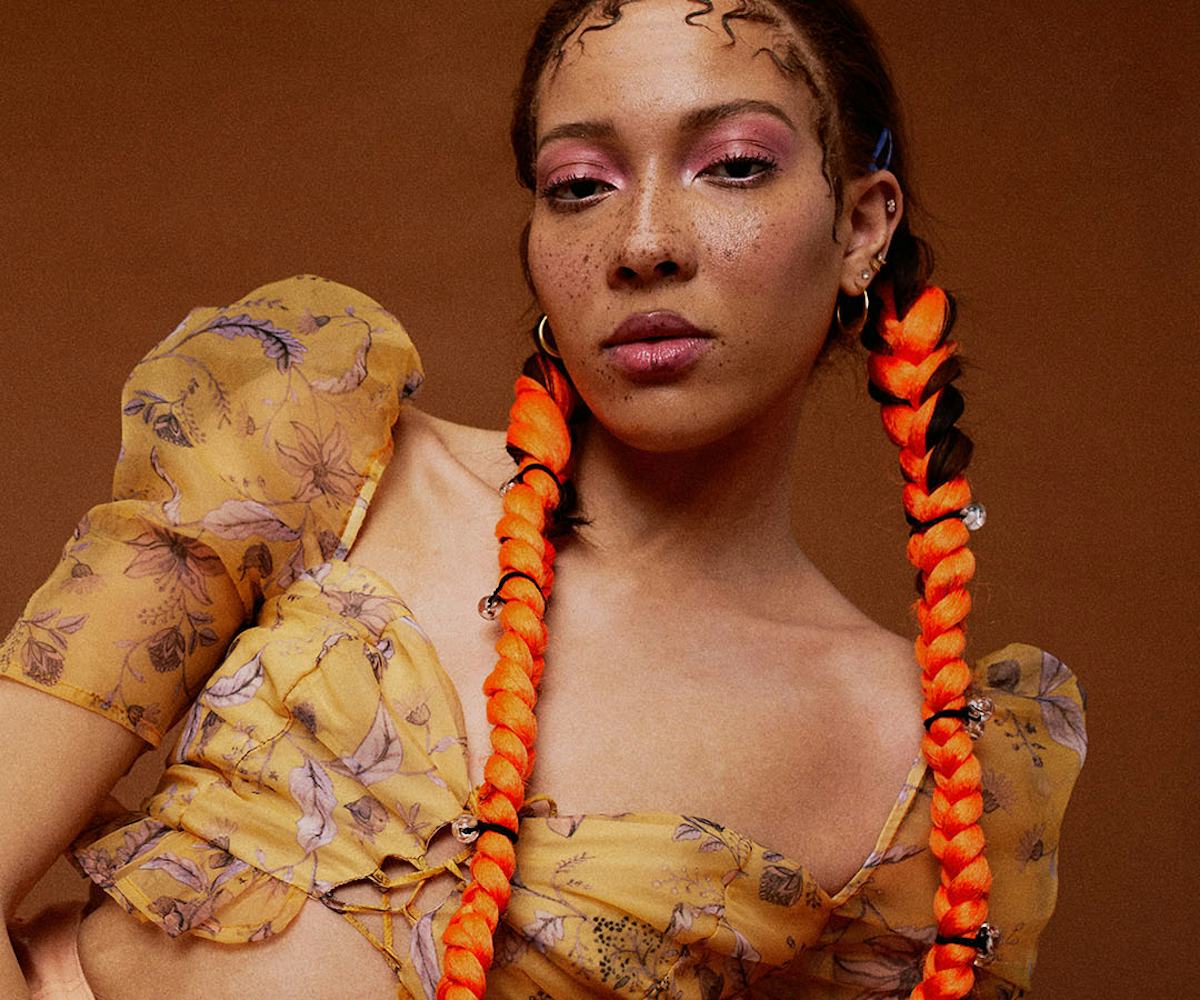 Photographed by Ashley Jo Wilson.
Celebrity Hairstylist Susy Oludele Turns Braids Into Works Of Art
She's styled Solange and Beyoncé and now wants to bring her expertise to the masses
Before booking the holy grail of braiding gigs, Susy Oludele started out by braiding her own hair. It wasn't by choice, exactly. Instead, Oludele took over her own braids after her mother, who used to style Oludele's hair, declared: "Oh, I can't do your hair anymore, this is something that you have to take on now." But Oludele discovered she had a gift for hair, and moved on from doing her own to doing her friends' hair, and, soon enough, started her own business, doing the hair for people in her neighborhood and, even, she tells me, "doing two-for-one sales just to get clients."
Oludele had ambitions beyond doing her friends and neighbors' hair, though. One day, as she watched the music video for Beyoncé's "Party," and spotted Solange, wearing long box braids, styled in a high ponytail, Oludele sent a request out into the universe: "I was like, Oh my god, I would love to do Solange's hair," Oludele tells me. "I felt like I could do an amazing job."
Clearly, the universe thought so too, because just four months later, Oludele received an email from, yep, Solange asking if Oludele could do her hair. Even though Oludele's initial thought was "Okay, this must be spam," it wasn't, and she soon began collaborating with the artist on creative looks that involved everything from braids and weaves to extensions and styles for the singer's natural hair—including this iconic Surface magazine cover.
Through Solange, Oludele also started working with Beyoncé. Describing the Knowles sisters' vibes, Oludele says Solange is the eclectic one, "she has a different, weird style that's very unique for her," while Beyoncé is more classic, "so you'd wanna do something that's more clean, something neater, a lot more simple."
The first look Oludele created for Beyoncé was the one featured in Michelle Williams' "Say Yes" video. It's more commonly known today as Bey's "Formation" braids. "We really didn't know what we were gonna do," Oludele says of the style. "We were just like, 'Let's be free.'" It's hard to imagine that Beyoncé—a Virgo and a stickler for details—would wing it on anything as important as her hair, but it's not hard to see why she'd put her trust in Oludele. Especially since the look that resulted from Oludele's technique of cornrowing Bey's hair toward the side, and then around in a circle, was something that made total sense. Oludele recalls, "At the end, we noticed that the hairstyle looks like a beehive. What a coincidence, you know?"
Oludele also worked with Zoë Kravitz, creating the actress's instantly notable micro-braids, and then opened up her own salon in Brooklyn, Hair By Susy. Because while Oludele says it's nice having celebrity clients, it's her regular, everyday customers who have helped her out the most along the way. "The artists came, and they helped evolve it," she says of her business. "But really the community built it." Which is why one of Oludele's next efforts is to give back to the people who gave to her, through education.
Photographed by Ashley Jo Wilson.
Photographed by Ashley Jo Wilson.
There has been some controversy surrounding the formal education required to become a hairdresser, and specifically when it comes to braiding hair. Some states are making it mandatory for stylists to have a license, which would require them to spend thousands of dollars to practice their craft. Though Oludele went to school years ago—she had a partial scholarship, but paid for everything else out of pocket—and got her license so that she could braid within a salon, she says, there was a lack of knowledge within the schools about how to actually braid. "I noticed that I was teaching other people how to braid," she says. "It's like, Okay, you can braid, but do you know how to braid each person's hair? Do you know that you can't braid her hair too tight because of her edges? Do you know that there's a different technique for each person?" Oludele says that seeing this dearth of experience within instructional institutions is why she decided that she was "going to hold classes at Hair By Susy, teach people how to work with their hair, and then grow the community."
Oludele hopes to inspire people not just through her classes, but also through her creations. Take a look at the pictures interspersed throughout this piece. When I suggest to Oludele that they're almost campy, bringing up the recent Met Gala, she agrees. "That's something that we've always been doing," she says, referring to her Nigerian Yoruban culture. "Cornrows, and putting items in hair—candy, shells, accessories, earrings—things that kind of don't belong in the hair." One of the things that helped Oludele throughout her career was being different, "being creative, and putting things together that don't make sense." That's the beauty of hair—and especially Black hair—it can be sleek, or it can be transformed into a three-dimensional creation.
"Everybody's waking up, and they're realizing, 'My hair is my art,'" she says. "In my culture, we call the head the ori, which means your crown. That's where you hold your energy the most, if you think about it." So you should cherish it like you would a piece of very expensive jewelry, but you should also have fun with it. "I love the fact that you can create just anything with hair. You can speak to people, you can create letters in hair, you can put colors. I can't count how many times I've walked down the street with rainbow afro hair, and everybody's like, 'You just made my day,'" Oludele says. "You can make people happy with hair, and you can inspire people." And that's what Oludele hopes to continue to do.
Photographed by Ashley Jo Wilson.
Photographer: Ashley Jo Wilson Stylist: Nyasia Rudolph Makeup: Ashley Brignolle Hair: Susy Oludele
Models: Kyle Kellogg at Muse Models, Fatou Thiam at Q Models.