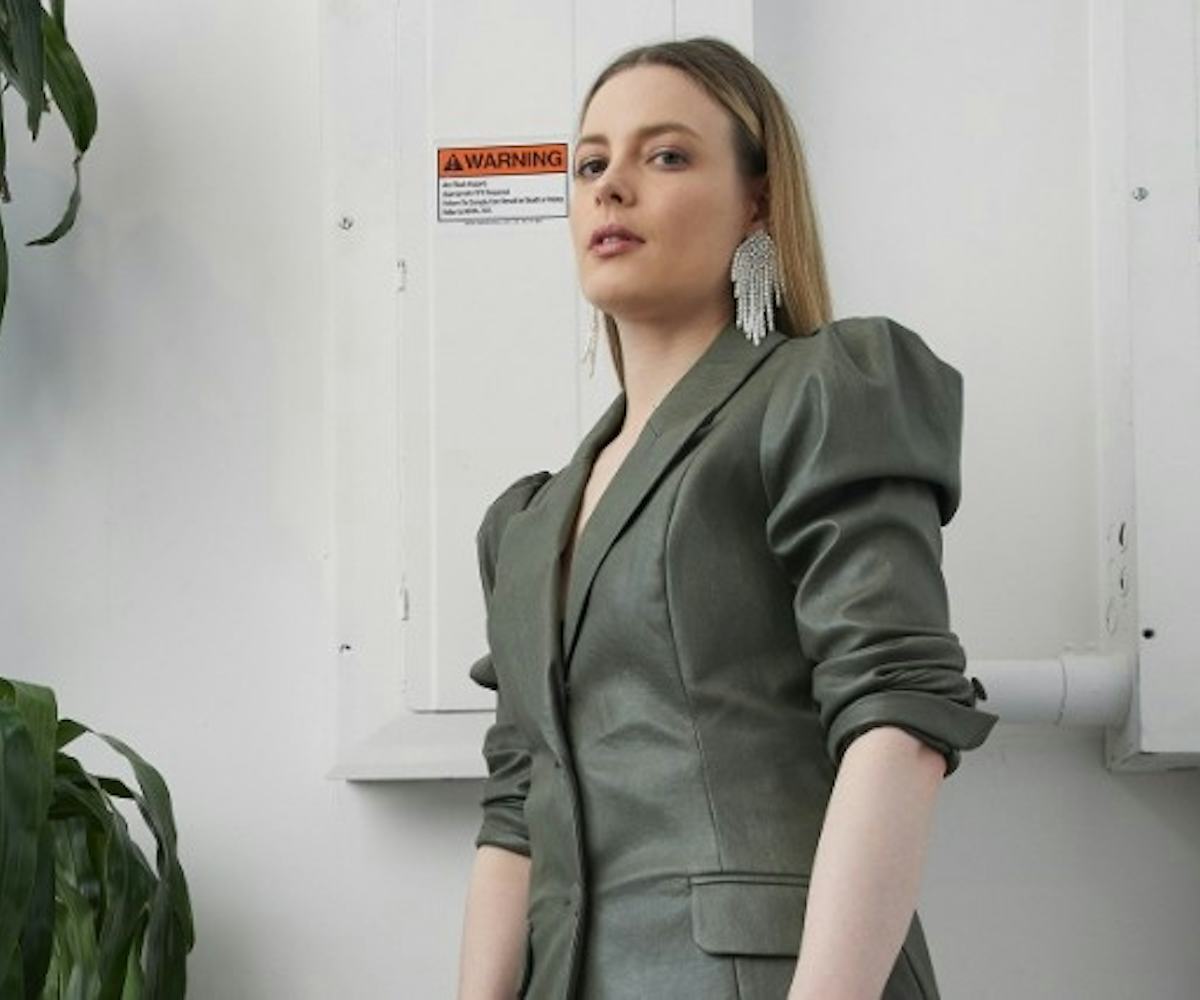 Courtesy of Tanya Taylor
Tanya Taylor Is Swapping The Runway For Funny Fashion Films
The designer is opting out of New York Fashion Week, and will debut her Fall 2020 collection online instead
Another designer is switching things up this New York Fashion Week. While some brands seem to be fleeing New York en masse for Paris and beyond, Tanya Taylor is forgoing the runway altogether, opting for a digital presentation of her Fall 2020 collection, made up of five short films and an accompanying lookbook.
Taylor is hoping that the digital experience, titled "FASHUN WEEK," will make customers feel more included during the mostly industry-facing fashion week. Before taking on the challenge, she posed a question to them over Instagram: What do you think is funny about fashion/fashion week? From there, she tapped a slew of talented and funny women — Jane Krakowski, Gillian Jacobs, Sasheer Zamata, Zosia Mamet, and Michelle Buteau — to bring those ideas to life, as well as showcase her new collection.
"I think the funniest thing about fashion week is how important it is to the industry but how confusing it is to those outside of the industry," Taylor tells NYLON. "To a brand during New York Fashion Week, that's all you focus on and it's easy to think that everyone is focused on it, too. But in fact the world keeps on spinning and people don't really understand New York Fashion Week. It's that mentality that we tried to poke fun at with the videos so it felt more like everyone is invited this season to our show. Fashion shouldn't be in a bubble. It should be fun, playful, and for everyone to enjoy."
Preparing for a 10-minute runway show in front of industry insiders is challenging enough, but creating something entirely new from scratch posed different hurdles for Taylor and her team.
"We did not know what we were getting ourselves into when we decided to make five films," she admits. "From the staff and casting, to location permits and dealing with SAG, every day posed a new challenge. Luckily, we equipped ourselves with an amazing team that was able to lead us through the obstacles, and we ended up having more fun than we ever have preparing for a show. It was a real team-bonding experience."
The new project allowed Taylor to exercise new creative muscles, from working on the scripts to creating last-minute looks for each actor. It also provided an opportunity for the designer to work more closely with her own customers while thinking about her fashion week presentation.
"For the films we had to cast six women that represented our brand, and for a show we would have needed to cast 25 women," explains Taylor. "The difference was these were actresses that brought such talent and individuality to their roles and we were inspired to create new looks for them and collaborate on the process and scripts with them. It's very different than hiring and dressing models. We were in a sense working with customers. All of these actresses believe in and wear the brand and that inspired our team in a new way. When you do anything for the first time it's always going to come with hurdles but it was worth it."
Taylor isn't the only designer making changes to her New York Fashion Week experience. Jeremy Scott recently announced that he's taking his eponymous brand to Paris this season, while other New York mainstays like Tom Ford and Alexander Wang have also decided to either leave the city or stray from the usual February schedule. Taylor's hope for the future of New York Fashion Week isn't necessarily that designers keep their shows there, though, but rather, that they pay closer attention to the people who will be shopping what they're presenting.
"I'm hoping to see designers continue to take risks in how they show during fashion week and to do what's right for their individual brand," she says. "At the end of the day, we design for the customer and I'd like to see New York Fashion Week reflect that mentality and focus on inspiring a broader audience."
See more of Tanya Taylor's "FASHUN WEEK" and Fall 2020 collection, below.