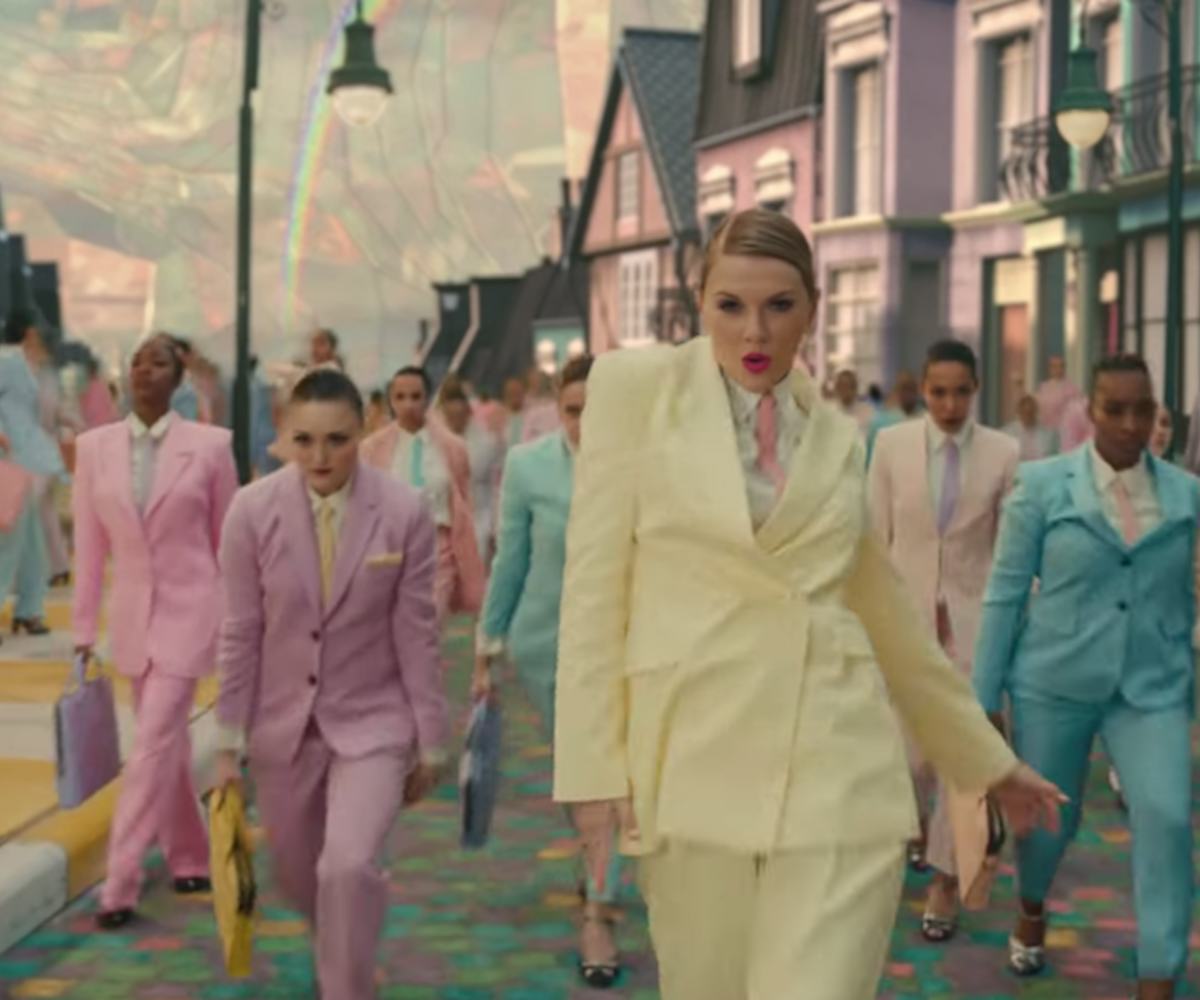 Screenshot via YouTube
Taylor Swift Dances With Brendon Urie In Pastel Suits To Ring In The New Era
"ME!" is full of Easter eggs—and also shares their color scheme
Taylor Swift has officially started her new era, and it's a pastel-drenched daydream. Her new single, "ME!"—featuring Brendon Urie of Panic! at the Disco—dropped at midnight with a music video co-directed by Swift, and suddenly all those images Swift has been sharing finally make sense. Each of her previous teasers are close-ups of details from the very Wes-Anderson-does-Easter looking video; the framed portraits of baby chicks are portraits on the walls of the home Swift and Urie share in Paris throughout a dramatic love story.
Fans have only begun to dig into all of the little details, so it'll be a few more hours before we have our next conspiracy theory, but my personal favorite obvious detail is that along with the baby chicks hanging in frames, are the Dixie Chicks. If Swift is going to collaborate with all of her favorite artists and go through all the musical phases of her life, from emo to country and beyond, I'm ready to come along for the ride.
The video begins with a send-off from the old Reputation era. A pastel pink snake slithers down a multi-colored brick road before bursting into a group of butterflies; a nod to the snake that began it all in 2017, and of course, the snake emojis that Kim Kardashian levied at Swift throughout the whole beef over Kanye West's "Famous" lyrics.
One of the main critiques that has been shared on the internet (at least for now) is that the song is, well, corny. And I'm not going to entirely fight that, given that she quotes Sesame Street's "One of These Things Is Not Like the Others." But guess what, we all can use a little corny, unabashed joy and love in our lives! We can also use plenty more of Urie dancing in pastel suits and suspenders, and guess what, Taylor Swift did that.
Listen, one thing I will admit is that this is in no way a coming-out for Swift, despite my beliefs that it would be. But it's also not a shut down of it. The entire thing is literally... so gay. I'm still betting on Kaylor being real.
Watch the music video for "ME!" below, and buckle up for this joyous new era of Taylor Swift. It's only getting started.