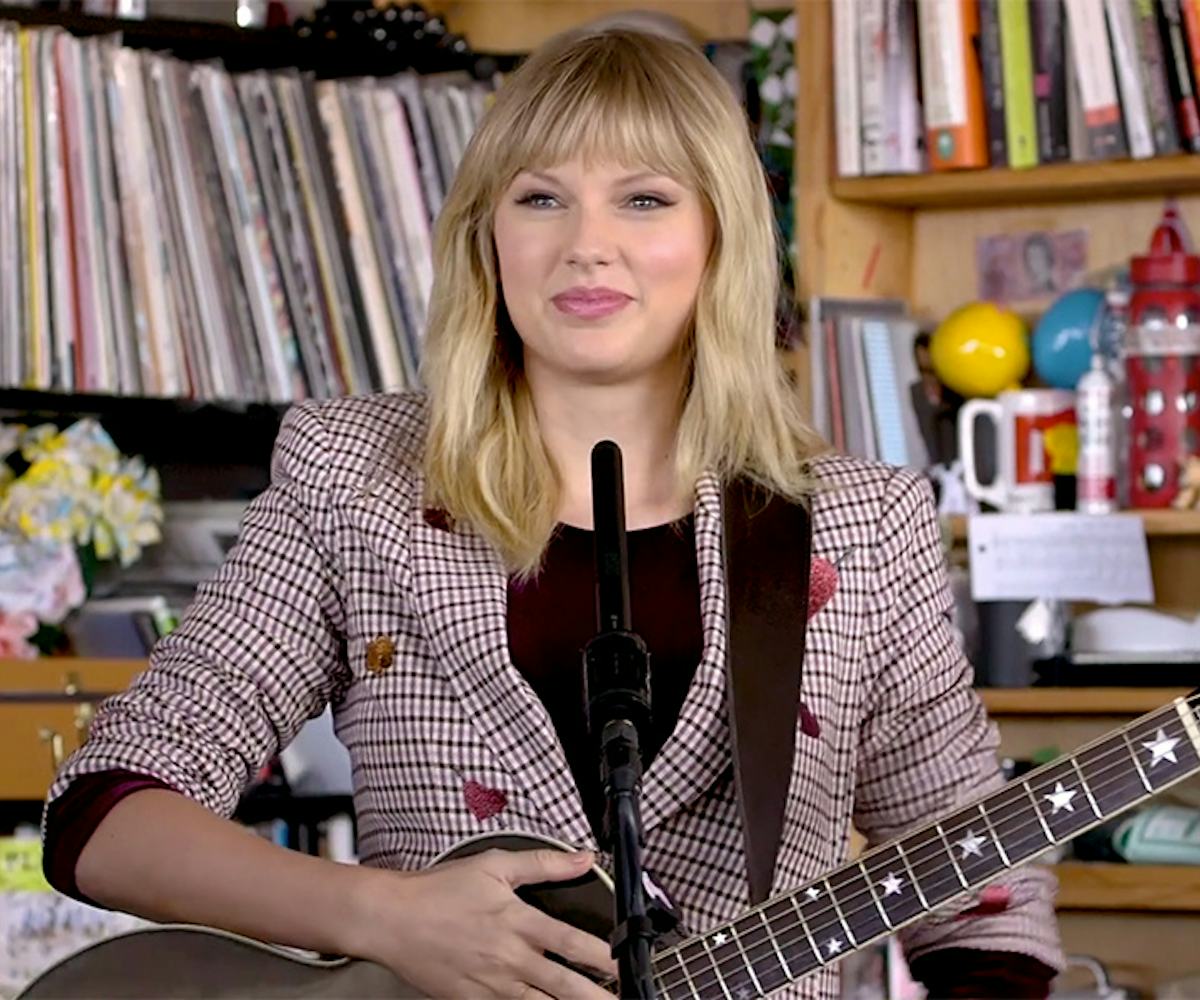 Screenshot via NPR
Taylor Swift Surprised Fans With A 'Red' Favorite During Her NPR Tiny Desk
It's never too early for a good cry!
Taylor Swift plus a very tiny desk at NPR is an equation that can only create sappy tears for a Swiftie (or anyone who is a sucker for anything acoustic) at this early hour. On Wednesday morning, NPR revealed Swift's Tiny Desk Concert, and with it, four of my new favorite renditions of songs from both Lover and Red. Swift appeared alone, sans backing band and dancers for the performance, as she chose to "take this as an opportunity to show you guys how the songs sounded when I first wrote them."
First up is "The Man," in which Swift shows that she's just as proud of the Leonardo DiCaprio name-check as she should be, flipping her hair before launching back into the chorus. Next, for "Lover," she sits at the piano and opens up about the "guitar string scars" metaphor that came to her in the middle of the night and wound up becoming a dreamy bridge. "I've spent quite a bit of time writing breakup songs," she jokes, miming cracking her knuckles, before she warmly wraps up her feelings on the lyric: "In life, you accumulate scars, you accumulate hurt... if someone's gonna take your hand, they better take your hand scars and all."
Swift closed out the mini-show with "Death By A Thousand Cuts" and Red favorite, "All Too Well," aka the deep cut that isn't really a deep cut anymore now that the entire internet has admitted its undying love of it. After handing out her guitar picks to the tiniest attendees at the concert, Swift introduced why she chose to play the ballad with her newer tracks. "There's one song that I'm particularly proud of because when the Red album came out there was this one song on the album and I'm like 'I'm the only one who likes this song this much, but it's only because it happened to me and it's personal. No one is going to like 'All Too Well' as much,'" she says. But of course, they did, and now it's regarded as one of her best tracks of all time.
Watch the full Tiny Desk concert below, and start your day all warm and fuzzy inside.